Lebih 156 Tewas, 400 Terluka akibat Bom di Sri Langka
Suicide Bombers Kill more than 156 People and hurt 400 in Sri Langka
Editor : Ismail Gani
Translator : Novita Cahyadi

PUBLISHED: Minggu, 21 April 2019 , 19:16:00 WIB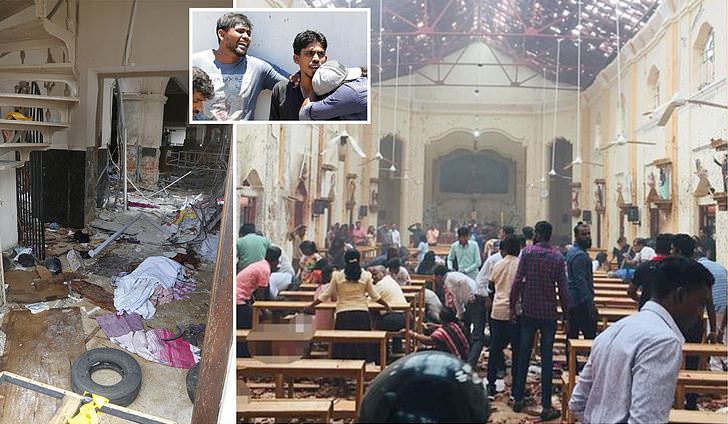 BOM BUNUH DIRI: Dampak ledakan di Gereja St Anthony, dampak bom bunuh diri di gereja lain dan keluarga korban yang berduka [Foto2: MailOnline]
SERANGKAIAN ledakan bom dari orang yang diduga sebagai pelaku bom bunuh diri menghantam hotel dan gereja kelas atas di Sri Langka pada Minggu saat perayaan Paskah, menewaskan lebih dari 156 orang, termasuk 35 warga asing, dan melukai sebanyak 500 orang dalam 'serangan terkoordinasi dan menargetkan penganut Kristen'.
Laporan terkini mengindikasikan dua ledakan berikutnya di pinggiran kota Kolombo, setelah enam ledakan awal. Korban tewas diperkirakan 45 orang di Kolombo, yang menghantam tiga hotel dan sebuah gereja, 67 korban tewas lainnya dalam serangan gereja di Negombo, utara ibukota, dan 25 tewas lainnya di sebuah gereja di kota Batticaloa, di bagian timur Sri Langka, kata sebuah sumber.
Tiga hotel yang terkenal adalah Shangri-La Colombo, Kingsbury Hotel di Colombo dan Cinnamon Grand Colombo.
Perdana Menteri Theresa May hari ini nge-tweeted: 'Tindakan kekerasan terhadap gereja dan hotel di Sri Langka benar-benar mengerikan, dan simpati terdalam kepada korban tewas dan terdampak ledakan tersebut.'
'Kita harus berdiri bersama untuk memastikan bahwa tidak seorang pun harus mempraktikkan keyakinan mereka dalam ketakutan,' katanya seperti dilansir MailOnline.
A STRING OF BLASTS from suspected suicide bombers hit high-end hotels and churches in Sri Lanka on Easter Sunday, killing more than 156 people, including 35 foreigners, and injuring as many as 500 in a 'coordinated, targeted attack on Christians'.
Reports now indicate a two additional blasts in Colombo suburbs, following the initial six. The fatalities include at least 45 people killed in Colombo, where three hotels and a church were hit, along with another 67 in the church attack in Negombo, north of the capital, and another 25 dead at a church in the town of Batticaloa, in the east of the country, a source said.
The three hotels hit were the Shangri-La Colombo, Kingsbury Hotel in Colombo and the Cinnamon Grand Colombo.
Prime Minister Theresa May today tweeted: 'The acts of violence against churches and hotels in Sri Lanka are truly appalling, and my deepest sympathies go out to all of those affected at this tragic time.
'We must stand together to make sure that no one should ever have to practise their faith in fear.'