Ancaman Aksi Teroris 22 Mei, Polri Tangkap Puluhan Terduga Teroris
Indonesia Arrests Dozens of Terror Suspects ahead of Poll Results
Editor : Ismail Gani
Translator : Novita Cahyadi

PUBLISHED: Sabtu, 18 Mei 2019 , 02:04:00 WIB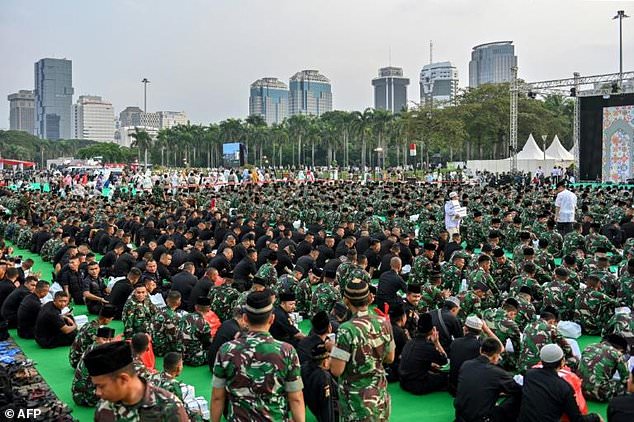 Pasukan TNI dan Polri siaga satu di Lapangan Monas [Foto: AFP/MailOnline]
KEPOLISIAN RI [Polri] pada Jumat [17/5] menyatakan telah menangkap puluhan terduga teroris yang terafiliasi Negara Islam ISIS, termasuk beberapa di antara mereka yang berencana meledakkan bom pada 22 Mei 2019, saat Komisi Pemilihan Umum [KPU] mengumumkan hasil rekapitulasi nasional Pemilu Serentak 17 April 2019, meliputi Pemilu Legislatif [Pileg] dan Pemilu Presiden [Pilpres].
Sekitar 29 terduga teroris ditangkap pada Mei saja. Total Tim Detasemen Khusus 88 [Densus 88] telah meringkus terduga teroris selama Januari hingga 17 Mei 2019. Rinciannya adalah empat orang ditangkap pada Januari, Februari satu orang, Maret 20 orang, April 14 orang, dan Mei ada 29 orang terduga teroris.
Delapan terduga teroris lainnya tewas dalam kontak senjata dengan pihak berwenang, kata polisi, termasuk istri seorang gerilyawan yang meledakkan dirinya dan seorang anak menyusul perselisihan dramatis di rumah mereka pada Maret.
Beberapa tersangka yang ditangkap adalah pembuat bom yang terampil dan telah berjuang bersama kelompok jihadis di Suriah, serta anggota jaringan ekstrimis lokal Jemaah Anshurat Daulah (JAD), kata polisi.
JAD telah menjanjikan kesetiaan kepada ISIS dan dituding menjadi bagian dari serangkaian pemboman bunuh diri di gereja-gereja di Surabaya, Jawa Timur tahun lalu.
Indonesia sebagai negara mayoritas Muslim terbesar di dunia menjadi target serangan teroris oleh radikal Islam sejak Bom Bali 2002, yang menewaskan lebih dari 200 orang, sebagian besar wisatawan asing.
Kepala Divisi Hubungan Masyarakat Polri Irjen Mohammad Iqbal pada Jumat menguraikan penangkapan terbaru sebagai "serangan pencegahan" sebelum pengumuman hasil Pilpres dan Pileg yang berlangsung melalui Pemilu Serentak pada 17 April.
Polri mengkhawatirkan aksi unjuk rasa pendukung Capres Prabowo Subianto pada 22 Mei yang menuding terjadi kecurangan penghitungan hasil Pemilu secara terstruktur, sistematis dan masif.
Prabowo menyatakan untuk tidak mengakui hasil Pemilu 2019 pekan depan sebagai penolakan kemenangan kandidat petahana, Joko Widodo yang unggul sekitar 12% suara, menurut hasil hitung cepat [quick count].
Polisi mengatakan terduga teroris ingin mengambil kesempatan dari unjuk rasa pendukung Prabowo - Sandi untuk memicu kekacauan dengan menggunakan WiFi untuk meledakkan tas ransel berisi bom dari jarak jauh pada demonstrasi yang ramai.
"Jadi kami mendesak masyarakat untuk tidak keluar di jalan-jalan pada 22 Mei karena itu bisa berbahaya karena mereka (para tersangka) ingin menyerang kerumunan dan petugas polisi," katanya kepada wartawan di ibukota Jakarta.
Sekitar 32.000 personel keamanan diperkirakan akan menyebar ke seluruh ibukota minggu depan, termasuk di depan kantor KPU.
Prabowo Subianto menuding KPU bertindak curang untuk memenangkan lawan politiknya seperti dikutip AFP yang dilansir MailOnline.
INDONESIAN police said Friday that they have arrested dozens of Islamic-State linked terror suspects, including some who planned to detonate bombs at political demonstrations when election results are announced next week.
Some 29 suspects were rounded up this month alone, with 60 in all detained since the start of the year in raids across the Southeast Asian nation, they said.
Eight other suspects had been killed in confrontations with authorities, police said, including the wife of a militant who blew up herself and a child following a dramatic standoff at their home in March.
Some arrested suspects were skilled bomb makers and had fought alongside the jihadist group in Syria, as well as members of local extremist network Jemaah Anshurat Daulah (JAD), police said.
JAD has pledged allegiance to IS and was blamed for a wave of suicide bombings at churches in Indonesia's second-biggest city Surabaya last year.
The world's biggest Muslim majority nation has seen a string of attacks by Islamist militants since the 2002 Bali bombings, which killed more than 200 people, including scores of tourists.
National police spokesman Muhammad Iqbal on Friday described the latest arrests as a "preventative strike" before the official announcement of Indonesian elections, which were held on April 17.
There are concerns about street demonstrations after presidential challenger Prabowo Subianto, a retired military general, warned that protests could erupt over his claims of massive electoral fraud.
Subianto has vowed not to recognise next week's results if they hand a re-election victory to president Joko Widodo, who has a lead of about 12 percentage points, according to unofficial polls.
Police said militants wanted to take advantage of any political unrest to spark chaos by using use WiFi to remotely detonate bomb-filled backpacks at crowded demonstrations.
"So we're urging the public not to go out on the streets on May 22 because it could be dangerous as they (the suspects) wanted to attack crowds and police officers," he told reporters in the capital Jakarta.
Some 32,000 security personnel are expected to fan out across the capital next week, including in front of the General Elections Commission.
Subianto has attacked the Commission over allegations it was complicit in widespread electoral fraud.