China Ubah Tujuh Terumbu Karang Pulau Spratly yang Disengketakan jadi Benteng Militer
China has Apparently Transformed Seven Reefs in the Disputed Spratly Islands into Military Island Fortresses
Editor : Ismail Gani
Translator : Novita Cahyadi

PUBLISHED: Rabu, 07 Februari 2018 , 21:09:00 WIB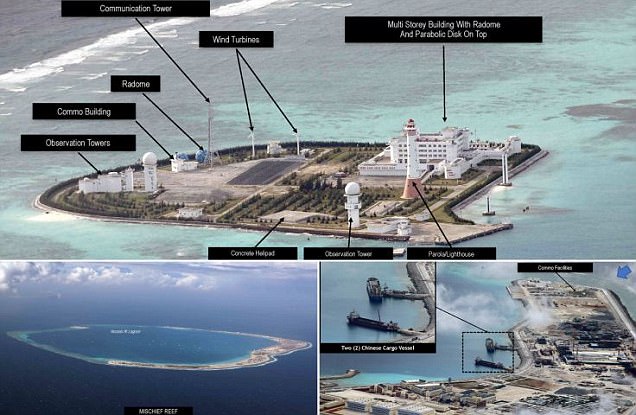 Komplek militer tersebut terungkap dari sejumlah foto yang diambil dari jarak 1.500 meter pada paruh kedua 2017 (Foto2: MailOnline)
INI DIA yang disebut sebagai pamer kekuatan militer ´tak terkendali´, China rupanya telah mengubah tujuh terumbu karang di pulau Spratly yang disengketakan menjadi benteng-benteng pulau militer yang dilengkapi landasan pacu militer dan menara pemantau.

Komplek militer tersebut terungkap dari sejumlah foto yang diambil dari jarak 1.500 meter pada paruh kedua 2017.

Foto-foto tersebut menunjukkan instalasi militer China termasuk rudal fregat, helipad dan menara pemantau.

Salah satu benteng terletak di Panganiban, sebuah terumbu karang yang sebelumnya dikuasai oleh pengadilan yang didukung Perserikatan Bangsa-Bangsa sebagai milik Filipina, seperti dilaporkan.

Reklamasi China yang terus berlanjut di Laut Cina Selatan telah mengikis kepercayaan di antara negara yang bersengketa dan bersaing dan diperkirakan meningkatkan ketegangan regional, kata para menteri luar negeri Asia Tenggara pada Selasa seperti dilansir MailOnline.
IN WHAT was described as an ´unrestrained´ show of power China has apparently transformed seven reefs in the disputed Spratly islands into military island fortresses featuring runways and observation towers.

The military build-up has emerged in pictures taken from 1,500m in the second half of 2017.

The images show Chinese military installations including missile frigates, helipads and observation towers.

One of the fortresses is situated on Panganiban, a reef which a United Nations-backed court has previously ruled belongs to the Philippines, it is reported.

China´s continued reclamation in the South China Sea has eroded trust among rival claimants and could raise regional tensions, Southeast Asian foreign ministers said on Tuesday.