Harganya Rp3,6 Triliun, Mobil Listrik Pininfarina Battista `Lebih Cepat dari F-16`
The $2,5Million All-electric Pininfarina Battista Hypercar `Faster than a F-16 Fighter Jet´
Editor : Ismail Gani
Translator : Novita Cahyadi

PUBLISHED: Jum'at, 19 April 2019 , 21:25:00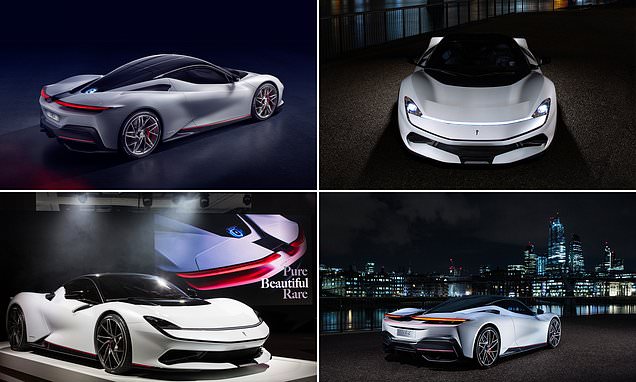 Mobil ini hanya diproduksi 150 unit, dan 50 unit di antaranya dijual di AS - dan separuhnya sudah dipesan oleh pelanggan tertentu - 50 unit lain untuk Eropa dan Asia [Foto2: MailOnline]
MOBIL LISTRIK hypercar seharga Rp2,5 triliun [US$2,5 juta] berkekuatan 1.900 tenaga kuda mengejutkan publik setelah diumumkan di New York.
Nama mobil super cepat ini Pininfarina Battista langsung lari kencang 100 km per jam setelah digas yang lebih cepat dari mobil F1, meningkat ke 290 km per jam dalam sekian detik melampaui kemampuan jet tempur F16 dan terus melaju hingga kecepatan tertinggi 350 km per jam berkat dukungan kekuatan baterai 120 kWh.
Prototipe mobil ini diluncurkan bulan lalu dan dipamerkan lagi pekan ini pada sebuah acara di luar lokasi di Javits Center untuk New York International Auto Show.
Produsen mobil mengatakan Battista akan menjadi ´mobil hiper listrik mewah pertama di dunia´ dan ´mobil yang paling kuat yang pernah dirancang dan dibangun di Italia´ saat mulai diproduksi tahun depan, dengan kecepatan tertinggi lebih 400 km per jam.
Mobil yang dibuat untuk kalangan super kaya, pada saat bahan bakar minyak [BBM] dituding sebagai penyebab polusi dan kemacetan, dengan menawarkan kombinasi kecepatan dengan ´berkelanjutan, dan kemewahan."
Mobil ini hanya diproduksi 150 unit, dan 50 unit di antaranya dijual di AS - dan separuhnya sudah dipesan oleh pelanggan tertentu - 50 unit lain untuk Eropa dan Asia.
Pengapalan perdana dijadwalkan pada 2020.
Mobil ini dinamai Battista setelah almarhum Battista 'Pinin' Farina pada 1930 mendirikan rumah desain mobil Italia Pininfarina, yang tahun depan merayakan hari jadinya yang ke-90.
Putranya Sergio, yang meninggal pada 2012 dalam usia 85 tahun, kemudian merancang beberapa mobil yang paling indah, supercar mobil sport abad ke-20 dan 21 termasuk sebagian Ferrari seperti Testarossa (1984), Enzo (2002), dan Dino seri (1968-1976) yang meluncurkan Ferrari ke pasar massal.
Perusahaan itu sekarang dipimpin oleh cucu Battista, Paolo, yang mengatakan bahwa setelah puluhan tahun merancang mobil orang lain, merupakan ´mimpi yang menjadi kenyataan´ untuk meluncurkan mobil yang bertuliskan nama Pininfarina sebagai penghargaan.
"Kakek saya selalu memiliki visi bahwa suatu hari akan ada jajaran mobil bermerek Pininfarina yang berdiri sendiri," katanya.
Mobil ini dibangun di sekitar monocoque serat karbon sel tunggal dengan paket baterai antara kursi depan dan belakang sekat belakang.
Ada empat motor, satu per roda.
Distribusi berat baterai berpendingin cairan berbentuk T 120 kWh - terbuat dari campuran lithium, mangan, dan nikel - dikonfigurasi untuk mengoptimalkan dinamika mobil.
Sekitar 90 persen pemilik diharapkan mengisi daya baterai [charger] rumah. Perusahaan mengharapkan bahwa 10 persen sisanya akan dipenuhi oleh jaringan pengisian berbasis aplikasi yang diharapkan akan tersedia pada 2021 seperti dilansir MailOnline.
A $2.5MILLION all-electric hypercar with a staggering 1,900 horsepower has hit the streets of New York.
The Pininfarina Battista reaches 60mph (100km/h) quicker an F1 car, passes 180mph (290km/h) before an F-16 fighter jet does and will keep going all the way to a top speed of 217mph (350kmh/hr) courtesy of its electric motors being fed by a 120 kWh battery.
A prototype was unveiled last month and now it has been showcased again this week at an off-site event at the Javits Center for the New York International Auto Show
Its creators say the Battista will be ´the world´s first luxury electric hyper GT´ and ´the most powerful road-legal car ever designed and built in Italy´ when it goes into production next year, with a claimed range of 280 miles.
For the world´s super-rich, at a time when petrol and diesel cars are blamed for pollution and poor air quality, it offers the combination of speed with ´sustainability, and luxury without guilt´.
Only 150 of the cars are going to be produced, with 50 destined for the US - with half of that allowance already reserved by keen customers - and 50 set for both Europe and Asia.
Deliveries are expected for 2020.
The car is named after the late Battista 'Pinin' Farina, who in 1930 founded the Italian automobile design house Pininfarina, which next year celebrates its 90th anniversary.
His son Sergio, who died in 2012 aged 85, went on to design some of the most beautiful cars, sports cars supercars of the 20th and 21st century including many Ferraris such as the Testarossa (1984), Enzo (2002), and the Dino series (1968–76) that launched Ferrari into the mass market.
The firm is now chaired by Battista´s grandson Paolo, who said that after decades of designing other people's cars it was a 'dream come true' to launch such a car bearing the Pininfarina name as a tribute.
'My grandfather always had the vision that one day there would be a stand-alone range of Pininfarina-branded cars,' he said.
The car is built around a single-cell carbon-fibre monocoque with battery packs between the front seats and behind the rear bulkhead.
There are four motors, one per wheel.
The weight distribution of the T-shaped liquid-cooled 120 kWh battery - made from a mix of lithium, manganese and nickel - is configured to optimise the car's dynamics.
Some 90 per cent of owners are expected to charge at home. The firm expects that the remaining 10 per cent will be catered for by app-based charging networks which it expects to be in place by 2021.