Penyuluhan via Medsos, Strategi BPPSDMP Kementan Sokong Karakter Agropreneur Muda
Indonesia Develops Agricultural Extension through the Social Media
Editor : M. Achsan Atjo
Translator : Dhelia Gani

PUBLISHED: Minggu, 09 September 2018 , 00:25:00 WIB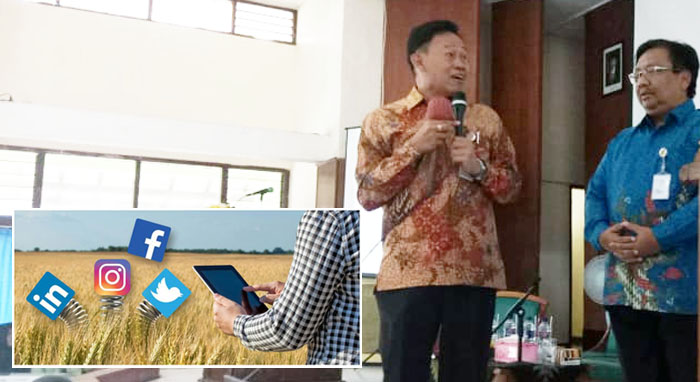 MEDSOS PERTANIAN: Kepala BPPSDMP Kementan, Momon Rusmono (kiri) dan Ketua STPP Jurluhtan Yogyakarta, Ali Rachman usai membuka seminar (Foto2: Humas STPP Yogyakarta dan social-jungle.com)
Yogyakarta, DIY (B2B) - Program penyuluhan, pendidikan dan pelatihan sebagai bagian Gerakan Pemberdayaan Petani Terpadu dipadu Regenerasi Petani menjadi strategi utama Kementerian Pertanian RI di bawah koordinasi Badan Penyuluhan dan SDM Pertanian (BPSDMP) untuk menarik minat generasi muda ke sektor pertanian sebagai agropreneur muda. Mereka adalah generasi Y dan Z yang banyak tertarik pada teknologi informasi dan media sosial, sehingga harus lebih banyak ekspos penyuluhan pertanian melalui Facebook, Instagram, Twitter dan Linkedin.

Hal itu dikemukakan oleh Kepala BPPSDMP Kementan, Momon Rusmono dan Ketua STPP Jurluhtan Yogyakarta, Ali Rachman di Yogyakarta, Sabtu (8/9) pada seminar nasional ´Membangun Entrepreneur Muda dalam Perkembangan Agroteknologi di Era Digital´. Pembicara lain Yossi Wibisono dari Center of Technology Politeknik Indonesia; Direktur Utama PT Naturan Nusantara, Hana Indra Kusuma; dan pimpinan Pispi pusat, Achmad Tjachja.

"Misi dari kebijakan tersebut adalah mengembangkan potensi generasi muda sebagai inovator, menguatkan kelembagaan dan jaringan usaha pertanian yang berdaya saing, membangun jiwa sosioagripreneur generasi petani berwawasan kebangsaan yang responsif terhadap perubahan lingkungan strategis yang didukung para pemangku kepentingan," kata Momon Rusmono.

Menurutnya, tiga faktor utama sektor pertanian yang harus dipertimbangkan untuk menarik generasi muda ke pertanian yakni: produktivitas dan profitabilitas, kesempatan kerja, kenyamanan dan kepuasan kerja sesuai karakter generasi muda dengan pola pikir dan aktivitas dinamis, dengan ketertarikan tinggi terhadap inovasi teknologi.

"Merekalah generasi digital di era milenial yang lekat dengan teknologi, sehingga kementerian melakukan pendekatan pada pemanfaatan teknologi. Alsintan terbukti mampu menarik minat generasi muda menjadi operator traktor pengolah tanah, mesin tanam padi rice transplanter, dan combine harvester," katanya.

Agropreneur Muda
Ali Rachman mengulas tentang program STPP Yogyakarta setelah transformasi menjadi Politeknik Pembangunan Pertanian (Polbangtan) untuk menunjang visi ´generasi petani berkarakter agropreneur´ antara lain pemberian beasiswa calon petani muda bagi non-PNS di Polbangtan pada 13 program studi.

"Visi dan misi Polbangtan berikutnya adalah penumbuhan wirausahawan muda pertanian berbasis inovasi agribisnis dan teknologi informasi untuk membangkitkan agropreneur muda sebagai generasi penerus pelaku pertanian masa depan. Agropreneur muda dapat dimaknai sebagai generasi muda yang berwirausaha pada bidang pertanian," kata Ali Rachman.

Langkah strategis untuk membangkitkan agropreneur muda adalah meningkatkan daya tarik bidang pertanian. Generasi muda yang menjadi sasaran untuk agropreneur muda adalah generasi Y yang lahir 1981-1994 dan generasi Z yang lahir 1995-2010. Generasi yang banyak tertarik pada teknologi informasi dan media sosial.

"Kebijakan pemerintah dan pemangku kepentingan harus berupaya menarik kaum muda pada pertanian dengan melakukan lebih banyak lagi ekpos bidang pertanian melalui teknologi informasi dan media sosial," kata Ali Rachman. (IJS)
Yogyakarta (B2B) - Agriculture extension, education and training programs as part of policy of Indonesian Agriculture Ministry´s under the coordination of the Directorate General of Agency for Agricultural Extension and Human Resources Development or BPPSDMP to attract young people to the agricultural sector as agropreneur. They are Y and Z generations who are interested in information technology and social media, so that agricultural extension must be more active through Facebook, Instagram, Twitter and Linkedin, according to senior Indonesian officials.

It was stated by the Director General of BPPSDMP Momon Rusmono and Rector of STPP Yogyakarta, Ali Rachman here on Saturday (September 8) at the national seminar titled young entrepreneur. Another speakers is Yossi Wibisono of Indonesian Polytechnic Center of Technology; President Director of PT Naturan Nusantara, Hana Indra Kusuma; and the Pispi, Achmad Tjachja.

"Its mission is to develop the potential of young people as innovators, strengthen competitive business institutions and agricultural networks, develop a nationalistic socioagripreneur spirit towards strategic environmental changes, "said Mr Rusmono.

According to him, the three main factors of the agricultural sector to attract young people to agriculture are: productivity and profitability, job opportunities, comfort and job satisfaction according to the character of the young generation with dynamic mindset and activities, with high interest to technological innovation.

"They are the digital generation in the millennial era that is attached to technology, so the ministry approaches the use of technology. Agricultural machinery has proven to be able to attract young people to become operators of ground tractor, rice transplanter, and combine harvester," he said.

Young Agropreneur
Ali Rachman reviewed the Yogyakarta STPP program after the transformation into the Agricultural Development Polytechnic or Polbangtan to support the farmers´ vision with the character of agropreneur such as scholarships for prospective young farmers for non-civil servants at Polbangtan in 13 study programs.

"The Polbangtan´s vision and mission is to develop young agricultural entrepreneurs based on agribusiness and information technology innovation to arouse young agropreneur as a future generation of agriculture," Mr Rachman said.

The strategic step to generate young agropreneur is to increase the attractiveness of agriculture. The young generation who were the targets for young agropreneur were generation Y who was born 1981 to 1994, and generation Z born in 1995 to 2010. Generations are much interested in information technology and social media.

"Government policies and stakeholders must try to attract young people to agriculture with more exposure to the agricultural sector in information technology and social media," Mr Rachman said.