Halau Air Asin, PJ Upsus Kebumen Dampingi Poktan Perbaiki Bendung Tradisional
Indonesian Farmers Prevent Salt Water into the Rice Fields with a Traditional Weirs
Editor : M. Achsan Atjo
Translator : Dhelia Gani

PUBLISHED: Senin, 05 November 2018 , 00:44:00 WIB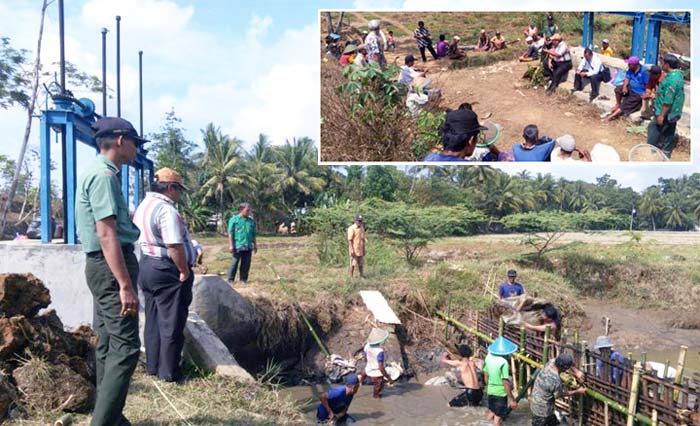 PENDAMPINGAN PETANI: PJ Upsus Kebumen, Ali Rachman (topi coklat) melakukan pendampingan kegiatan perbaikan bendung tradisional di Desa Kedungweru, Kecamatan Ayah (Foto2: Humas Polbangtan YoMa)
Kebumen, Jateng (B2B) - Kelompok tani (Poktan) Muji Rahayu di Desa Kedungweru, Kecamatan Ayah bekerja gotong royong memperbaiki bendung tradisional untuk menghalau air asin masuk sawah mereka, untuk percepatan tanam padi sekaligus meningkatkan kontribusi pada target luas tambah tanam (LTT) padi di Kabupaten Kebumen, Provinsi Jawa Tengah.
"Inisiatif, kemandirian dan semangat dari 40 anggota Poktan Muji Rahayu luar biasa dan layak ditiru. Kontribusinya besar pada capaian LTT padi Kecamatan Ayah sebagai yang tertinggi daripada kecamatan lain di Kebumen," kata Ali Rachman selaku Penanggung Jawab Upsus Pajale Kebumen kepada pers saat mendampingi kegiatan tersebut, belum lama ini.
Dia mengharapkan para petani anggota Poktan di Kecamatan Ayah dan seluruh Kebumen berinisiatif, kompak dan bekerja keras meningkatkan produksi pangan strategis khususnya padi untuk mencapai swasembada pangan dan kesejahteraan keluarga.
"Pemerintah pusat melalui Kementerian Pertanian RI dan pemerintah daerah selalu siap mendukung dan mendorong petani untuk menanam padi. Kementan siap memberikan bantuan Alsintan dan benih, namun petani dan kelompoknya harus kompak bekerja keras," kata Ali Rachman dari Politeknik Pembangunan Pertanian Yogyakarta Magelang disingkat Polbangtan YoMa).
Ketua Poktan Muji Rahayu, Waris mengatakan kegiatan perbaikan bendung tradisional bertujuan menghalau air asin dari Pantai Ayah ke sawah melalui Sungai Ijo dan masuk ke Sungai Kedungsamping agar tidak bercampur dengan air tawar dari saluran irigasi.
"Pintu air yang ada rusak, maka kami berinisiatif membangun bendung tradisional sehingga tidak bercampur dengan air asin," kata Waris.
Kepala Desa Kedungweru, Nangin mengapresiasi semangat para petani setempat membangun bendung tradisional tersebut, agar petani bisa segera menanam padi.
Kebumen of Central Java (B2B) - Farmers of farmer groups Muji Rahayu in Kedungweru village of Ayah subdistrict works together build a traditional weir to prevent salt water into the rice fields, to maintain the realization of extensification of rice planting in Kebumen district of Central Java province.
"The initiative, independence and enthusiasm of 40 members of the Muji Rahayu farmer group is extraordinary and worthy of emulation," said Ali Rachman as the Person in Charge of Kebumen´s increase strategic food products or the PJ Upsus Kebumen here, recently.
He expects farmers in the sub-districts of Father and all districts to take the initiative, be compact and work hard to increase strategic food production, especially rice for food self-sufficiency and family welfare.
"Central government and regional government support and encourage farmers to grow rice. Agriculture ministry is ready to provide assistance agricultural machinery and seed," Mr Rachman said.
Chairperson of farmer group Muji Rahayu, Waris say traditional weir to drive salt water of Ayah Beach to rice fields through the Ijo River and enter the Kedungsamping River so that it is not mixed with fresh water from the irrigation canal.
"The sluice door was damaged, so we took the initiative to build a traditional weir, so that irrigation water is not mixed with sea water," said Waris, who goes by one name, like many Indonesians.
Kedungweru Village Chief, Nangin Nangin appreciates the enthusiasm of the local farmers to build the traditional weir, so that farmers can immediately plant rice.