Optimalisasi Lahan Tidur, Kementan Uji Coba Teknologi Jepang `Sheet Pipe System` di Lahan Tidur
Indonesian Agriculture Ministry Applying Sheet Pipe System Drainage Technology
Reporter : Gusmiati Waris
Editor : Cahyani Harzi
Translator : Dhelia Gani

PUBLISHED: Rabu, 14 Maret 2018 , 00:52:00 WIB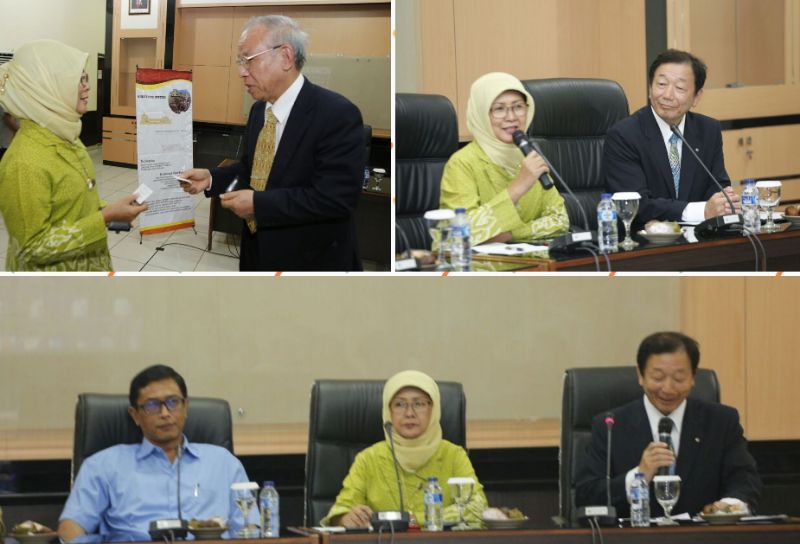 LAHAN TIDUR: Staf Ahli Menteri Pertanian Bidang Infrastruktur Ani Andayani, Tenaga Ahli Menteri Pertanian Budi Indra Setiawan, dan President Director Kyowa ltd co, Koremasa Tamura (Foto2: B2B/Gusmiati Waris)
Subang, Jabar (B2B) - Pemerintah RI berupaya mengoptimalkan fungsi 20 juta hektar lahan kering dan rawa di seluruh Indonesia yang belum tergarap, dengan menguji coba teknologi pertanian Jepang, sheet pipe system (SPS), teknologi drainase bawah tanah berbiaya rendah, didukung oleh Kyouwa dan Japan International Colsultant Agriculture (JICA) dari Jepang, yang akan dikembangkan oleh Kementerian Pertanian di seluruh Indonesia.

Hal itu dikemukakan oleh Staf Ahli Menteri Pertanian Bidang Infrastruktur Ani Andayani, Tenaga Ahli Menteri Pertanian Budi Indra Setiawan, dan Inoue Youichi selaku Tim Leader KyouWa di Sukamandi, Kabupaten Subang, Provinsi Jawa Barat pada Selasa (13/3).

"Kementan terus mencari cara untuk mengembangkan lahan pertanian di lahan kering dan rawa. Saat ini diperkirakan sekitar 20 juta hektar lahan tidur tersebut belum tergarap, dan teknologi ini merupakan hasil pencarian Budi Indra Setiawan dalam tiga tahun terakhir," kata Ani Andayani kepada pers di Balai Besar Penelitian Tanaman Padi (BB) Sukamandi - Subang.

Menurutnya, dari 20 juta hektar lahan tidur tersebut, Mentan Andi Amran Sulaiman menargetkan empat juta hektar dikembangkan menjadi lahan pertanian untuk mendukung peningkatan produksi pangan strategis khususnya padi, jagung dan kedelai (Pajale).

Budi IS mengatakan teknologi SPS telah diuji coba pada lahan percontohan BB Padi Sukamandi - Subang. Komponennya terdiri atas bahan ´sheet lembaran plastik berpori-pori yang direkayasa menjadi pipe atau pipa silindris dengan kancing mirip retleting kemudian ditarik dengan mole drain sehingga terbenam dalam tanah dan kedalamannya dapat diatur.

"Inovasi optimalisasi irigasi dengan sistem sheet pipe dapat men-drain- kelebihan air di rawa, bahkan bisa dipakai pula untuk optimalisasi lahan kering. Kondisi ini banyak ditemui pada lahan rawa di luar Jawa seperti Sumatera, Kalimantan dan Papua," kata Budi IS.

Inoue Youichi mengatakan teknologi ini telah diterapkan di industri pertanian Jepang untuk meningkatkan lahan pertanian serba guna, setelah pemerintah Jepang menerapkan aturan pemanfaatan sawah secara efektif. Kebijakan itu mengharuskan lahan pertanian untuk berfungsi pada musim panas dan juga berlaku di lahan rawa.

"Teknologi ini dapat meningkatkan fungsi dari fasilitas irigasi dan drainase sesuai dengan karakteristik wilayah serta merupakan kunci untuk produksi skala penuh berbagai tanaman. Teknologi berbiaya rendah dengan karakteristik drainase yang unggul, jadi cocok untuk lahan pertanian konversi tanah liat berat," kata Inoue Youichi.
Subang of West Java (B2B) - Indonesian government seeks to optimize 20 million hectares of dry land and swampland across the country, applying Japanese agricultural technology called sheet pipe system as a low-cost underground drainage technology, supported by Kyouwa and Japan International Colsultant Agriculture (JICA) from Japan, and its development is supported by the agriculture ministry.

It was stated by Expert Staff of the Agriculture Minister for Infrastructure Ani Andayani, Expert of Agriculture Minister Budi Indra Setiawan, and Inoue Youichi as Team Leader of KyouWa on Tuesday (March 13) in Sukamandi of Subang district, West Java province.

"The ministry continues to seek ways developing agricultural land in dry land and swampland. Currently estimated there are 20 million hectares of sleeping land, and technology from Japan is a search result by Budi Indra Setiawan in the last three years," Ani Andayani told the press in Sukamandi´s Research and Rice Crops or BB Padi Sukamandi - Subang.

She said of the 20 million hectares of unused land, Agriculture Minister Andi Amran Sulaiman targets four million hectares to be developed into agricultural land, to support increasing strategic food production especially rice, corn and soybeans.

Mr Setiawan said sheet pipe system technology has been tested on pilot land in the BB Padi Sukamandi - Subang. The component consists of a sheet or porous plastic sheet engineered into a cylindrical pipe with buttons such as zipper, then pulled by the mole drain so it is immersed in the ground, the depth can be arranged.

"Innovation of irrigation optimization with a sheet pipe system can drain-excess water in swamps, and even be used for dry land optimization. This condition is mostly found in swampland outside Java such as Sumatra, Borneo and Papua," Mr Setiawan said.

Inoue Youichi said the technology has been applied in the Japanese agricultural industry to improve multipurpose farms, after the Japanese government applied the rules of utilizing rice fields effectively. The policy requires agricultural land to function in the summer and swampland.

"The technology improves the function of irrigation and drainage according to the characteristics of the region and determines the success of full-scale production of various crops. Low-cost technology with superior drainage characteristics, so suitable for heavy clay farm conversion," Mr Youichi said.