Didukung BPTP Kaltim, Nunukan Ekspor Beras Adan Krayan ke Malaysia
Adan Rice of Indonesia`s North Borneo Export to Malaysia
Editor : M. Achsan Atjo
Translator : Dhelia Gani

PUBLISHED: Senin, 21 Januari 2019 , 05:55:00 WIB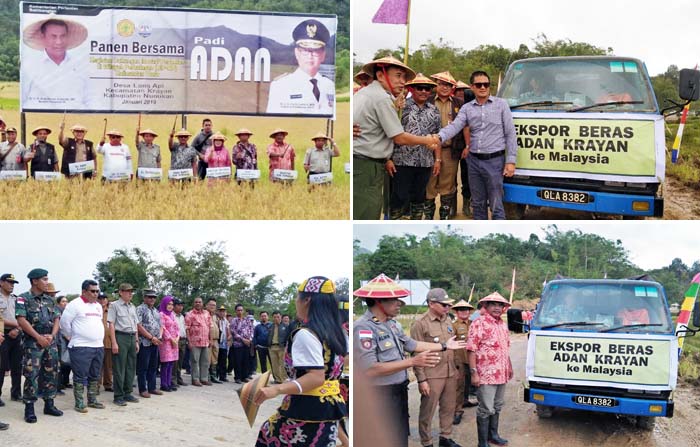 BENIH LOKAL: Kepala BB Biogenetik Kementan, Mastur melepas ekspor beras Adan Krayan ke Malaysia didampingi Wakil Bupati Nunukan H Faridil Murad; dan Camat Krayan Helmi Pudaaslikar (Foto2: Humas BPTP Kaltim/Margaretha T)
Nunukan, Kaltara (B2B) - Petani Krayan di Kabupaten Nunukan, Provinsi Kalimantan Utara mengekspor beras Adan Krayan, benih padi lokal dari Kecamatan Krayan ke negeri jiran, Malaysia setelah berhasil mendapat sertifikat Indikasi Geografis (IG) dari Direktorat Jenderal Kekayaan Intelektual - DJKI di Kementerian Hukum dan HAM.
Pelepasan ekspor perdana 10 ton beras Adan Krayan ke Malaysia dilakukan oleh Kepala Balai Besar Biogenetik Kementerain Pertanian, Mastur didampingi Wakil Bupati Nunukan H Faridil Murad; Camat Krayan Helmi Pudaaslikar dan Kepala Balai Pengkajian Teknologi Pertanian Kalimantan Timur - BPTP Kaltim, Muhammad Amin pada Kamis (17/1).
Kepala BB Biogenetik Kementan, Mastur mengapresiasi kinerja petani Krayan dan pemerintah daerah didukung BPTP Kaltim untuk melestarikan sumber daya genetik dan sumber daya hayati dari beras Adan Krayan untuk membangun ketahanan pangan, bahkan hinga ekspor beras lokal ke Malaysia.
Wakil Bupati H Faridil Murad mengatakan ekspor berhasil dilakukan setelah pemerintah provinsi dan kabupaten gigih meyakinkan Malaysia untuk mengimpor beras Adan Krayan dari Nunukan yang telah mengantongi SIG dari Kemenkumham.
"Setiap kali panen, petani di Krayan berhasil memproduksi lebih 10 ton beras Adan, yang secara periodik diekspor ke Malaysia," kata H Faridil Murad pada pelepasan ekspor di Long Bawan, Krayan yang dihadiri sekitar 300 orang petani dan warga setempat.
"Luas sawah di seluruh Krayan mencapai 3.466 hektar dan rerata produksi setiap panen sekitar 14 ribu ton gabah kering panen setara beras 8.568 ton. BPTP Kaltim terus mendorong Krayan dapat menjadi lumbung beras Nunukan yang berorientasi ekspor," kata Muhammad Amin.
Nunukan of North Borneo (B2B) - Krayan Farmers in Nunukan district of North Kalimantan province exports Adan Krayan rice to Malaysia. Local rice seeds of Krayan subdistrict have the Geographical Indication certificate from the Indonesian Law and Human Rights Ministry.
The initial export of 10 tons of Adan Krayan rice to Malaysia was carried out by Director of the ministry´s Biogenetic Center, Mastur; accompanied by Deputy Regent of Nunukan H Faridil Murad; Deputy Regent Nunukan H Faridil Murad; Krayan´s Subdistrict Head Helmi Pudaaslikar; and Director of East Borneo´s Agricultural Technology Assessment Center or the BPTP Kaltim, Muhammad Amin.
Mastur appreciated the performance of Krayan farmers and local governments supported by BPTP Kaltim to preserve Adan Krayan´s genetic resources and rice biological resources to build food security.
Deputy Regent H Faridil Murad said rice exports were successful after the provincial and district governments persistently convinced Malaysia to import Adan Krayan rice from Nunukan.
"Every rice harvest, Krayan farmers managed to produce more than 10 tons of Adan rice, which is periodically exported to Malaysia," said H Faridil Murad in Long Bawan, around 300 farmers and local residents attended.
"The total area of rice fields in Krayan reaches 3,466 hectares and average production of 14 thousand tons of dry grain is equivalent to 8,568 tons of rice. The BPTP Kaltim continues to encourage Krayan become an export-oriented Nunukan rice barn," Muhammad Amin said.