Kendaraan Bermotor, Rakor Balittri Kementan dengan KemenESDM Bahas B100
Coordination Meeting of Indonesian Ministries of Biodiesel for Motor Vehicle
Reporter : Gusmiati Waris
Editor : Cahyani Harzi
Translator : Dhelia Gani

PUBLISHED: Kamis, 09 Mei 2019 , 04:54:00 WIB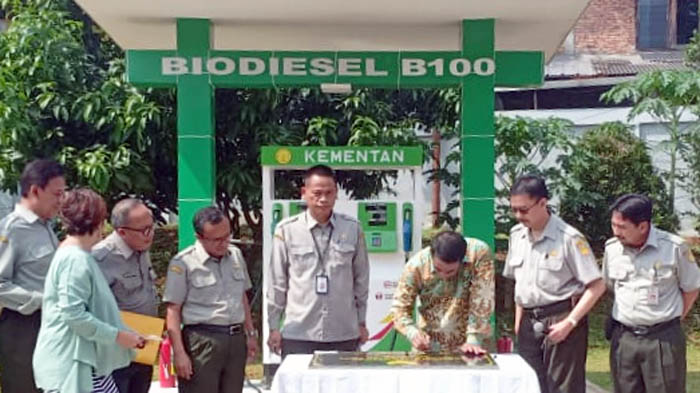 UJI COBA: Kepala Balitbangtan Kementan, Fadjry Djufry [ke-5 kiri] mendampingi Mentan Amran Sulaiman meneken pelaksanaan uji coba B100 pada mobil dinas dan Alsintan di Jakarta, Senin [15/4] Foto: B2B/Mya
Sukabumi, Jabar [B2B] - Pemerintah RI melakukan koordinasi antarkementerian membahas energi terbarukan, biodiesel B100, untuk kendaraan bermotor khususnya mobil dinas pemerintah, melalui rapat koordinasi [Rakor] Balai Penelitian Tanaman Industri dan Penyegar - Balitbangtan Kementerian Pertanian RI [Balittri] dengan Badan Penelitian dan Pengembangan Energi dan Sumber Daya Mineral [ESDM] - Kementerian ESDM.
"Rakor Balittri dari Balitbangtan Kementan dengan Balitbangtan KemenESDM untuk membahas peningkatan pemanfaatan B100 pada kendaraan bermotor, yang dihadiri para pemangku kepentingan dari kedua kementerian," kata Kepala Balitbangtan Kementan, Fadjry Djufry kepada pers di Sukabumi, Jabar pada Rabu [8/5].
Menurutnya, Rakor membahas rencana kerjasama pengembangan dan peningkatan penggunaan B100 pada kendaraan bermotor dan peran masing-masing pemangku kepentingan.
"Setelah rapat koordinasi peserta mengunjungi instalasi produksi biodiesel di wilayah Agrowidya Wisata Ilmiah disingkat AWwI Balittri," kata Fadjry Djufry.
Dia menambahkan, pengembangan B100 dari CPO ini merupakan langkah strategis pemerintah untuk mengontrol harga ekspor-impor minyak sawit dunia, sekaligus salah satu jalan keluar adanya black campaign dari masyarakat Erofa kepada persawitan Indonesia.
Balittri tidak hanya menghasilkan B100 berbahan baku CPO, akan tetapi telah menghasilkan B100 dari berbagai macam tanaman penghasil biodiesel seperti kemiri sunan, jarak pagar, biji karet, bintaro, nyamplung, pongamia, kepuh dan kesambi.
"Di antara tanaman-tanaman tersebut, kemiri sunan merupakan tanaman penghasil biodiesel yang paling potensial. Selain menghasilkan BBN tanaman kemiri sunan juga dapat ditanam di aeral suboptimal, reklamasi lahan bekas tambang, penyerap karbon dan penahan air tanah yang baik," katanya.
Sebagaimana diketahui, komponen terpenting dalam pengembangan B100 adalah reaktor yang mampu mengolah minyak nabati menjadi B100 yang memenuhi standar SNI.
"Salah satu reaktor biodiesel yang ada di instalasi produksi biodiesel Balittri adalah reaktor multifungsi yang memiliki kapasitas olah 400 liter/5 jam, menghasilkan minyak nabati dengan ALB tinggi, dapat mengolah berbagai jenis minyak nabati, dilengkapi methanol recovery dan memiliki monitor display untuk melihat pemisahan biodiesel dari gliserol dalam tabung pemisah di bawah tabung reaktor," kata Fadjry Djufry.
Sukabumi of West Java [B2B] - The Indonesian government conducts inter-ministerial coordination to discuss the use of renewable energy, biodiesel B100, for motorized vehicles, especially government official cars, through coordination meetings of research and development agency of the Agriculture Ministy and the Energy and Mineral Resources Ministry.
"Coordination meeting to discuss increasing utilization of B100 for motorized vehicles, it was attended by stakeholders of the ministries," Director General of Research and Development at the Agriculture Ministry or Balitbangtan, Fadjry Djufry told the press here on Wednesday [May 8].
According to him, the coordination meeting discussed the plan to develop cooperation and increase the use of B100 for motorized vehicles, and the role of stakeholders.
"After the coordination meeting, participants visited the biodiesel production plant in Sukabumi," Djufry said.
He added, the development of B100 from CPO is the strategic step by the Indonesian government to control the price of world palm oil exports, as well as a way out for black campaigns of the European community to the Indonesian palm oil industry