Polbangtan Yogya - Magelang Siap jadi `Kawah Chandradimuka` Agropreneur Muda
Indonesian´s Agriculture Ministry Developing Teaching Factory for Students
Editor : M. Achsan Atjo
Translator : Dhelia Gani

PUBLISHED: Rabu, 19 September 2018 , 00:59:00 WIB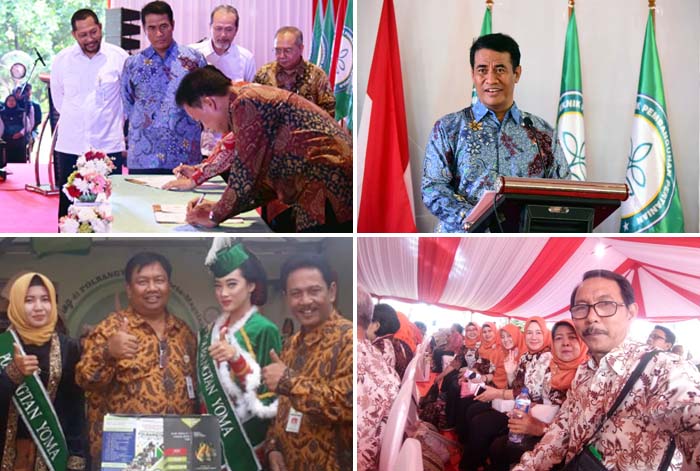 Arah jarum jam: Kerjasama BPPSDMP Kementan dan swasta, Mentan Amran Sulaiman sampaikan arahan, Kabag Administrasi Umum Polbangtan Yogya - Magelang, Irwan JS, dan Direktur Ali Rachman kunjungi pameran (Foto2: Irwan JS)
Bogor, Jabar (B2B) - Direktur Polbangtan Yogyakarta - Magelang, Ali Rachman siap melaksanakan instruksi Menteri Pertanian RI Andi Amran Sulaiman dan Kepala BPPSDMP Kementan, Momon Rusmono untuk mengembangkan ex STPP Magelang menjadi ´kawah chandradimuka´ bagi agropreneur muda sehingga esksistensi Polbangtan diakui oleh institusi pendidikan lain dan masyarakat, karena ciri khas dan keunggulannya sebagai branding pendidikan tinggi pertanian.
"Polbangtan di seluruh Indonesia, khususnya Polbangtan Yogyakarta - Magelang siap melaksanakan instruksi Mentan dan Kepala BPPSDMP Kementan, khususnya meningkatkan animo generasi muda untuk menempuh pendidikan di Polbangtan sesuai keinginan dan harapan setelah lulus dari kawah chandradimuka Polbangtan," kata Ali Rachman kepada pers di Bogor, Selasa pagi (18/9) usai peluncuran Polbangtan oleh Mentan Amran Sulaiman.
Ali Rachman mengakui pihaknya bersama lima pimpinan Polbangtan lain selama dua tahun terlibat aktif mendukung BPPSDMP Kementan mulai dari perekrutan dosen, menyekolahkan dosen dan tenaga kependidikan melalui tugas belajar dan ijin belajar serta pemagangan bagi dosen dan tenaga kependidikan pada pendidikan vokasi pertanian baik di dalam dan luar negeri.
"Menyiapkan dan melengkapi prasarana dan sarana pendidikan seperti rektorat, perpustakaan, asrama dan fasilitas praktikum khususnya teaching factory atau TeFa sebagai ciri khas pendidikan vokasi melalui kerjasama dengan dunia usaha dan industri," kata Ali Rachman didampingi Kabag Administrasi Umum Polbangtan Yogya - Magelang, Irwan Johan Sumarno.
Dia pun menguraikan tentang prinsip dasar TeFa adalah mengintegrasikan pengalaman dunia kerja ke dalam kurikulum sekolah, yang merupakan perpaduan dari pembelajaran berbasis produksi dan pembelajaran kompetensi.
"Semua peralatan dan bahan serta pelaku pendidikan disusun dan dirancang untuk melakukan proses produksi dengan tujuan menghasilkan produk atau jasa," katanya.
Bogor of West Java (B2B) - Director of the Magelang´s Agriculture Extention College or the STPP Magelang, Ali Rachman ready to carry out instructions of Indonesian Agriculture Minister Andi Amran Sulaiman and Head of BPPSDMP Ministry of Agriculture, Momon Rusmono to develop the Polbangtan become the ´chandradimuka crater´ for young Indonesian agropreneur so that the existence of Polbangtan is recognized by other educational institutions and the community.
"The Polbangtan across the country, especially the Yogyakarta Police - Magelang is ready to carry out the instructions of Minister Sulaiman and Mr Rusmono especially the interest of the young generation to study at Polbangtan," Mr Rachman told the press here on Tuesday (September 18).
Mr Rachman acknowledged his side with his five colleagues, the directors of Polbangtan, for two years actively support the BPPSDMP through the recruitment of lecturers, improve the ability of lecturers and education personnel through learning assignments and conduct apprenticeship for lecturers and education personnel in agricultural vocational education at home and abroad.
"Preparing and completing educational infrastructure and facilities, starting from offices for rectorates, libraries, dormitories, practical facilities and practicum for teaching factory or the TeFa which is a characteristic of vocational education for collaboration with business and industry," said Mr Rachman was accompanied by by the Head of General Affairs, Irwan Johan Sumarno.
According to him, the basic principle of TEFA is the integration of work experience into the school curriculum as a combination of production-based learning and competence.
"Equipment and teachers are designed for the process of making products or services," Mr Rachman said.