Ekskul Wajib 7 Hari, Polbangtan Yogyakarta Gelar Kursus Mahir Dasar Pramuka
Indonesian Agricultural Polytechnic Students must Take Part in Scout Activities
Editor : M. Achsan Atjo
Translator : Dhelia Gani

PUBLISHED: Selasa, 11 September 2018 , 01:24:00 WIB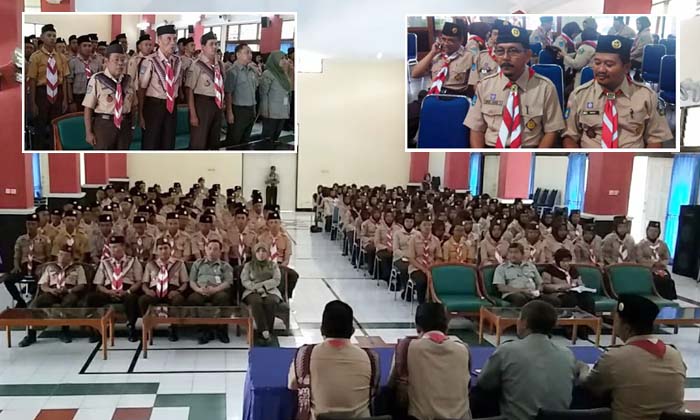 EKSTRAKURIKULER: Pembukaan KMD 2018 untuk mahasiswa baru; Kabag Administrasi Umum, Irwan Johan Sumarno dan Pamong Saka, Asnuri (kanan atas) Foto2: Humas Polbangatan Yogyakarta
Yogyakarta, DIY (B2B) - Sedikitnya 168 mahasiswa Politeknik Pembangunan Pertanian - Polbangtan Yogyakarta mengikuti Kursus Mahir Dasar Pramuka disingkat KMD 2018 bekerjasama dengan Pusdiklat Kwarcab Kota Yogyakarta, yang dibuka oleh Wakil Ketua I STPP Yogyakarta, Rajiman pada Senin (10/9) dan akan berlangsung hingga Minggu (16/9) sebagai ekstrakurikuler wajib bagi mahasiswa baru Polbangtan Yogyakarta untuk mendapatkan ijazah mahir dasar kepramukaan.
Rajiman mengimbau kepada seluruh peserta KMD 2018 untuk menanggalkan sentimen kesukuan dan kedaerahan setelah menjadi mahasiswa Polbangtan Yogyakarta, dan KMD bertujuan penting untuk kelanjutan kegiatan pramuka di tingkat gugus depan, dengan membentuk jiwa-jiwa pembina yang siap terjun ke masyarakat.
"Ke depan, kami berharap KMD akan mendorong Saka Taruna Bumi akan lebih banyak berkembang di daerah-daerah melalui basis pendidikan di balai penyuluhan pertanian atau BPP dan gugus depan serta dapat melatih anak-anak, siswa-siswa dalam kegiatan kepramukaan khususnya di bidang pertanian," kata Rajiman.
Tampak hadir Ketua Jurusan R Hermawan; dan Sekretaris Jurusan Siti Astuti, pamong saka Asnuri dan sejumlah pejabat struktural Polbangtan Yogyakarta.
Asnuri mengatakan bahwa pramuka itu tidak membedakan agama yang satu dengan yang lain, tidak membedakan suku dan golongan. Hal terpenting bagi seorang pramuka adalah memiliki iman dan ketakwaan yang kuat, dengan begitu perbuatan yang tidak baik dalam setiap sisi kehidupan bisa dihindari.
Kegiatan KMD diselenggarakan dua sesi. Sesi pertama digelar di dalam ruangan auditorium kampus, untuk menerima materi-materi dengan metode discussion group sesama peserta dan fasilitator pelatih dari Kwarcab Kota Yogyakarta. Materinya meliputi silabus, sistem penilaian, program latihan, UU Gerakan Pramuka, prinsip dasar kepramukaan, metode kepramukaan, dan AD/ART Gerakan Pramuka.
"Sesi kedua digelar di luar ruangan atau outdoor, dengan kegiatan berkemah. Materinya meliputi penyusunan program berkemah, kegiatan bagi mahasiswa, cara mendirikan tenda, kehidupan perkemahan, mengelola satuan pramuka siaga, penggalang, penegak dan pandega," kata Asnuri. (IJS)
Yogyakarta (B2B) - At least 168 students of the Indonesia´s Agriculture Development Polytechnic in Yogyakarta or the Polbangtan Yogyakarta take the Advanced Scouting Course or KMD 2018 supported by the Yogyakarta Scout Branch Quartir. The activity was opened by Deputy Rector Rajiman here on Monday (September 10) and will last until Sunday (September 16) as the compulsory extracurricular for new students to get a basic scout diploma.
Rajiman appealed to all participants to leave ethnic and regional sentiments after in the college and KMD as scout activities to form leadership and organization.
"In the future, we hope KMD will encourage Saka Taruna Bumi to be held more in the regions through the education base in agricultural extension centers or BPP and front clusters and can train children and students in scouting activities, especially in agriculture," said Rajiman, who uses one name like many Indonesians.
Asnuri said that scouts did not look at religion, ethnicity and social strata. The most important thing for scouts is trust in God Almighty.
KMD activities are held in two sessions. The first session was held in the campus auditorium to get coaching material through focus group discussions. The material includes syllabus, scoring system, training program, Scout Movement Law, scout basic principles, and scout coaching methods.
"The second session was held outdoor by camping activities. The material includes the preparation of camping programs, activities for students, how to set up tents, camp life and become scout coach for junior and senior," Asnuri said.