Sekjen Kementan Ingatkan Pola Pembelajaran Polbangtan Beda dengan STPP
The Teaching Factory for Indonesia`s Agricultural Education
Editor : M. Achsan Atjo
Translator : Dhelia Gani

PUBLISHED: Jum'at, 07 September 2018 , 02:09:00 WIB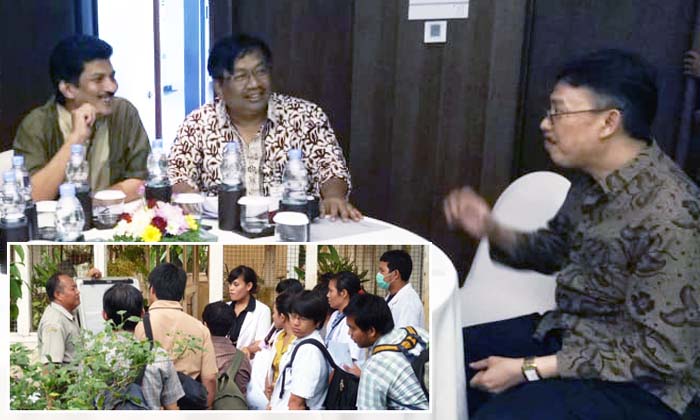 RAPIM BALI: Ketua STPP Yogyakarta, Ali Rachman (tengah) dan Sekjen Kementan, Syukur Iwantoro di di Denpasar, Bali. Mahasiswa mengikuti pembelajaran TeFA di kebun praktik (bawah) Foto2: Humas STPP Yogyakarta
Denpasar, Bali (B2B) - Pola pembelajaran Politeknik Pembangunan Pertanian (Polbangtan) berbeda dengan Sekolah Tinggi Penyuluhan Pertanian (STPP) yang berlangsung simultan. Mahasiswa setelah mendapat materi umum di masing-masing mata kuliah, kemudian pendalaman materi praktikum di Teaching Factory (TeFa), yang akan diterapkan pada Polbangtan Magelang - Yogyakarta.
"Setelah itu mahasiswa menjalani uji sertifikasi dan kompetensi, sehingga setelah lulus perkuliahan maka mahasiswa mendapat ijazah dan sertifikasi profesi. Kementerian Pertanian menginginkan lulusan Polbangtan siap pakai," kata Ketua STPP Yogyakarta, Ali Rachman mengutip arahan Sekjen Kementan Syukur Iwantoro di sela rapat pimpinan terpadu Kementan di Bali, Denpasar (5/9).
Penerapan TeFa harus berskala industri, artinya Polbangtan akan menjadi center of excellent di Indonesia, maka Polbangtan harus menjalin kemitraan dengan petani dan melibatkan mahasiswa sehingga lulusan Polbangtan berpotensi menjadi pelaku industri.
"Model pengajaran TeFa adalah keniscayaan untuk mewadahi sekaligus memberikan keterampilan kepada mahasiswa, karena sektor pertanian tetap eksis meski dunia saat ini berada pada era disruption," kata Ali Rachman mengutip Syukur Iwantoro.
Dia menambahkan, prinsip dasar TEFA adalah mengintegrasikan pengalaman dunia kerja ke dalam kurikulum sekolah, yang merupakan perpaduan dari pembelajaran berbasis produksi dan pembelajaran kompetensi.
"Semua peralatan dan bahan serta pelaku pendidikan disusun dan dirancang untuk melakukan proses produksi dengan tujuan menghasilkan produk atau jasa," katanya pada 30 peserta rapat koordinasi.
Dalam pembelajaran berbasis produksi, mahasiswa terlibat langsung dalam proses produksi, sehingga kompetensinya dibangun berdasarkan kebutuhan produksi. Kapasitas produksi dan jenis produk menjadi kunci utama keberhasilan pelaksanaan pembelajaran.
"Dengan TEFA, Polbangtan Yogya - Magelang melaksanakan kegiatan produksi atau layanan jasa yang merupakan bagian dari proses belajar dan mengajar. Dengan demikian kampus diharuskan memiliki sebuah pabrik, workshop atau unit usaha lain untuk kegiatan pembelajaran," kata Ali Rachman.
Denpasar of Bali (B2B) - Education and teaching systems at the Agricultural Development Polytechnic or the Polbangtan different of the Agricultural Extension College or the STPP because simultaneously. Students after getting common material in each course materials, students explore the practical material in Teaching Factory or TeFa, which will be applied in Polbangtan Yogyakarta - Magelang.
"After that students undergo certification and competency tests, so that after graduating, students get a diploma and professional certificate. Indonesian Agriculture Ministry wants the Polbangtan graduates to be ready to work," said the said the Chancellor of STPP Yogyakarta, Ali Rachman quote directions of Secretary General of Agriculture Ministry, Syukur Iwantoro here on Thursday (September 5).
The application of TeFa must be on an industrial scale, meaning that Polbangtan will be a center of excellent in Indonesia, so Polbangtan must establish partnerships with farmers and involve students so that graduates of the Polbangtan have the potential to become industry players.
"TeFa´s teaching model is a necessity to accommodate and provide skills to students, because the agricultural sector still exists even though the world is currently in an era of disruption," said Mr Rachman quoted Mr Iwantoro.
He said, the basic principle of TEFA is the integration of work experience into the school curriculum as a combination of production-based learning and competence.
"Equipment and teachers are designed for the process of making products or services," Mr Rachman said.
According to him, production-based learning encourages students to engage in the production process, building competencies based on production needs, by knowing the capacity and type of products.
The production-based learning encourages students to engage in the production process, building competencies based on production needs, by knowing the capacity and type of products.
"In TEFA, the Polbangtan Yogya - Magelang perform production activities or provide services as part of the learning and teaching process. The schools and academies should have a factory, workshop or other business unit for learning activities," he said.