Mentan Luncurkan Polbangtan, Civitas Academi Yogyakarta - Magelang Sambut Antusias
The Teaching Factory for Indonesia`s Agricultural Education Launched by Minister
Editor : M. Achsan Atjo
Translator : Dhelia Gani

PUBLISHED: Kamis, 20 September 2018 , 02:10:00 WIB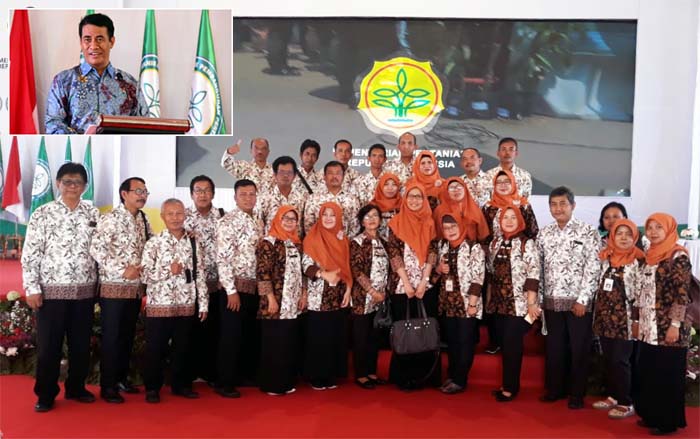 WUJUD APRESIASI: Sebagian dari civitas academica Polbangtan Yogyakarta - Magelang bersama Kabag AU, Irwan Johan Sumarno (ke-2 kiri) dan Mentan Amran Sulaiman (inset atas) Foto2: Humas PYM/Irwan JS
Bogor, Jabar (B2B) - Peluncuran Politeknik Pembangunan Pertanian (Polbangtan) oleh Menteri Pertanian RI Andi Amran Sulaiman di Bogor, Selasa (19/9) disambut antusias oleh civitas academica Polbangtan Yogyakarta - Magelang disingkat PYM dengan kehadiran widyaiswara, dosen, pimpinan dan staf rektorat berjumlah 80 orang dipimpin Direktur Ali Rachman ke kampus Polbangtan Bogor sebagai lokasi peluncuran Polbangtan.
Antusiasme tersebut menurut Kabag Administrasi Umum PYM, Irwan Johan Sumarno merupakan wujud apresiasi terhadap upaya Kementerian Pertanian RI selama dua tahun menyiapkan transformasi Sekolah Tinggi Penyuluhan Pertanian (STPP) menjadi Polbangtan dipimpin oleh Kepala Badan Penyuluhan dan Pengembangan SDM Pertanian (BPPSDMP) Kementan, Momon Rusmono dan Kepala Pusat Pendidikan Pertanian (Pusdiktan) Gunawan Yulianto sebagai ´manajer lapangan´ pengembangan Polbangtan.
"Kami datang ke Bogor dengan aneka moda transportasi. Mulai dari pesawat terbang, kereta api, bus malam, hingga mobil pribadi semata-mata untuk menjadi saksi peristiwa penting bagi tonggak pendidikan tinggi pertanian di Indonesia," kata Irwan JS mewakili Direktur Ali Rachman.
Menurutnya, kehadiran 80 orang sebagai ´kontingen terbesar´ dari kampus Polbangtan, lantaran PYM yang terdiri atas dua kampus dari STPP Magelang yakni jurusan penyuluhan pertanian (Jurluhtan) di kampus Kusumanegaran 2 Yogyakarta, dan jurusan penyuluhan peternakan (Jurluhnak) di Jl Magelang - Kopeng, Magelang untuk mendengarkan langsung arahan dari Mentan Amran Sulaiman dan Kepala BPPSDMP Kementan, Momon Rusmono.
Mentan Amran Sulaiman dalam arahannya mengatakan pendidikan tinggi vokasi berperan strategis dan berada di garda terdepan untuk penanganan usia angkatan kerja, dan mendidik mereka menjadi tenaga-tenaga terampil, profesional dan memiliki daya kompetitif tinggi yang akan meningkatkan daya saing bangsa.
"Saya awali sambutan ini dengan mencuplik arahan Presiden Joko Widodo pada Sidang MPR-RI pada 16 Agustus 2018, yang menyatakan bahwa proses pendidikan harus mampu membuat manusia Indonesia lebih produktif dan berdaya saing," kata Mentan.
Menurutnya, Kementan akan menjawab tantangan Presiden bahwa kita telah siap dan menyiapkan diri untuk menyiapkan para unggulan di bidang pertanian yang kreatif dan inovatif melalui transformasi STPP menjadi Polbangtan.
"Itulah kata kunci mengapa saya hadir di Polbangtan di Bogor. Saya juga bangga, karena peluncuran ini berlangsung di sekolah pertanian pertama, dulu namanya landbouw school. Dari sini dihasilkan ahli-ahli pertanian yang membawa Hindia Belanda menjadi pengekspor komoditas perkebunan ke seluruh dunia," kata Mentan.
Sementara Momon Rusmono mengingatkan agar Polbangtan di seluruh Indonesia dapat memiliki ciri khas dan keunggulan institusi atau branding, diakui oleh institusi pendidikan lainnya dan utamanya di masyarakat secara luas, sehingga dapat meningkatkan animo generasi muda untuk menempuh pendidikan di Polbangtan.
Menurutnya, hingga saat ini Kementan menyiapkan sedikitnya 29 personel yang berkompeten dan berintegritas untuk mengisi jabatan fungsional pranata laboratorium pendidikan (PLP) melaksanakan fungsi motoris, untuk mendukung pengembangan Polbangtan di Yogyakarta dan Magelang.
Irwan JS menambahkan saat ini Polbangtan Yogyakarta - Magelang didukung enam PLP yang siap bekerja mendukung penyelenggaraan Teaching Factory disingkat TeFa untuk merumuskan jenis kegiatan TEFA.
"Mereka siap melakukan pemberkasan, perhitungan angka kredit, pengajuan penilaian angka kredit, dan memperoleh status peningkatan jenjang fungsional," kata Irwan JS.
Bogor of West Java (B2B) - The launched of the Agricultural Development Polytechnic or Polbangtan by Indonesian Agriculture Minister Andi Amran Sulaiman here on Tuesday (September 19) was welcomed by the academic community of Polbangtan Yogyakarta - Magelang who came to Bogor was led by Director Ali Rachman.
The enthusiasm was according to the Head of General Affairs, Irwan Johan Sumarno as an appreciation of the ministry´s efforts for two years prepared transformation of the Agriculture Extension College or STPP became the Polbangtan by senior ministry officials.
"We came to Bogor with various modes of transportation. Take an airplane, train, night bus, and even private cars to witness important events for the milestone of agricultural higher education in Indonesia," Mr Sumarno said.
According to him, the presence of 80 people as the ´biggest contingent´ of the Polbangtan Yogyakarta - Magelang of the two campuses of STPP Magelang namely agricultural extension in Yogyakarta and animal husbandry extention in Magelang to listen to Minister Sulaiman´s direction and Director General of Agency for Agricultural Extension and Human Resources Development or BPPSDMP, Momon Rusmono.
Minister of Agriculture Sulaiman in his direction said vocational higher education plays a strategic role for handling the age of the workforce, and educate them to become skilled and professional personnel.
"I began this speech by quoting President Joko Widodo´s direction in parliament on August 16, 2018, which states that education must make Indonesian people more productive and competitive," Minister Sulaiman said.
According to him, the ministry will answer the President´s challenge that we are ready and prepared to prepare the creative and innovative leaders in agriculture through the transformation of STPP into Polbangtan.
"That´s the key word why I attended in Bogor. I am also proud, because this launch took place in the first agricultural school, formerly called landbouw school. From here produced agricultural experts who supported the Dutch colonial government become an exporter of plantation commodities to worldwide," Minister Sulaiman said.
Meanwhile Mr Rusmono reminded about the transformation of STPP into Polbangtan not just change the name, but how to manage Polbangtan is a vocational college according to the profile of graduates of study programs compiled with various parties.
According to Mr Rusmono, until today, Indonesian agriculture ministry prepares 29 competent and integrity personnel to fill the functional positions of institution educational laboratory, or PLP to support development of agricultural polytechnic education in the STPP.
Mr Sumarno said that currently the Yogyakarta - Magelang Police Department is supported by six the PLP who are ready to work support implementation of the Teaching Factory or TeFa to formulate the types of TeFa activities.
"By the workshop is expected the PLP will understand concept and technical to carry out its duties and obligations, and understand TeFa as a model of learning in agricultural polytechnics," Mr Sumarno said.