Petani Karanganyar Apresiasi `Pendampingan Mahasiswa` Polbangtan Yogya - Magelang
Indonesian Students Support Farmer in Central Java`s Karanganyar
Editor : M. Achsan Atjo
Translator : Dhelia Gani

PUBLISHED: Rabu, 01 Agustus 2018 , 02:11:00 WIB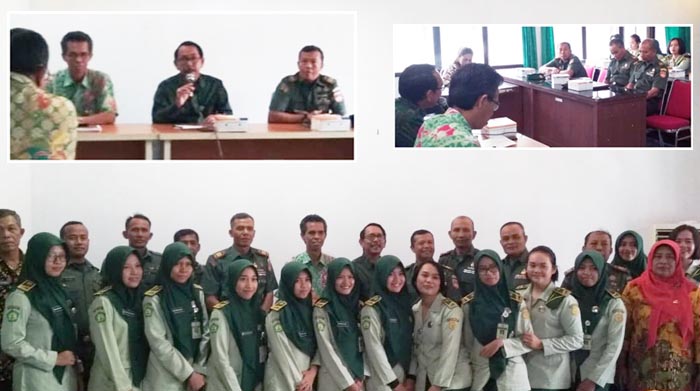 Kabag Administrasi Umum Polbangtan Yogyakarta - Magelang, Irwan JS menerima 34 mahasiswa PKL di Kabupaten Karanganyar (Foto2: Humas Polbangtan)
Karanganyar, Jawa Tengah (B2B) - Sebanyak 34 mahasiswa Politeknik Pembangunan Pertanian dari Polbangtan Yogyakarta - Magelang kembali ke kampus (back to campus) setelah ´pendampingan mahasiswa´ selama satu bulan pada sembilan kecamatan di Kabupaten Karanganyar, Provinsi Jawa Tengah untuk mendukung optimalisasi pemanfaatan Alsintan (Opsin) yang dicanangkan Kementerian Pertanian RI sejak awal 2018.
Kepala Dinas Pertanian dan Pangan Pemkab Karanganyar, Supramnaryo MM mengapresiasikehadiran 34 mahasiswa pendamping di Karanganyar, khususnya pada penyelenggaraan unit jasa pelayanan Alsintan (UPJA) mendorong tumbuhnya pemanfaatan optimal, kegiatan sewa-menyewa, pemeliharaan dan perawatan berjalan transparan dan penyusunan laporan yang akuntabel.
"Kalau sebelumnya satu unit Alsintan hanya bisa digunakan oleh satu orang, kini sudah dapat dioperasikan oleh orang lain setelah dibimbing dan praktik pemakaian Alsintan," kata Supramnaryo di Karanganyar pada Selasa (31/7).
Direktur Polbangtan Yogyakarta - Magelang, Ali Rachman mengatakan aktivitas pembelajaran di luar kampus bertujuan mendukung program pembangunan pertanian untuk mengidentifikasi potensi wilayah dari tingkat dusun, desa, hingga kecamatan, dan melaksanakan tugas sebagai penyuluh pertanian pada situasi nyata di tengah masyarakat.
"Pendampingan mahasiswa merupakan proses belajar sebagai bagian persyaratan akademik. Kami sebagai pembimbing menyampaikan permohonan maaf apabila ada hal-hal yang kurang berkenan selama proses PKL berlangsung," kata Ali Rachman dalam arahannya yang disampaikan oleh Kabag Administrasi Umum Polbangtan Yogyakarta - Magelang, Irwan JS.
Tampak hadir Pasiter Kodim 0727/Karanganyar, Kapten Inf Supardi mewakili Dandim Letkol IM Muchtar; dan para camat di seluruh Karanganyar.
Irwan JS mengutip Ali Rachman menambahkan, keterlibatan mahasiswa di tengah masyarakat dapat menjadi media transfer pengetahuan dan teknologi kepada masyarakat, di sisi lain mahasiswa dapat belajar banyak tentang berbagai aspek kehidupan nyata.
"Pengiriman mahasiswa ke lapangan ini memberikan manfaat positif bagi mahasiswa, civitas academica, dan warga setempat sebagai implementasi Tri Dharma perguruan tinggi khususnya untuk pengabdian masyarakat," kata Irwan JS mengutip Ali Rachman.
Menurutnya, kehadiran ke-34 mahasiswa Polbangtan Yogya - Magelang didukung penuh oleh petani dan warga Kabupaten Karanganyar selama kegiatan pendampingan berlangsung.
Karanganyar of Central Java (B2B) - At leas 34 students of the Yogyakarta - Magelang´s Polytechnic Agricultural Development or the Polbangtan Yogya - Magelang back to campus after the student mentoring for one month in Karanganyar district of Central Java province to support farmers using agricultural machinery as proclaimed by Indonesian Agriculture Ministry since early 2018.
The Head of Karanganyar agriculture office, Supramnaryo MM appreciated the support of 34 students in Karanganyar, especially the development of agricultural machinery rental business or the UPJA for the benefit of farmers.
"Previously, one unit of agricultural machinery could only be operated by one person, now operated by others after being mentored by students," said Supramnaryo here on Tuesday (July 31).
Director of the Polbangtan Yogya - Magelang, Ali Rachman said the off-campus student activities aim to support agricultural development programs to identify potential areas from hamlet, village and sub-district levels, and carry out the task of agricultural extensionist.
"Student mentoring is the learning process as part of academic requirements. We apologize if there is anything that is not pleasing," said Mr Rachman in his direction was read by the Head of General Affairs of Polbangtan Yogya - Magelang, Irwan Johan Sumarno.
Mr Sumarno said student activities in the community to exchange knowledge and technology to the community, on the other hand students can learn a lot about various aspects of real life.
"Student assistance activities have a positive impact for students, civitas academica, and local residents as the implementation of the dedication of universities, especially for community service," Mr Sumarno said.
According to him, the presence of the 34 students of Polbangtan Yogyakarta - Magelang fully supported by local residents.