Langkah Awal Pengabdian, Wisuda Bukan Puncak Prestasi Lulusan STPP Magelang
Graduation Ceremony is not the Peak of Achievement
Editor : M. Achsan Atjo
Translator : Dhelia Gani

PUBLISHED: Selasa, 14 Agustus 2018 , 02:11:00 WIB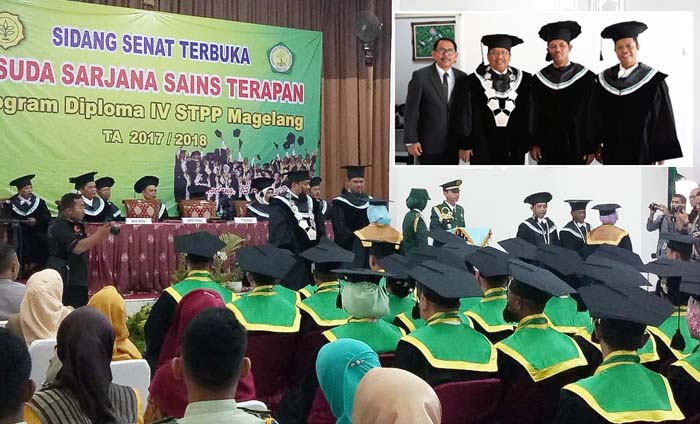 Wisuda sarjana sains terapan STPP Magelang dan (inset kiri ke kanan) Kabag Administrasi Umum, Irwan JS; Ketua STPP Magelang Ali Rachman; Dirjen Hortikultura Suwandi dan Wakil Ketua STPP Magelang Radjiman.
Magelang, Jateng (B2B) - Wisuda bukan merupakan puncak prestasi, tetapi langkah awal pengabdian untuk menerapkan ilmu dan keterampilan sarjana sains terapan dari Sekolah Tinggi Penyuluhan Pertanian - STPP Magelang.
"Sesuai arahan menteri pertanian agar para pemuda tampil dengan berbagai inovasi bidang pertanian, untuk menyongsong terwujudnya visi ´Indonesia Menuju Lumbung Pangan Dunia 2045" kata Dirjen Hortikultura Suwandi pada kegiatan wisuda sarjana sains terapan tahun akademik 2017/2018 STPP Magelang, Senin (13/8).
Dirjen Suwandi yang hadir di Magelang mewakili Menteri Pertanian Andi Amran Sulaiman mengingatkan bahwa pembangunan pertanian ke depan harus tumbuh dan berkembang mengikuti kemajuan Iptek, yang berbasis teknologi 4.0.
"Aktivitas pertanian ke depan serba cepat, praktis dan efisien dengan hasil berkualitas," kata Suwandi pada kegiatan wisuda 96 sarjana sains terapan terdiri atas 38 wisudawan dari jurusan penyuluhan pertanian (Jurluhtan) dan 56 wisudawan dari jurusan penyuluhan peternakan (Jurluhtan).
Turut hadir Kepala Pusat Pendidikan Latihan (Pusdiktan) di Badan Penyuluhan dan Pengembangan SDM Pertanian (BPPSDMP) Kementerian Pertanian RI, Gunawan Yulianto; Ketua STPP Magelang, Ali Rachman; Wakil Ketua STPP Magelang, Radjiman MM; dan Kabag Administrasi Umum STPP Magelang, Irwan Johan Sumarno.
Sementara itu Ali Rachman mengatakan agar wisudawan membawa bendera almamater untuk mengabdikan diri pada nusa dan bangsa, untuk kemajuan pertanian.
"Seluruh pengetahuan, ketrampilan dan ilmu terapan dari kampus agar dipraktekkan di lapangan. Dedikasikan diri saudara pada masyarakat petani," kata Ali Rachman.
Magelang of Central Java (B2B) - Graduation ceremonies are not the peak of achievement, but the first step of dedication to applying knowledge and skills as the agricultural extensionist of Indonesia´s Magelang Agricultural Extensionist College or the STPP Magelang.
"Agriculture Minister instructed the agriculture graduate to support Indonesia to become the 2045 world food barn," said Director General of Horticulture, Suwandi here on Monday (August 13).
Mr Suwandi in Magelang representing Agriculture Minister Andi Amran Sulaiman reminded that future agricultural development must grow and develop following the advancement of science and technology, 4.0 based on technology.
"Modern agriculture in the future is fast, practical and efficient with quality production," said Suwandi who goes by one name, like many Indonesians.
Also attended the Director of the Agricultural Education Center, Gunawan Yulianto; Rector of the STPP Magelang, Ali Rachman; Deputy Rector Radjiman and the Head of General Affairs STPP Magelang, Irwan Johan Sumarno.
Meanwhile Mr Rachman said that graduates should serve the nation and state, to support agricultural development.
"Knowledge and skills from the campus should be practiced in the field. Dedicate to the farming community," he said.