77% per 31 Juli 2018, Target Optimalisasi Alsintan dan LTT di Jawa Tengah
Indonesian Govt Encourages the Utilization of Agricultural Machinery
Editor : M. Achsan Atjo
Translator : Dhelia Gani

PUBLISHED: Minggu, 22 Juli 2018 , 02:11:00 WIB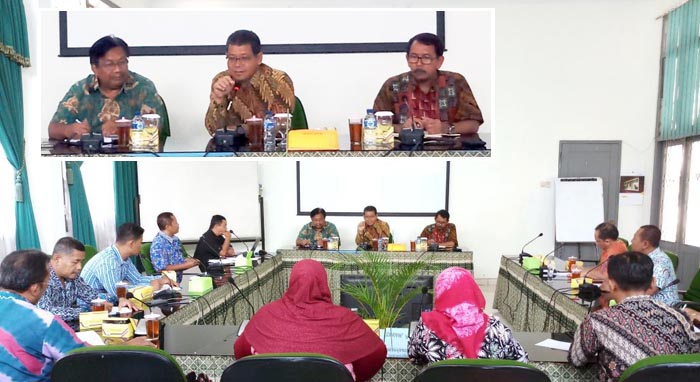 Sesba BPPPSDMP Kementan, Andriko Noto Susanto memimpin rapat Opsin di Yogyakarta didampingi PJ Opsin Kebumen, Ali Rachman dan Koordinator Tim Alsintan Polbangtan Yogyakarta, Irwan JS (Foto2: Polbangtan Yogyakarta)
Yogyakarta, DIY (B2B) - Kementerian Pertanian RI mengingatkan para Penanggung Jawab Optimalisasi Alsintan (PJ Opsin) di Provinsi Jawa Tengah, target Opsin dengan luas tambah tanam (LTT) dan tanaman lain adalah 77%, hingga 31 Juli 2018 ditargetkan pemanfaatan traktor roda dua dan empat (TR2 dan TR4) mencapai 92.420 hektar sementara LTT dan tanaman diasumsikan 120.000 hektar.
Hal itu dikemukakan Sekretaris Badan Penyuluhan dan Pengembangan SDM Pertanian Kementerian Pertanian (BPPSDMP Kementan) Andriko Noto Susanto didampingi PJ Opsin Kebumen, Ali Rachman dan Koordinator Tim Alsintan Politeknik Pembangunan Pertanian DIY - Polbangtan Yogyakarta, Irwan Johan Sumarno pada rapat ´Optimalisasi Pemanfaatan Alsintan´ di Yogyakarta, Sabtu (21/7).
Andriko mengingatkan tentang capaian target harian Opsin di wilayah kerja masing-masing PJ di Jawa Tengah, yang merujuk pada wilayah kendali tugas komando resort militer (Korem) di Jawa Tengah terbagi empat Korem yakni: 071 Wijayakusuma, 072 Pamungkas, 073 Makutarama, dan 074 Warastratama.
"Merujuk pada target PJ Opsin Nasional sesuai instruksi Mentan Amran Sulaiman maka persentase Opsin versus LTT dan tanaman lain di Jateng adalah 77 persen," kata Andriko.
Menurutnya, merujuk pada target 77% dimana total pemanfaatan Opsin TR2 dan TR4 sampai 31 Juli 2018 sekitar 92.420 hektar maka LTT dan tanaman lain diasumsikan mencapai 120.000 hektar.
"Berdasarkan hasil evaluasi Sesba terhadap kinerja Opsin Jateng, perlu dilakukan penelusuran data sampai 20 Juli 2018, patut diduga ada data yang tercecer sekitar 10.387 hektar. Mohon dapat ditelusuri hingga akhir Juli mendatang," kata Ali Rachman mengutip instruksi Sekretaris BPPSDMP Kementan.
Irwan JS menambahkan, khusus Ketua Polbangtan Magelang sebagai PJ Opsin Kebumen bertanggung jawab pada 10 kabupaten di bawah kendali Korem 072 Pamungkas yang meliputi sembilan kabupaten yakni Magelang, Wonosobo, Temanggung, Purworejo, Kebumen, Bantul, Gunung Kidul, Kulon Progo, Sleman dan Kota Yogyakarta.
Yogyakarta (B2B) - The Indonesian Agriculture Ministryreminds the Person in Charge of Program Optimizing the Utilization of Agricultural Machinery or PJ Opsin for Central Java province related the Opsin target with extensive planting area or the LTT and other plants is 77%, until July 31, 2018, utilization of two-wheeled and four-wheeled tractor engines or TR2 and TR4 reached 92,420 hectares while LTT and plants assumed 120,000 hectares.
It was stated by the Secretary of Directorate General of Indonesia´s Agricultural Extension and Agricultural Human Resources, Andriko Noto Susanto accompanied by PJ Opsin Kebumen, Ali Rachman and Coordinator of Alsintan team of Polbangtan Yogyakarta, Irwan Johan Sumarno here on Saturday (July 21).
Mr Susanto reminded about the achievement of daily target of Opsin in Central Java province, refers to the control area of military resort command or Korem in Central Java province divided into four Korem namely: 071 Wijayakusuma, 072 Pamungkas, 073 Makutarama, and 074 Warastratama.
"Referring to the National PJ Opsin target according to the instructions of Agriculture Minister Andi Amran Sulaiman then the percentage of Opsin versus LTT and other plants in Central Java is 77 percent," Mr Susanto said.
According to him, referring to the 77% target in which total utilization of Opsin for TR2 and TR4 until July 31, 2018 about 92,420 hectares then the LTT and other plants is assumed to reach 120,000 hectares.
"Based on the evaluation of Opsin in Central Java, data search was conducted until July 20, 2018, allegedly there are data scattered about 10,387 hectares. Please be explored until the end of July," Mr Rachman quoted Mr Susanto´s instruction.
Mr Sumarno said special of PJ Opsin Kebumen is responsible for 10 districts under the control of Korem 072 Pamungkas which is Magelang, Wonosobo, Temanggung, Purworejo, Kebumen, Bantul, Gunung Kidul, Kulon Progo, Sleman and Yogyakarta city,