HUT 47 Korpri, Polbangtan YoMa Bulatkan Tekad Satukan Bangsa
Indonesian Govt Commemorates Anniversary of the Civil Service Corps
Editor : M. Achsan Atjo
Translator : Dhelia Gani

PUBLISHED: Jum'at, 30 November 2018 , 02:24:00 WIB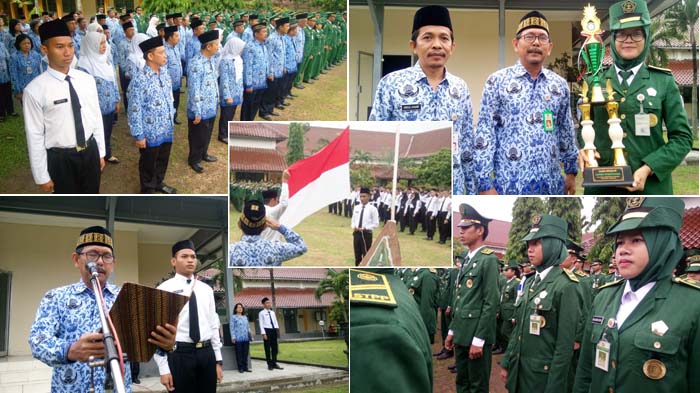 UPACARA BENDERA: Jajaran dan mahasiswa/i mengikuti upacara HUT Korpri dipimpin Kabag Administrasi Umum, Irwan Johan Sumarno (Foto2: Humas Polbangtan YoMa)
Yogyakarta, DIY (B2B) - Segenap jajaran dan mahasiswa/i Politeknik Pembangunan Pertanian - Polbangtan Yogyakarta - Magelang (Polbangtan YoMa) mengikuti upacara memperingati HUT Korpri ke-47 tahun ini bertema ´Korpri Melayani, Bekerja dan Menyatukan Bangsa´ dilaksanakan di lapangan upacara, dipimpin Kabag Administrasi Umum, Irwan Johan Sumarno selaku inspektur upacara mewakili Direktur Polbangtan Yoma, Rajiman MP pada Kamis pagi (29/11).
Mengutip pidato Presiden RI yang dibacakan oleh Irwan JS, menekankan beberapa hal terkait Korps Pegawai Republik Indonesia (Korpri), haruslah menjaga netralitas dalam pelaksanaan Pemilu presiden dan legislatif tahun 2019.
"Mengedepankan pelayanan publik yang profesional dan prima, bebas dari korupsi, kolusi dan nepotisme," kata Irwan JS.
Korpri memerlukan lompatan-lompatan kemajuan dalam peningkatan kualitas pelayanan publik, serta menjadi pusat inovasi sehingga dapat memberikan pengabdian dan karya terbaik bagi bangsa dan negara.
"Selaku anggota Korpri agar selalu menerapkan Panca Prasetya Korpri karena pengabdian anggota Korpri bukanlah kepada kepentingan kelompok maupun individu melainkan pengabdian kepada negara, bangsa dan rakyat," kata Irwan JS mengutip pidato Presiden Joko Widodo.
Irwan JS menambahkan Direktur Polbangtan Radjiman MP mengingatkan tentang pentingnya HUT Korpri tahun ini, sebagai upacara pertama yang diikuti segenap jajaran dan civitas academica setelah transformasi dari Sekolah Tinggi Penyuluhan Pertanian (STPP) menjadi Polbangtan.
"Buanglah kebiasaan buruk, lakukan hal-hal yang baik. Jangan menjadi orang yang mudah mengeluh, karena gagal adalah cara Tuhan agar kita menikmati saat sukses," kata Irwan JS mengutip Rajiman.
Yogyakarta (B2B) - Civil servants and students of Yogyakarta - Magelang´s Agricultural Development Polytechnic or the Polbangtan YoMa attended the commemoration ceremony of the 47th anniversary of the Indonesian Corps of Civil Servants or Korpri on the ceremony field, which is led by Head of Public Administration, Irwan Johan Sumarno as the ceremony inspector represent the Director Rajiman MP here on Thursday morning (November 29).
In the speech written by Indonesian President Joko Widodo, read by Mr Sumarno, emphasizing several matters related to Korpri, must be neutral in the presidential election and legislative elections next year.
"Prioritizing professional public services, free from corruption, collusion and nepotism," Mr Sumarno said.
The Korpri will be transformed into a professional corps of state civil apparatus so it needs a leap of progress to improve the quality of public services, and become a center of innovation so that it can provide the best service and work for the nation and country.
"Korpri members must always apply Korpri´s oath of loyalty, because the service of Korpri members is not to the interests of groups or individuals but dedication to the state, nation and people," said Mr Sumarno cited President Widodo´s direction.
Mr. Sumarno reminded about the importance of Korpri´s Anniversary this year, as the first ceremony which was followed by civil servants and civitas academica after the transformation of the Agricultural Extension College or STPP into Polbangtan.
"Get rid of bad habits, do good things. Don´t easily complain, because failing is God´s way so that we enjoy when we are successful," said Mr Sumarno cited Rajiman.