PKL Tematik, Mahasiswa Polbangtan Yogya - Magelang Dukung Bimtek Alsintan
Indonesian Students Support Farmer Assistance in Magelang
Editor : M. Achsan Atjo
Translator : Dhelia Gani

PUBLISHED: Senin, 23 Juli 2018 , 02:34:00 WIB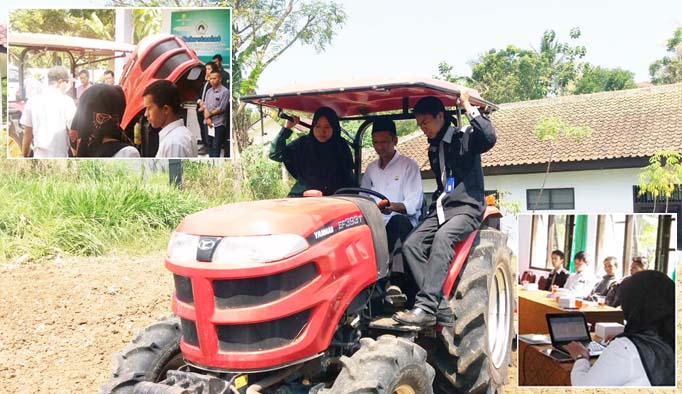 Sekitar 25 orang mengikuti Bimtek untuk operasional, perawatan, dan kiat meminimalisir kecelakaan saat mengoperasikan TR4. Kegiatan Bimtek merupakan sinergi dengan PT Yanmar (Foto2: Humas Polbangtan Yogya - Magelang)
Magelang, Jateng (B2B) - Sejumlah mahasiswa Politeknik Pembangunan Pertanian - Polbangtan Yogyakarta - Magelang) mengikuti praktik kerja lapangan (PKL) tematik optimalisasi pemanfaatan Alsintan (Opsin) di Kabupaten Magelang pada Rabu (18/7). Delapan mahasiswa mengikuti PKL Tematik Opsin di Kecamatan Candimulyo dan Tegalrejo sebagai instruktur dalam kegiatan bimbingan teknis (Bimtek) operasional traktor roda empat (TR4).
Sekitar 25 orang mengikuti Bimtek untuk operasional, perawatan, dan kiat meminimalisir kecelakaan saat mengoperasikan TR4. Kegiatan Bimtek merupakan sinergi dengan PT Yanmar, sementara pelaksana kegiatan adalah Dinas Pertanian dan Ketahanan Pangan Kabupaten Magelang menggandeng Balai Alsintan Provinsi Jawa Tengah.
"Hadir pula peserta yang dalam kesehariaannya sudah terbiasa sebagai operator di lahan pertanian sehingga terjadi diskusi dan saling memberikan masukan secara baik," kata staf Polbangtan Yogya - Magelang, Budi Wijayanto.
Menurutnya, pengelolaan Alsintan secara profesional melalui usaha jasa pelayanan Alsintan (UPJA) melalui pendekatan manajemen bisnis sehingga membuka peluang kerja bagi generasi muda di pedesaan.
Koordinator Tim Alsintan Polbangtan Yogya - Magelang, Irwan Johan Sumarno mengatakan mekanisasi pertanian dengan memanfaatkan alat dan mesin pertanian (Alsintan) berperan penting dalam usaha pertanian seperti mengerjakan tugas khusus atau sulit dikerjakan oleh manusia, menyediakan tenaga untuk daerah yang kekurangan tenaga kerja, antisipasi minat kerja di sektor pertanian yang terus menurun, meningkatkan kapasitas kerja sehingga luas tanam dan intensitas tanam dapat meningkat.
"Peran penting lain Alsintan adalah meningkatkan kualitas sehingga ketepatan dan keseragaman proses dan hasil dapat diandalkan serta mutu terjamin, meningkatkan kenyamanan dan keamanan sehingga menambah produktivitas kerja, dan memberikan peran dan ruang dalam pertumbuhan di sektor nonpertanian," kata Irwan JS yang menjabat Kabag Administrasi Umum Polbangtan Yogya - Magelang.
Magelang of Central Java (B2B) - Some students of the Yogyakarta - Magelang´s Polytechnic Agricultural Development or the Polbangtan Yogya - Magelang followed the practice of field work or PKL of agricultural machinery in Magelang district on Wednesday (July 18). Eight students participated of the PKL in Candimulyo and Tegalrejo subdistricts as an instructor of technical guidance activities using a four-wheeled tractor engine.
Technical guidance was followed by 25 participants to know how to operate and maintain the four-wheeled tractor engine. The activity is a synergy with PT Yanmar supported by the Magelang´s agriculture office and related offices in Central Java Province.
"Also present are participants who are accustomed as operators of agricultural machinery in rice fields," said staff of the Polbangtan Yogya - Magelang, Budi Wijayanto.
According to him, the management of agricultural machinery professionally through agricultural machinery rental services or UPJA through a business management approach that opens employment opportunities for young people in rural areas.
Coordinator of Alsintan team of Polbangtan Yogyakarta - Magelang, Irwan Johan Sumarno said agriculture mechanization by using agricultural machinery or Alsintan plays an important role in agriculture such as doing difficult work that can not be done by humans, replacing human labor due to lack of manpower, increase work capacity to increase planting area and cropping intensity.
"Another important role is to improve the quality of agricultural production, improve safety and comfort so as to increase work productivity, and promote economic growth in the non-agricultural sector," said Mr Sumarno who also served as the Head of General Affairs of Polbangtan Yogyakarta - Magelang.