Field Trip, Mahasiswa Polbangtan YoMA Kenali Tantangan Pertanian Masa Depan
Indonesia`s Yogyakarta Agricultural Polytechnic Students Field Trips to East Java
Reporter : Kevin Cesario
Editor : Cahyani Harzi
Translator : Dhelia Gani

PUBLISHED: Senin, 26 November 2018 , 02:35:00 WIB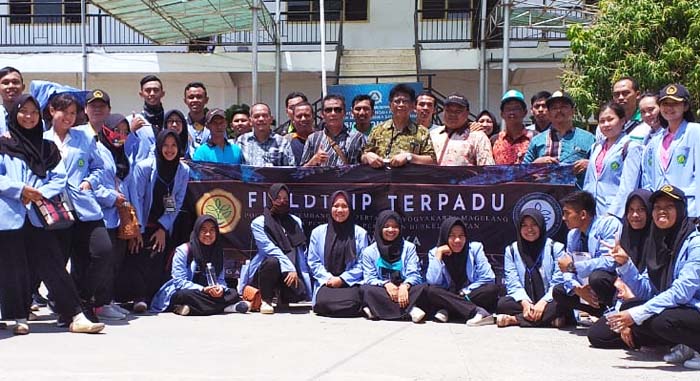 KULIAH LAPANGAN: Direktur Polbangtan Dr Rajiman SP MP melepas mahasiswa semester lima mengikuti Field Trips ke Jawa Timur (Foto: Humas Polbangtan YoMa/Irwan JS)
Yogya, DIY (B2B) - Metode pembelajaran dan pengajaran di dalam kelas seharusnya dipadu ´kunjungan lapangan´ atau Field Trips Mengajak mahasiswa berfikir kreatif, dan mengetahui langsung problema masyarakat seperti diterapkan oleh civitas academica Politeknik Pembangunan Pertanian Yogyakarta - Magelang (Polbangtan YoMa) agar mahasiswa semester lima mengenali tantangan pertanian di masa depan.
Belum lama ini, sejumlah mahasiswa semester lima Polbangtan YoMa mengikuti Field Trips ´Goes to Jatim´ ke Nganjuk, Kediri, dan Batu Malang di Provinsi Jawa Timur selama empat hari, 20 - 23 November lalu untuk memupuk rasa tanggung jawab terhadap diri sendiri, almamater, masyarakat dan kepada Tuhan YME.
Dalam pendidikan perguruan tinggi dikenal Teori 6Myang harus diterapkan dosen saat pembelajaran yakni: mengingat, memahami, menerapkan, menganalisis, mengevaluasi dan mencipta sehingga field trip merupakan implementasi dari Teori 6M.
"Dengan field trips maka mahasiswa Polbangtan dapat langsung melihat permasalahan dan penerapan ilmu di kehidupan nyata baik kegiatan sehari-hari atau dalam pekerjaan," kata Direktur Polbangtan Dr Rajiman SP MP di Yogyakarta, belum lama ini, saat melepas mahasiswanya melakukan field trip ke Jawa Timur.
Menurutnya, bahwa Field Trips merupakan proses pemenuhan kegiatan perkuliahan di Polbangtan YoMa, sehingga mahasiswa mengikuti dengan rasa tanggung jawab baik terhadap diri sendiri, almamater dan terhadap Tuhan YME.
"Dari kegiatan Field Trips, maka mahasiswa akan lebih mampu menerima pembelajaran dan juga mendorong semangat berinovasi," kata Rajiman. (IJS)
Yogyakarta (B2B) - Learning and teaching methods in the classroom should be combined with Field Trip. Invite students to think creatively, and know firsthand the problems of society as applied by the civitas academica of Yogyakarta - Magelang´s Agricultural Development Polytechnic or Polbangtan YoMa so that students recognize the challenges of Indonesian agriculture in the future.
The fifth semester student recently joined Field Trips ´Goes to East Java´ to Nganjuk, Kediri, and Batu Malang for four days, 20 to 23 November.
At the university, it is known that Theory of 6M must be applied by lecturers, namely: remember, understand, apply, analyze, evaluate and create so that the field trip is an implementation of Theory 6M.
"With the field trips, students can immediately see the problem and how the application of knowledge in everyday life or work," said Director of Polbangtan YoMa Dr Rajiman SP MP here recently while releasing students to do field trips to East Java.
According to him, Field Trip is part of college activities to learn personal responsibility, alma mater and God.
"From Field Trip activities, students will be better prepared to take lectures and encourage the spirit of innovation," said Rajiman.