Prodi Penyuluhan Pertanian Polbangtan YoMa Pertahankan Akreditasi A dari SAPTO
Indonesia`s Yogyakarta Agricultural Extension Program Keep A Accreditation
Editor : M. Achsan Atjo
Translator : Dhelia Gani

PUBLISHED: Jum'at, 23 November 2018 , 02:49:00 WIB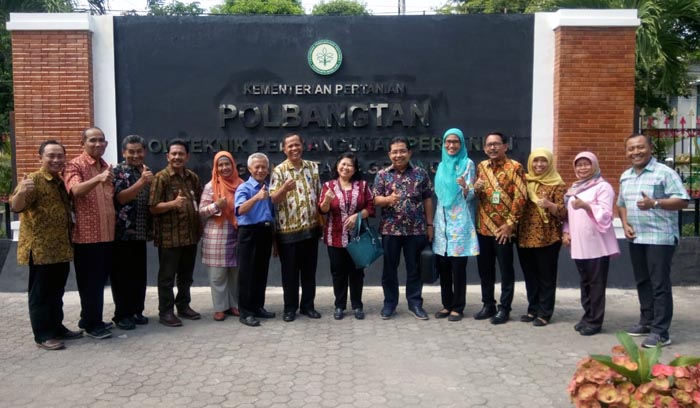 TRANSFORMASI STPP: Direktur Polbangtan YoMa, Dr Rajiman SP MP (ke-7 kiri), Ketua Jurusan R Hermawan (kiri) dan Kabag Administrasi Umum, Irwan JS bersama civitas academica (Foto: Humas Polbangtan YoMA)
Yogyakarta, DIY (B2B) - Program Studi Penyuluhan Pertanian dari Politeknik Pembangunan Pertanian Yogyakarta - Magelang (Polbangtan YoMa) berhasil mempertahankan Akreditasi A dari Kementerian Pendidikan Tinggi, Riset dan Teknologi (Kemendikti Ristek) melalui situs Sistem Akreditasi Perguruan Tinggi Online disingkat SAPTO, yang diterima oleh Ketua Jurusan R Hermawan di Yogyakarta, Kamis (22/11).
Prestasi tersebut diapresiasi oleh Direktur Polbangtan YoMa, Dr Rajiman SP MP yang diharapkan semakin memotivasi civitas academica Polbangtan YoMa, sebagai hasil transformasi dari Sekolah Tinggi Penyuluhan Pertanian - STPP.
"Saya ucapkan selamat atas capaian yang sudah diraih yaitu predikat A. Semoga hasil ini dapat memotivasi seluruh civitas akademika untuk semakin lebih baik lagi, khususnya setelah kita menjadi Polbangtan YoMa," kata Rajiman.
Dia mengharapkan seluruh program studi di Polbangtan YoMa juga harus meningkatkan kualitasnya sehingga akan mendapat Akreditasi A dari SAPTO.
R Hermawan selaku ketua jurusan mengatakan Akreditasi A untuk Prodi Penyuluhan Pertanian akan berlaku lima tahun ke depan, maka tantangan ke depan akan semakin berat untuk mempertahankan prestasi tersebut.
"Kami ucapkan terima kasih atas kerja keras seluruh civitas akademika STPP Magelang Jurluhtan Yogyakarta," kata Hermawan.
SAPTO merupakan terobosan dari Kemenristek Dikti untuk mempercepat proses akreditasi dengan tetap menjaga transparansi hasil.
"Setiap proses akreditasi mulai dari upload sampai dengan keluarnya sertifikat akreditasi dilakukan sepenuhnya menggunakan SAPTO," kata Kabag Administrasi Umum Polbangtan YoMa, Irwan Johan Sumarno.
Yogyakarta (B2B) - The Agricultural Extension Study Program of Yogyakarta - Magelang´s Agricultural Development Polytechnic managed to keep Accreditation A of Education, Research and Technology Ministry through the Online University Accreditation System website or the SAPTO.
This achievement was appreciated by Director of Magelang´s Agricultural Development Polytechnic or the Polbangtan YoMa, Dr Rajiman SP MP which is expected to motivate the academic community of Polbangtan YoMa, as the transformation of Agricultural Extension College - STPP.
"I congratulate the achievement of Accreditation A. Hopefully these results can motivate the entire academic community to be better," Rajiman said.
He hopes that all study programs at Polbangtan YoMa must also improve their quality to maintain A Accreditation of the SAPTO.
Mr. Hermawan as chairman of the department said that A Accreditation for Agricultural Extension Study Programs will be valid for the next five years, then the challenge in the future is even harder to maintain this achievement.
"We thank you for the hard work of the entire academic community of STPP Magelang in Yogyakarta," Hermawan said.
The SAPTO is breakthrough of the ministry to accelerate the accreditation process by maintaining the quality of agricultural extension programs.
"The accreditation process starts from uploading until the accreditation certificate is issued using SAPTO," said Head of General Affairs, Irwan Johan Sumarno.