Tabela, Kiat PJ Upsus Jawa Tengah Motivasi Petani Kebumen Percepat Tanam Padi
Indonesian Govt Support Central Java Farmers to Plant Rice without Seedbed
Editor : M. Achsan Atjo
Translator : Dhelia Gani

PUBLISHED: Jum'at, 31 Agustus 2018 , 02:53:00 WIB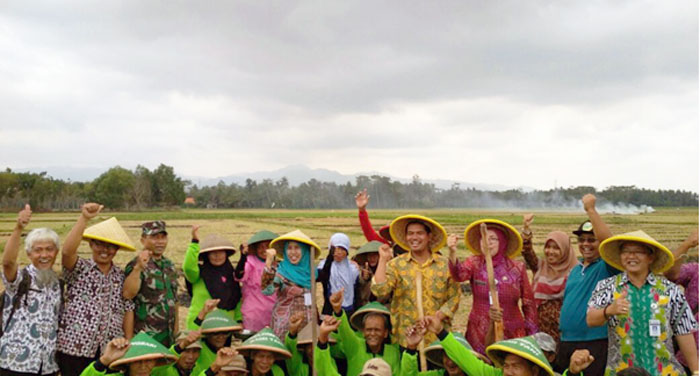 TARGET LTT JATENG: PJ Upsus Jateng, Suwandi (ke-4 kanan) dan PJ Upsus Kebumen, Ali Rachman (ke-2 kanan) bersama penyuluh dan petani di Kecamatan Ayah usai tanam metode Tabela (Foto2: Humas STPP Yogya)
Kebumen, Jateng (B2B) - Kementerian Pertanian RI terus berupaya memotivasi petani meningkatkan luas tambah tanam (LTT) di Jawa Tengah mengantisipasi musim kemarau, seperti dilakukan Penanggung Jawab Upsus Swasembada - PJ Upsus Jawa Tengah dan PJ Upsus Kebumen mendorong petani di Kecamatan Ayah ´menanam padi dengan sistem tanam benih langsung´ disingkat Tabela, untuk mempersingkat jeda antara waktu panen dan tanam padi.
"Indeks pertanaman atau IP dapat ditingkatkan dengan memanfaatkan potensi lahan semaksimal mungkin seperti Tabela. Manfaatkan setiap jengkal tanah untuk jenis tanaman apa pun yang paling sesuai, baik dengan cara tumpang sari dengan kedelai atau salip-salipan," kata PJ Upsus Jateng, Suwandi di Kebumen, belum lama ini.
Penerapan Tabela dapat dilakukan pada agroekosistem sawah irigasi teknis, dimungkinkan pula pada lahan pasang surut dan sawah tadah hujan. Syaratnya, pengelolaan air dan penyiapan lahan dilakukan secara khusus, sementara pada Tabela tanpa melakukan persemaian dan pindah tanam sehingga lebih hemat tenaga dan waktu lebih singkat.
Mengapa Tabela? "Memperpendek periode produksi padi untuk meningkatkan IP, karena tanaman padi yang ditanam akan lebih cepat mencapai stadia generatif, dan mengurangi biaya tenaga kerja untuk menanam. Tabela merupakan kiat dari upaya khusus mempercepat pencapaian target LTT di Jawa Tengah," kata Suwandi, yang juga menjabat Dirjen Hortikultura Kementan.
PJ Upsus Kebumen, Ali Rachman menambahkan jeda waktu antara panen raya dan masa tanam perlu dipersingkat. "Lahan yang kosong setelah panen diharapkan dapat segera ditanami kembali dengan metode Tabela."
Sebagai bagian dari edukasi kepada petani, menurutnya, diperlukan rasio perbandingan keuntungan yang diperoleh petani melalui penerapan sistem Tabela ketimbang sistem tanam lain.
Ali Rachman mengajak petani untuk membandingkan pengeluaran dan pendapatan dari metode Tabela. Hal itu disambut positif oleh beberapa kelompok tani (Poktan) di Kabupaten Kebumen, khususnya Kecamatan Ayah.
"Kami senang menggunakan sistem tabela karena dapat mengurangi biaya produksi, tinggal sebar saja," kata Sobirin, Ketua Poktan Sami Tani di Desa Demangsari.
Koordinator penyuluh pertanian BPP Ayah, Cipwiyadi mengatakan bahwa para penyuluh pertanian dan Poktan pelaksana program LTT siap dan semangat mendukung metode tanam Tabela.
Saat ini metode Tabela diterapkan oleh Poktan Sami Tani di Desa Demangsari seluas 15 hektar, Poktan Sido Dadi Desa Bulurejo (31 ha), Poktan Tani Maju Desa Bulurejo (8 ha), Poktan Maju Raharjo Desa Candirenggo (10 ha) dan Poktan Margo Rahayu Desa Candirenggo (2 ha) dengan total luas tanam diperkirakan mencapai 66 hektar.
"Kami mendukung program LTT Kementan melalui penerapan metode Tabela, untuk mendukung ketersediaan air irigasi untuk memelihara tanaman yang sudah ditanam bersama para pemangku kepentingan," kata Kepala Dinas Pertanian dan Pangan Kabupaten Kebumen, Pudji Rahaju.
Kebumen of Central Java (B2B) - The Indonesian Agriculture Ministry seeks to motivate farmers to increase the extent of planting or the LTT in Central Java province anticipate the dry season, as carried out by the Person in Charge of Increase Rice Production or the PJ Upsus for the province and Kebumen district encourage farmers in Ayah subdistrict to ´to plant rice with a direct system of planting seeds without seedlings´ or the Tabela to shorten harvest time and rice planting.
"The cropping index or the IP can be increased by utilizing the potential of land as much as possible such as Tabela," said the PJ Upsus Jateng, Suwandi here recently.
The table can be applied to the technical irrigated rice field agroecosystem, it is also possible on tidal land and rainfed rice fields. Requirements, water management and land preparation are carried out specifically, while in Tabela without seeding and moving to plant rice, it saves time and energy.
Why the Tabela? "Shortening the period of rice production to increase IP, because the rice plants planted will reach the generative stage more quickly, the Tabela method is a way to accelerate the achievement of LTT targets in Central Java," said Suwandi, who also served as the Director General of Horticulture.
The PJ Upsus Kebumen, Ali Rachman admitted that he had to shorten the harvest time gap with the rice planting period. "Rice fields after harvest are expected to be replanted immediately using the Tabela method."
As part of education to farmers, according to him, required ratio of earnings obtained by farmers with the Table method rather than other planting systems.
Mr Rachman invited farmers to compare expenditures and revenues of the Tabela method. It was positively responded by several farmer groups in Kebumen district, especially the Ayah subdistrict.
"We are happy to use the Tabela system because it can reduce production costs, just spread it," said Sobirin, Chair of the Sami Tani farmer group in Demangsari village.
The agriculture extensionist coordinator in Ayah subdistrict, Cipwiyadi said that the agricultural extensionist were ready and enthusiastic in supporting the Tabela planting method.
Currently the Tabela method is applied by the Sami Tani farmer group in Demangsari village of 15 hectares, Sido Dadi in Bulurejo village (31 ha), Tani Maju in Bulurejo village (8 ha), Maju Raharjo in Candirenggo village (10 ha) and Margo Rahayu in Candirenggo village (2 ha) or a total planting area of around 66 hectares.
"We support the LTT program using the Tabela method, to support the availability of irrigation water," said the Head of Kebumen Agriculture Office, Pudji Rahaju.