Kerahkan Mahasiswa, Polbangtan YoMa Dukung Percepatan LTT Yogyakarta
Indonesian Agricultural Polytechnic Students Support the Food Self-sufficiency Program
Editor : M. Achsan Atjo
Translator : Dhelia Gani

PUBLISHED: Jum'at, 01 Maret 2019 , 00:29:00 WIB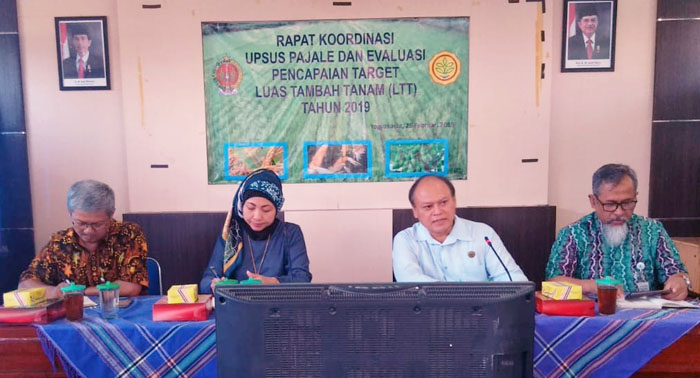 Kiri ke kanan: Utusan Polbangtan Yoma, Gunawan Yulianto; PJ Upsus Pajale Yogyakarta, Idha Widi Arsanti; Kepala Dinas Pertanian Yogyakarta, Sasangka; dan Kepala BPTP Yogya, Joko Pramono (Foto: Humas Polbangtan YoMa)
Yogyakarta, DIY (B2B) - Politeknik Pembangunan Pertanian Yogyakarta – Magelang (Polbangtan YoMa) mendukung percepatan tanam dan luas tambah tanam (LTT) di DI Yogyakarta dengan sejumlah langkah strategis mengantisipasi musim tanam Maret - April 2019, utamanya adalah menggerakkan alumni dan mahasiswa Polbangtan YoMa mendukung distribusi dan optimalisasi mesin pertanian (Alsintan), olah lahan dan olah tanam serta mendampingi petani.
"Upaya percepatan yang harus dilakukan adalah mencari lahan yang baru panen. Koordinasi dilakukan dengan dinas pertanian, penyuluh pertanian, Koramil dan Kodim," kata Gunawan Yulianto selaku utusan Polbangtan YoMa pada Rapat Koordinasi Upsus Pajale Yogyakarta di Yogyakarta, belum lama ini.
Menurutnya, langkah penting berikutnya adalah menginstruksikan tim LTT tiap kabupaten agar mengidentifikasi potensi tanam, sumber air, rencana tanam, dan sarana produksi pertanian (Saprotan).
Gunawan Y mengingatkan dinas pertanian segera eksekusi calon petani calon lokasi (CPCL) ke surat perintah pencairan dana (SP2D) dan harus segera ditanam, diikuti upaya optimalisasi pemanfaatan benih, Saprotan dan Alsintan.
"Kerahkan mahasiswa Polbangtan mendukung kegiatan Brigade Alsintan di tiap kecamatan dan UPJA untuk memobilisasi traktor, combine harvester, dan pemanfaatan pompa air pada lokasi yang kekurangan air," kata Gunawan Y, mantan Kepala Pusat Pendidikan Pertanian - Badan Penyuluhan dan Pengembangan SDM Pertanian (Pusdiktan - BPPSDMP) Kementerian Pertanian RI.
Rakor Percepatan Tanam dan LTT Yogyakarta dipimpin Penanggung Jawab - PJ Upsus Pajale, Idha Widi Arsanti, dihadiri Kepala Dinas Pertanian DI Yogyakarta, Sasangka; Kepala Balai Pengkajian dan Penerapan Teknologi Yogyakarta (BPTP Yogya) Joko Pramono; dan Kabid Kelembagaan dan Ketenagaan Pusdiktan, Inneke Kusumawaty.
"Rakor bertujuan meningkatkan komunikasi dan koordinasi, mencermati LTT, luas panen, dan optimalisasi Alsintan di empat kabupaten di Yogyakarta. Data yang dihasilkan akan dilaporkan kepada Kementan," kata Idha WA yang juga Kepala Pusdiktan BPPSDMP Kementan.
Kegiatan Rakor dilanjutkan peninjauan lapangan oleh PJ Upsus Pajale Yogyakarta, Idha WA pada lahan potensial pada tiga kecamatan di Kabupaten Bantul: Sedayu, Srandakan, dan Imogiri.
Yogyakarta (B2B) - The Yogyakarta - Magelang´s Agricultural Development Polytechnic or the Polbangtan YoMa support acceleration of planting and intensification of rice planting Yogyakarta with anticipated strategic actions facing the planting season of March - April 2019, the main step is to deploy alumni and students of Polbangtan YoMa to support distribution and optimization of agricultural machinery, land cultivation and planting rice with farmers.
"The pace of acceleration that should be done is to look for a new paddy rice harvest. Coordination with the district agriculture office, agricultural extensionist, and village commissioner," said said Gunawan Yulianto as the Polbangtan Yoma delegate at the Yogyakarta Pajale Upsus Coordination Meeting in Yogyakarta, recently.
According to him, the next important step is to instruct teams in each district to identify the potential for rice planting, water sources, planting plans, and agricultural production facilities.
Yulianto reminded the agricultural service office to immediately identify farmers who would plant rice by utilizing superior rice seeds followed by optimizing the use of agricultural machinery.
"The Polbangtan students are deployed to support farmers to use agricultural machinery, and increase the use of water pumps in the rice fields of water shortage," said Yulianto who was former of Director Agricultural Education Center or the Pusdiktan.
The coordination meeting led by the Person in Charge of increase rice production, Idha Widi Arsanti.
"Coordination meetings aim to improve communication and coordination, knowing the real conditions of rice fields, optimizing the use of agricultural machinery." said Arsanti, who also served as the Director of Pusdiktan.
The coordination meeting activity was continued to review potential land in three subdistricts in Bantul district: Sedayu, Srandakan, and Imogiri.