BPTP Kaltim Ubah Bekas Kawasan Tambang Loa Bahu jadi Lahan Pertanian
Indonesian Govt Support Development Abandoned Land into Productive Paddy Fields
Editor : M. Achsan Atjo
Translator : Dhelia Gani

PUBLISHED: Sabtu, 26 Mei 2018 , 04:32:00 WIB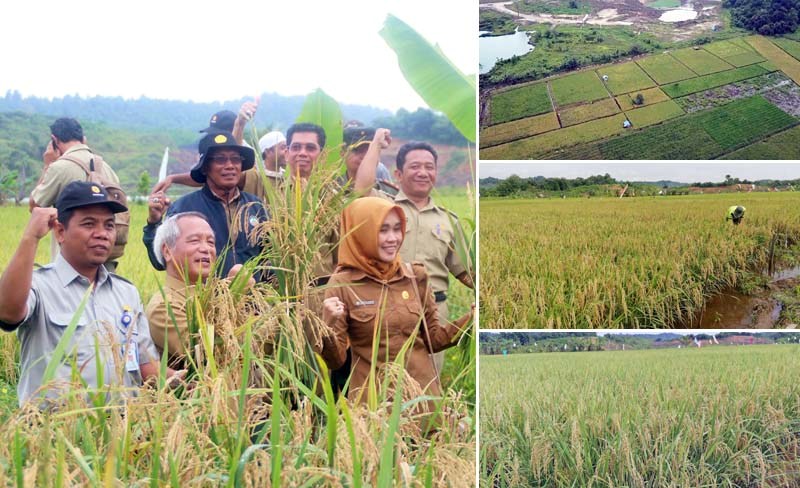 Kepala BPTP Kaltim, Mohammad Amin panen perdana di lahan bekas tambang Loa Bahu, Kecamatan Sungai Kunjang, Samarinda bersama pejabat dinas pertanian setempat (Foto2: Humas BPTP Kaltim/Margaretha Tarigan)
BEKAS KAWASAN pertambangan terbengkalai selama 20 tahun di Kelurahan Loa Bahu, Kecamatan Sungai Kunjang, Samarinda berhasil diubah menjadi hamparan padi menguning setelah ditanami varietas unggul baru (VUB) amfibi Inpago 5 pola tanam jajar legowo (Jarwo). Hasilnya, Loa Bahu mendukung sukses masa tanam pertama Oktober - Maret (MT I Okmar 2017-2018 turut menopang peningkatan indeks pertanaman (IP) 100 menjadi 200 dan mendukung sukses luas tambah tanam (LTT) di Kaltim.

Asikin, petani dan ketua kelompok tani (Poktan) Sukamaju Loa Bahu mengaku takjub dan sangat bahagia menyaksikan lahan tidur yang pernah menjadi momok bagi petani dan warga setempat, kini berubah menjadi lahan pertanian yang subur 'gemah ripah loh jinawi' seluas 80 hektar.

"Bagaikan menyaksikan keajaiban setelah lahan bekas tambang di Loa Bahu, sekarang menguning kembali oleh hamparan padi siap panen hasil pola tanam jajar legowo dari varietas Inpago 5," kata Asikin.

Kawasan eks tambang Loa Bahu di Samarinda 'disulap' menjadi lahan pertanian atas dukungan Balai Pengkajian Teknologi Pertanian Kalimantan Timur (BPTP Kaltim) mengubah potensi luasan 80 hektar dengan memanfaatkan varietas Inpago 5 melalui tanam perdana pada akhir 2017,

"Hasil panen tergolong luar biasa di lahan bekas pertambangan, produktivitas 6,13 ton per hektar sebagai wujud dari komitmen BPTP Kaltim mendukung pengembangan potensi pertanian di lahan tidur atau terbengkalai menjadi produktif," kata Kepala BPTP Kaltim, Muhammad Amin, yang memimpin unit pelaksana teknis (UPT) Badan Penelitian dan Pengembangan Pertanian (Balitbangtan) Kementerian Pertanian RI di Kaltim.

Menurut Amin, BPTP Kaltim menggunakan inovasi tepat guna dan spesifik lokasi dan berupaya meyakinkan petani bahwa pemanfaatan VUB yang tepat guna seperti Inpago 5 yang dapat ditanam di lahan basah dan kering, namun kuncinya pada kerja keras dan kinerja petani mengubah lahan tidur menjadi produktif.

VUB Amfibi Inpago 5
Sebelumnya diberitakan, awal November 2017, BPTP Kaltim memperkenalkan VUB Inpago 5 untuk ditanam di lahan kering kepada masyarakat lokal, yakni suku Dayak setempat yang dikenal sebagai petani padi ladang di Kabupaten Mahakam Ulu.

"Kegiatan tanam bersama dirangkaikan dengan bimbingan teknis pengelolaan lahan kering dan teknologi budidaya padi lahan kering secara organik," kata M Amin melalui pernyataan tertulis kepada B2B.

Menurutnya, petani lokal dari suku Dayak sangat antusias terhadap introduksi VUB Inpago 5, sehingga pengenalan dan sosialisasi pertanian modern dari hasil inovasi Badan Penelitian dan Pengembangan Pertanian (Balitbangtan) di kawasan perbatasan dapat mewujudkan kemandirian pangan setiap rumah tangga tani dari warga Dayak.

Padi VUB Inpago 5 memiliki keunggulan bersifat amfibi, dapat ditanam di lahan basah dan kering dengan potensi hasil enam ton gabah kering panen (GKP) per hektar.

Mohammad Amin mengatakan ada 14 jenis varietas amfibi yang telah diluncurkan Balai Besar Penelitian Tanaman Padi (BB Padi) antara lain Limboto, Batutegi, Towuti, Situ Patenggang, Situ Bagendit, Inpari 10 Laeya, Inpago 4, Inpago 5, Inpago 6, Inpago 7, Inpago 8, Inpago 9, Inpari 38 Agritan, Inpari 39 Agritan.
EX MINING area that is dormant for 20 years in Loa Bahu village of Sungai Kunjang subdistrict in Samarinda city converted into a yellow rice stretch after being planted with new superior varieties, Inpago 5 amphibian rice with legowo jajar planting pattern. Loa Bahu also supports the first planting period of October - March in 2017 and 2018 to support an increase of cropping index of 100 to 200 and to support extensification of paddy fields.

Asikin, farmers and head of Sukamaju farmer group in Loa Bahu village are amazed and happy saw abandoned land once a scourge for farmers and local residents, is now transformed into 80 hectares of paddy fields.

"Miraculously, the former mine in Loa Bahu, now the rice is yellowing ready for harvest with legowo parallel planting pattern of Inpago 5 variety," said Asikin, who goes by one name, like many Indonesians.

The ex-mining area of Loa Bahu in Samarinda was converted into agricultural land by East Borneo's Assessment Institute for Agricultural Technology called the BPTP Kaltim utilizing the potential of 80 hectares to be planted Inpago 5 rice varieties, which is first planted by the end of 2017.

"Extraordinary yields, with productivity of 6.13 tons per hectare as a form of BPTP Kaltim commitment support the development of agricultural potential in abandoned land to be productive," said Director of BPTP Kaltim who lead the technical implementation unit of the Indonesian Agency for Agricultural Research and Development of Indonesian Agriculture Ministry for East Borneo province.

According to him, the BPTP Kaltim using appropriate and location-specific innovations by convincing farmers that the utilization of Inpago 5 rice varieties in wet and dry paddy fields, but the key to hard work and farmers' performance turned the abandoned land into productive agriculture land.

Varieties of Inpago 5
Previously reported, the BPTP Kaltim introduced new Inpago 5 superior varieties, which can be grown on dry land to local communities, Dayak tribes, known as dry rice farmers in Mahakam Ulu District.

"The planting activity is supported by technical guidance of dry land management and organic dry rice cultivation technology," said Director of the BPTP Kaltim, Mohammad Amin through written statement to the B2B.

According to him, local farmers from the Dayak tribe are very enthusiastic on the seeds of Inpago 5, so the introduction and socialization of modern agriculture from innovation Indonesia's Agency for Agricultural Research and Development, or Balitbangtan, in the border region can realize food self-sufficiency every farmer's household from Dayak people.

Inpago 5 seeds are amphibians, can be grown in wet and dry fields with potential harvest of six tons of dry grain harvest per hectare.

Mr Amin said there are 14 types of amphibian varieties that have been launched by Rice Research Institute among others Limboto, Batutegi, Towuti, Situ Patenggang, Situ Bagendit, Inpari 10 Laeya, Inpago 4, Inpago 5, Inpago 6, Inpago 7, Inpago 8, Inpago 9, Inpari 38 Agritan, Inpari 39 Agritan.