Saka Tarunabumi STPP Yogyakarta Dukung Karang Pamitran Nasional, Ini Tujuannya
Senior Indonesian Scouts Jamboree Supports National Agriculture
Reporter : Khairullah Musyafa
Editor : Cahyani Harzi
Translator : Dhelia Gani

PUBLISHED: Senin, 20 Agustus 2018 , 04:48:00 WIB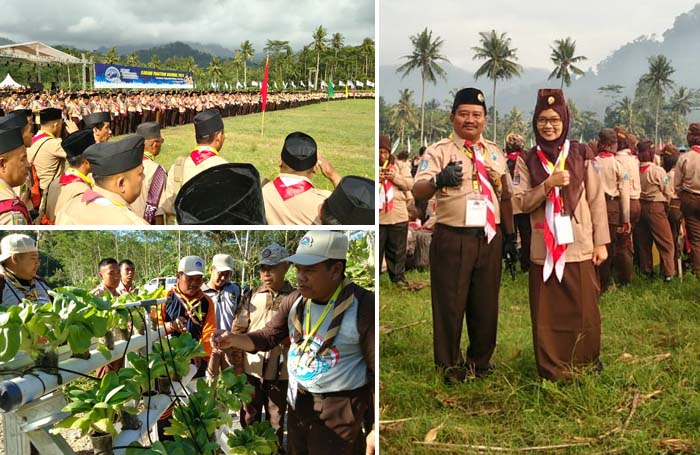 PENEGAK & PANDEGA: Pamong Saka Tarunabumi STPP Yogyakarta, Ika Nor Primadewi dan Asnuri (foto kanan), pembukaan Karang Pamitran Nasional 2018 dan pengenalan KRPL (Foto2: Humas STPP Yogyakarta)
Malang, Jatim (B2B) - Pamong Saka Tarunabumi dari Sekolah Tinggi Penyuluhan Pertanian - STPP Yogyakarta jurusan penyuluhan pertanian (Jurluhtan) berperan aktif mendukung kegiatan Karang Pamitran Nasional 2018 di Lebak Rejo, Kabupaten Malang, Provinsi Jawa Timur, 14 - 19 Agustus, diikuti 8.734 Pramuka Penegak dan Pandega dari seluruh Indonesia yang berlangsung selama enam hari.
STPP Yogyakarta mengutus Pamong Saka Tarunabumi yakni Ika Nor Primadewi dan Asnuri pada Karang Pamitran Nasional, ajang pertemuan para pembina pramuka Penegak dan Pandega untuk meningkatkan bekal pengetahuan dan keterampilan.
"Penegak dan Pandega bertanggung jawab membina pramuka Siaga dan Penggalang sebagai kader bangsa agar memiliki pengetahuan dan keterampilan mumpuni serta moral yang mulia, dan tahun ini dipusatkan di Malang," kata Ketua STPP Yogyakarta, Ali Rachman melalui pernyataan tertulis.
Menurutnya, kedua utusan Jurluhtan Yogyakarta mengemban misi meningkatkan pengetahuan, keterampilan dan pengalaman Penegak dan Pandega tentang pertanian.
"Karang Pamitran merupakan upaya penyegaran, tukar pengalaman, menambah pengetahuan dan keterampilan, bukan sebagai jenis dan jenjang kursus melainkan pendidikan informal untuk Penegak dan Pandega, sehingga dapat meningkatkan mutu pendidikan kepramukaan di gugus depan dan satuannya," kata Asnuri seperti dikemukakan Kabag Administrasi Umum STPP Yogyakarta, Irwan Johan Sumarno.
Tujuan penting lain, kata Asnuri, untuk mendidik kemandirian Penegak dan Pandega agar mampu berperan menjadi sumber penggerak ekonomi keluarga maupun sosial ekonomi pedesaan, untuk peningkatan produktivitas dan penciptaan lapangan kerja.
"Kegiatan bertema ´Hari Pramuka sebagai Perekat NKRI menampilkan berbagai kreativitas dari masing-masing satuan karya disingkat Saka untuk berbagi informasi dalam krida tanaman pangan, hortikultura, dan perkebunan," kata Asnuri.
Malang of East Java (B2B) - Senior scout coaches of Yogyakarta´s Agriculture Extensionist College - STPP Yogyakarta play an active role in supporting activities
2018 Senior Scout Jamboree or the Karang Pamitran Nasional 2018 in Lebak Rejo in Malang district of East Java province, recently attended by 8,734 senior scouts across the country, which lasts for six days.
Two senior scouts of the STPP Yogyakarta called the Pamong Saka Tarunabumi, Ika Nor Primadewi dan Asnuri at the Karang Pamitran Nasional as the meeting of senior coaches to increase knowledge and skills.
"Senior scouts are responsible for fostering junior scouts as cadres of the nation, to know and understand their functions as scouts," said Rector of the STPP Yogyakarta, Ali Rachman through the written statement.
According to him, the two senior scouts carry out the mission of increasing the knowledge, skills and experience about agriculture.
"The Karang Pamitran is friendship activity, sharing experiences, increasing knowledge and skills, not like training courses but only as informal education," said Asnuri as quoted by the Head of General Affairs of STPP Yogyakarta, Irwan Johan Sumarno.
Another important goal, said Asnuri, to educate the independence of senior scouts to act as a driving force for the family economy as well as the rural socio-economy, to increase productivity and create jobs.
"The activity shows various creativity from each unit of work to share information about agriculture," he said.