Polbangtan YoMa Dukung Pendampingan Petani di Wilayah Perbatasan Kalbar
Indonesian Students accompany Farmers in the Border Region
Editor : M. Achsan Atjo
Translator : Dhelia Gani

PUBLISHED: Rabu, 24 Juli 2019 , 00:05:00 WIB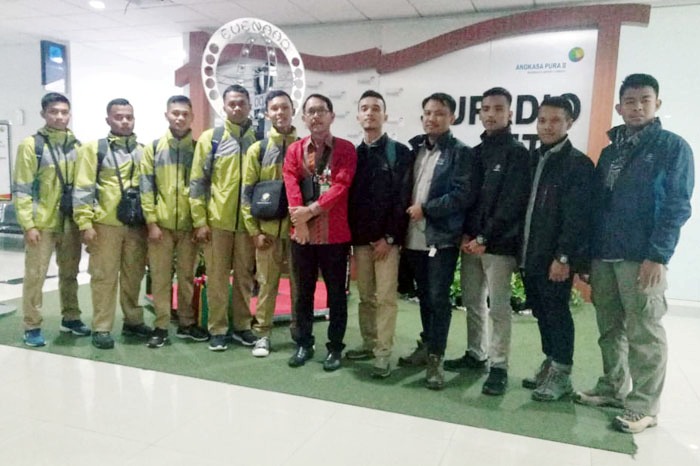 KAPUAS HULU: Kabag Umum Polbangtan YoMa, Irwan Johan Sumarno [batik merah] bersama 10 mahasiswa di Bandara Supadio, Pontianak sebelum bertolak ke Putusibau [Foto: Humas Polbangtan YoMa]
Pontianak, Kalbar [B2B] - Politeknik Pembangunan Pertanian di Yogyakarta dan Magelang, Polbangtan YoMa, mendukung pengembangan potensi pertanian di Putusibau, wilayah perbatasan di Kabupaten Kapuas Hulu, Provinsi Kalimantan Barat, melalui program pendampingan 10 mahasiswa, lima orang dari jurusan pertanian di Yogyakarta dan lima orang dari jurusan peternakan di Magelang yang akan melaksanakan kegiatan pendampingan selama satu bulan, 24 Juli hingga 24 Agustus 2019.
Kegiatan pendampingan mahasiswa diinisiasi Polbangtan YoMa, unit pelayanan teknis (UPT) dari Pusat Pendidikan Pertanian [Pusdiktan] di Badan Penyuluhan dan Pengembangan SDM Pertanian (BPPSDMP) Kementan, untuk mendukung program Mentan Amran Sulaiman yang mendorong pelibatan mahasiswa pada pengembangan potensi pertanian di wilayah perbatasan.
Ke-10 mahasiswa dilepas oleh Kepala Bagian Umum Polbangtan YoMa, Irwan Johan Sumarno di Kabupaten Kapuas Hulu, Kalbar pada Selasa [23/7], yang hadir mewakili Direktur Dr Rajiman.
Menurutnya, lima mahasiswa jurusan pertanian Yogyakarta akan melakukan pendampingan dan pengawalan petani di wilayah perbatasan Indonesia dan Malaysia, untuk memanfaatkan alat dan mesin pertanian [Alsintan], budidaya padi, jagung dan kedelai [Pajale], pengembangan irigasi pertanian, dan pemanfaatan sarana produksi seperti pupuk dan pestisida bersama penyuluh pertanian setempat di bawah koordinasi dinas pertanian setempat.
"Lima mahasiswa peternakan Magelang akan melakukan pengabdian masyarakat berupa pelayanan kesehatan hewan antara lain pelayanan vaksinasi ternak ayam dan sapi, pemberian vitamin, obat cacing dan antibiotik," kata Irwan JS didampingi Lutfan Makmun dari jurusan peternakan Magelang.
Dia menambahkan, pelayanan kesehatan hewan diharapkan dapat menjadi solusi bagi peternak dalam upaya meningkatkan produktivitas ternak dan upaya pencegahan terhadap yang kerap terjadi saat pergantian musim.
Pontianak of West Borneo [B2B] - Indonesian Agricultural Development Polytechnic in Yogyakarta and Magelang, Polbangtan YoMa, support development of agricultural potential in Putusibau, the border region in Kapuas Hulu district of West Kalimantan province, through the assistance program of 10 students, to carry out farmer assistance activities for one month, July 24 to August 24, 2019.