Ekspor Pertanian, Mentan - Mendag Sepakat Integrasi Ide dan Program
Indonesian Govy Seeks to Eliminate the Inter-ministerial Sectoral Ego
Reporter : Gusmiati Waris
Editor : Cahyani Harzi
Translator : Dhelia Gani

PUBLISHED: Selasa, 12 November 2019 , 00:55:00 WIB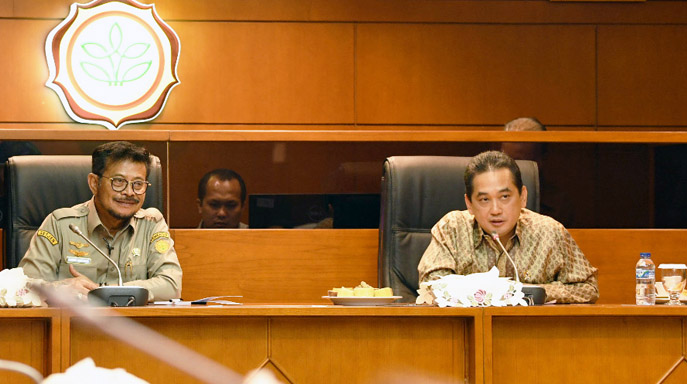 SINERGI KEMENTERIAN: Mentan Syahrul Yasin Limpo [kiri] dan Mendag Agus Suparmanto memimpin rapat koordinasi antara kedua kementerian di Jakarta [Foto: Biro Humas Kementan]
Jakarta [B2B] - Kementerian Perdagangan dan Kementerian Pertanian sepakat melakukan pertukaran ide dan integrasi program, untuk memperkokoh ketahanan pangan dan meningkatkan ekspor komoditas pertanian, dengan pemanfaatan teknologi informasi dan mekanisasi pertanian untuk meningkatkan produksi hasil pertanian berorientasi ekspor.
"Hari ini, komitmen Kemendag menjadi sinyal positif untuk Kementan memperkuat sinergi. Besok saya yang akan datang ke sana [Kemendag], membicarakan hal-hal yang menjadi harapan bersama," kata Mentan Syahrul Yasin Limpo [SYL] kepada pers usai pertemuan dengan Mendag Agus Suparmanto di Jakarta, Senin pagi [11/11].
Menurut SYL, ego sektoral antarkementerian tidak boleh lagi terjadi. Kekuatan negara ini harus kita optimalkan, terutama mengintegrasikan program kedua kementerian agar tidak tumpang tindih, mencapai target ketahanan pangan dan ekspor komoditas pertanian ke mancanegara.
"Sesuai arahan Presiden Joko Widodo, ego sektoral antarkementerian tidak boleh terjadi. Intinya, kekuatan negeri ini harus kita optimalkan, salah satunya hadir dari tangannya menteri perdagangan terutama mengintegrasikan program agar tidak tumpang tindih," kata Mentan.
Mendag Agus Suparmanto mendukung upaya Kementan memanfaatkan teknologi untuk mendukung peningkatan produksi pertanian, langkah tersebut perlu didukung melalui kerjasama maupun perancangan program sinergi.
"Kalau melihat dari banyaknya mesin-mesin yang bagus ini, saya yakin produk dalam negeri bisa meningkat. Kita harus mendukung upaya ini melalui kerjasama yang startegis," kata Mendag.
Jakarta [B2B] - Indonesian Trade Ministry and Agriculture Ministry agreed to exchange ideas and program integration, to strengthen food security and increase exports of agricultural commodities by utilizing information technology and agricultural mechanization, according to Agriculture Minister Syahrul Yasin Limpo.