Purnabakti PNS Bukan Akhir Pengabdian Meski Gaji Berkurang dan Tukin Distop
Pension as the Civil Servant is Not the End of the World
Reporter : Adipati Edonizar
Editor : Cahyani Harzi
Translator : Dhelia Gani

PUBLISHED: Minggu, 19 Agustus 2018 , 06:22:00 WIB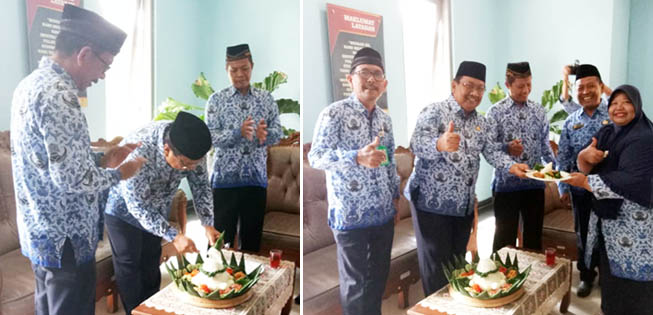 NASI TUMPENG: Ketua STPP Yogyakarta Ali Rachman memotong tumpeng didampingi Wakil Ketua Radjiman dan Kabag AU, Irwan JS (foto kiri) dan diserahkan pada PNS purnabakti Triani Pujiastuti (Foto2: Humas STPP Yogya)
APAKAH seseorang yang sudah selesai masa baktinya sebagai PNS, lalu selesai pula tugas-tugasnya kepada rakyat dan negara?
"Masih ada medan dan kegiatan lain. Bahkan ada yang mengatakan purnabakti hanya ditandai oleh berkurangnya gaji dan tunjangan saja. Sementara panggilan tugas di tengah masyarakat tetap menanti sang PNS purnabakti," kata Ketua Sekolah Tinggi Penyuluhan Pertanian - STPP Yogyakarta, Ali Rachman, Jumat (17/8) saat menyerahkan nasi tumpeng kepada Kasubbag Kepegawaian, Triani Pujiastuti, yang akan menjalani masa purna bakti per September 2018.
Ali Rachman mengingatkan bahwa purnabakti bukanlah berarti segalanya berakhir. Pernyataan purnabakti hanyalah bentuk formal saja. Masih ada medan dan kegiatan lain yang bermanfaat bagi masyarakat.
Acara pelepasan pejabat eselon empat di unit pelaksana teknis (UPT) dari Badan SDM Kementerian Pertanian RI dihadiri oleh Wakil Ketua STPP Yogyakarta, Radjiman MM; Kabag Administrasi Umum, Irwan Johan Sumarno, sejumlah pejabat eselon tiga dan empat serta para staf dari Triani Pujiastuti yang telah mengabdi lebih 30 tahun di Kementan.
"Acara pelepasan purna tugas ini hanyalah kegiatan formal. Perpisahan dalam makna organisatoris, namun silaturahim dan kerjasama tetap terjalin erat," kata Irwan JS melalui pernyataan tertulis.
Sang PNS purnabakti tidak menyangka acara melepasnya pensiun dihadiri seluruh civitas academica, karena berlangsung setelah upacara bendera dalam rangkaian peringatan HUT Kemerdekaan RI ke-73.
DOES someone who retires as a civil servant, then the task is also done to the people and the country?
"There are still other fields and activities. Some even say that retirement is only marked by reduced salaries and benefits. While the call of duty in the midst of society still awaits the retiree," said Rector of Yogyakarta´s Agriculture Extentionist College or STPP Yogyakarta on Friday (August 17) while handed over the rice cone to the Head of Subdivision of Personnel, Triani Pujiastuti.
Mr Rachman reminded that retirement does not mean everything ends. The retirement statement is only a formal form. There are still many activities that are useful for the community.
Farewell activities with fourth echelon officials in technical implementation units of the Directorate General of Agency for Agricultural Extension and Human Resources Development or the BPPSDMP attended by Deputy Rector of STPP Yogyakarta, Radjiman MM; the he Head of General Affairs of STPP Yogyakarta, Irwan Johan Sumarno and some number of third and fourth echelon officials.
"The activity of releasing retired civil servants is only formal activity. Farewell ceremony in the meaning of the organization, but friendship and cooperation remain intertwined," said Mr Sumarno through the written statement.
Farewell ceremony in the meaning of the organization, but friendship and cooperation remain intertwined," said Mr Sumarno through the written statement.
The retired civil servant did not expect the event to release her was attended by the entire academic community, because it took place after a flag ceremony from a series of commemoration of the 73rd Indonesian Independence Day.