Tembus 2.989% Target LTT, Capaian Olah Lahan PJ Opsin Kebumen
Utilization of Agricultural Machinery in Indonesia`s Kebumen is Amazing
Editor : M. Achsan Atjo
Translator : Dhelia Gani

PUBLISHED: Selasa, 23 Oktober 2018 , 06:53:00 WIB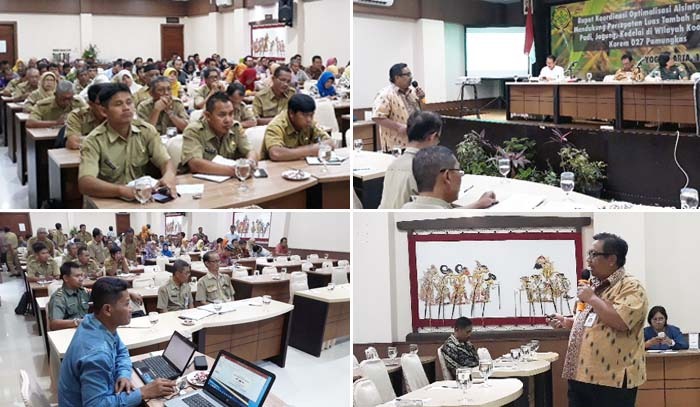 LTT JATENG: PJ Opsin Jateng Ali Rachman memimpin Rakor Opsin wilayah Korem 072 Pamungkas yang dihadiri para pejabat terkait (Foto2: Humas Polbangtan Yogyakarta - Magelang)
Sleman, DIY (B2B) - Realisasi olah lahan untuk luas tambah tanam (LTT) Kabupaten Kebumen, Provinsi Jawa Tengah meningkat 2.989%, ditarget 18 ha realisasi 538 ha, berkat dukungan traktor roda dua dan empat (TR2 dan TR4) program Optimalisasi Alsintan (Opsin) di wilayah koordinasi Korem 072 Pamungkas. Sementara total capaian 4.991,2 ha dari target LTT 4.767 ha (103%) lima kabupaten: Magelang, Purworejo, Wonosobo, Temanggung plus Kebumen.
Hal itu mengemuka dari kegiatan monitoring dan evaluasi atau Monev yang dipimpin Penanggung Jawab - PJ Opsin Alsintan Provinsi Jawa Tengah, Ali Rachman di Sleman, Yogyakarta, Selasa (16/10) pada rapat koordinasi (Rakor). Kegiatan Monev untuk memastikan Alsintan dimanfaatkan secara optimal oleh penerima bantuan di lima kabupaten meliputi Magelang, Kebumen, Purworejo, Wonosobo, dan Temanggung di bawah pendampingan dan pengawalan Korem 072 Pamungkas.
Ali Rachman mengatakan realisasi Opsin lima kabupaten meliputi lahan padi 4.544 ha dan jagung 223 ha. Pemanfataan TR2 mencapai 4.423,6 ha dan TR4 sekitar 487,6 ha atau total 4.911,2 ha atau lebih 145 ha (103%) dari target LTT seluas 4.767 ha.
"Kami mewakili Kementerian Pertanian RI mengapresiasi capaian kelima PJ Opsin Jateng di lima kabupaten, khususnya Kebumen dan Purworejo dengan realisasi luar biasa, 2.989 persen dan 1.286 persen dari target LTT," kata Ali Rachman, yang juga mantan Ketua STPP Magelang.
Tampak hadir Komandan Korem 072/Pamungkas Brigjen TNI Muhammad Zamroni diwakili perwira seksi teritorial (Pasiter) yang ditunjuk, Kepala Bidang Sarana dan Prasarana Pertanian di Dinas Pertanian Pemprov Jawa Tengah, Kabid Sapras dari lima kabupaten, Kasie Alsintan dan petugas data Opsin.
Dia pun mengelaborasi total capaian PJ Opsin tiap kabupaten seperti realisasi PJ Magelang dipimpin Budi Wijayanto mencapai 1.357,6 ha dari target LTT 1.667 ha atau 81%; PJ Kebumen, Kodrat Winarno capaiannya 538 ha dari target LTT 18 ha (2.989%); realisasi PJ Purworejo, Daryanto adalah 1.003 ha dari target LTT 78 ha (1.286%); PJ Wonosobo, Akimi mencapai 975 ha dari target LTT 1.337 ha (73%); dan PJ Temanggung, Giyarto mencapai 1.037,6 ha dari target LTT 1.667 ha (62%).
Ali Rachman menguraikan tentang kapasitas kerja Alsintan per hari, diketahui untuk TR2 sekitar 0,3 hektar, TR4 2 hektar, combine harvester kecil atau CHK 0,6 hektar, combine harvester sedang (CHS) mencapai 1,2 hektar, dan combine harvester besar (CHB) CHB sekitar 2 hektar.
"Pemerintah sudah mengeluarkan anggaran sangat besar untuk mendukung petani melalui bantuan Alsintan sehingga harus dioptimalkan. Tidak boleh ada Alsintan yang menganggur, harus dimanfaatkan secara optimal," kata Ali Rachman.
Sementara Opsin Korem 072 Pamungkas, Irwan Johan Sumarno mengatakan imekanisasi pertanian diharapkan dapat meningkatkan efisiensi tenaga manusia, derajat dan taraf hidup petani, kuantitas dan kualitas produksi pangan.
Sleman of Yogyakarta (B2B) - The optimization of agricultural machinery or the Opsin for two- and four-wheeled tractor engines or the TR2 and TR4 support land processing 4,991.2 hectares of land extension targets or the LTT of 4.767 hectares (103%) in five districts of Central Java province in Magelang, Kebumen, Purworejo, Wonosobo and Temanggung under coordination of the Person in Charge or the PJ Opsin Ali Rachman.
It was stated by the Person in Charge of Optimizing Agricultural Machinery of Central Java province or the PJ Opsin Jateng, Ali Rachman at the coordination meeting here on Tuesday morning (October 16). The activity aims to ensure that agricultural machinery is utilized optimally by farmers in five districts: Magelang, Kebumen, Purworejo, Wonosobo, and Temanggung.
Mr Rachman said realization of target in five districts included 4,544 hectares of rice, and 223 hectares for corn. The utilization of TR2 reached 4,423.6 hectares and TR4 of 487.6 hectares or the total 4,911.2 hectares (103%) of LTT target 4,767 hectares.
"I was represent the Indonesian Agriculture Ministry appreciate the achievements of PJ Opsin in five districts, especially Kebumen and Purworejo with the realization of exceeding the target," said Mr Rachman, who was also former of Rector Magelang´s Agriculture Extention College.
He also elaborated on the realization of the target of each district. Realization in Magelang 1,357 of the target 1,667 hectares or 81%; the target in Kebumen is 18 hectares but realization 538 hectares or 2.989%; realization in Purworejo is 1,003 hectares of the target 78 hectares (1.286%); Wonosobo reached 975 from the target of 1,337 hectares (73%), while Temanggung only reached 62% of the target 1,667 hectares only reached 1,037.6 hectares.
The agricultural machinery working capacity per day, it is known for TR2 about 0.3 hectares, TR4 of 2 hectares, 0.6 hectares for small combine harvester, 1.2 hectares for medium combine harvester, and 2 hectare for big combine harvester.
"The government has spent a lot of budget to support farmers through agricultural mechanization so that it must be optimized," Mr Rachman said.
Meanwhile the Coordinator of Opsin Jateng, Irwan Johan Sumarno said agricultural mechanization is expected to increase the efficiency of human power, the welfare of farmers, and the quality of food production