Temu Usaha 2019, Polbangtan YoMa Hadirkan Wirausahawan Muda Kreatif
Indonesian Govt Encouraged College Student become Young Entrepreneurs
Editor : M. Achsan Atjo
Translator : Dhelia Gani

PUBLISHED: Selasa, 13 Agustus 2019 , 01:00:00 WIB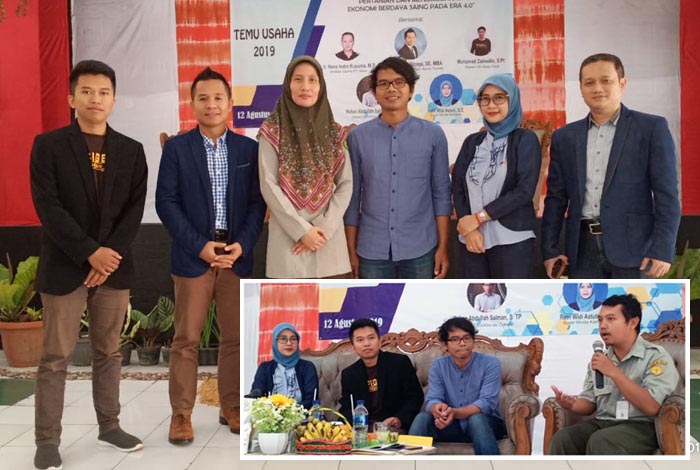 PENGEMBANGAN PWMP: Wakil Direktur I Dr Ananti Yekti [hijab coklat] bersama Dirut Nasa, Hana Indra Kusuma dan narasumber lain; Kepala Unit TeFa, Kodrad Winarno [inset bawah] selaku moderator [Foto: Humas/ Asnuri]
Yogyakarta, DIY [B2B] - Sejumlah mahasiswa Polbangtan YoMa antusias mengikuti ´Temu Usaha PWMP´ di Yogyakarta, Senin [12/8] menghadirkan sejumlah wirausahawan muda pertanian yang berhasil mengembangkan kegiatan usahanya sebagai job creator, dengan memanfaatkan hasil produksi pertanian menjadi produk olahan bernilai tambah yang diminati pasar dengan harga bersaing.
Mereka adalah Hana Indra Kusuma, Direktur Utama PT Natural Nusantara [Nasa] sebagai keynote speaker; Rajis Khanna Sinaga, Manajer Pengembangan Bisnis Truvalu; Muhammad Zaenuddin, pemilik UD Haza Food; Abdullah Salman dan Ratri Widi Astuti inovator cookies es coklat.
"Manfaatkan kegiatan temu usaha ini secara maksimal untuk berbagi informasi dan pengalaman dengan para narasumber, yang sudah teruji menghadapi banyak tantangan mencapai level seperti saat ini, khususnya memanfaatkan teknologi informasi untuk mendukung pengembangan usaha," kata Wakil Direktur I Polbangtan YoMa, Dr Ananti Yekti dalam sambutannya saat membuka kegiatan di kampus jurusan pertanian Yogyakarta mewakili Direktur Dr Rajiman.
Dia juga mengajak para mahasiswa semester enam dan partisipan program Penumbuhan Wirausahawan Muda Pertanian [PWMP] dari semester dua Polbangtan YoMa untuk me-review produk-produk yang dihasilkan para pengusaha muda pertanian tersebut untuk mengenali produk yang diminati konsumen.
Kepala Unit Teaching Factory [TeFa] Polbangtan Yoma, Kodrad Winarno yang bertindak selaku moderator mengingatkan salah satu tugas pokok dan fungsi [Tupoksi] dari Politeknik Pembangungan Pertanian [Polbangtan] untuk menghasilkan generasi milenial yang mampu menjadi job creator.
"Kehadiran para wirausahawan muda sukses dengan melibatkan mitra usaha dan industri dalam kegiatan pembelajaran melalui TeFa akan membekali keterampilan dan kompetensi mahasiswa untuk memiliki pengalaman seperti layaknya bekerja pada industri," kata Kodrad Winarno.
Hana Indra Kusuma mengatakan mahasiswa adalah aset berharga bagi bangsa Indonesia yang kelak akan memimpin bangsa ini bersaing di era global, dan Nasa telah menyiapkan beberapa modul kewirausahaan untuk diajarkan dan diterapkan di Polbangtan YoMa, setelah didapuk oleh Polbangtan YoMa sebagai mitra dunia usaha dan dunia industri [DuDi] untuk mendukung pengembangan PWMP dan TeFa.
"Mahasiswa perlu dikenalkan dari mulai yang dasar, seperti mengenali potensi diri hingga bagaimana mengelola perusahaan," kata Hana. [Asnuri]
Yogyakarta [B2B] - Indonesian Agriculture Ministry develops the potential of farmer youth and alumni of agricultural vocational education in Yogyakarta, Polbangtan YoMa become a young entrepreneur in the agricultural sector, as part of a farmer regeneration program designed for awareness, growth, development and independence of the interests, skills and entrepreneurial spirit of the young generation of agriculture.