TA Mentan Sokong Polbangtan YoMa Perluas Kemitraan TeFa
Indonesian Senior Official Support Teaching Factory in Polbangtan YoMa
Editor : M. Achsan Atjo
Translator : Dhelia Gani

PUBLISHED: Minggu, 07 Juli 2019 , 10:51:00 WIB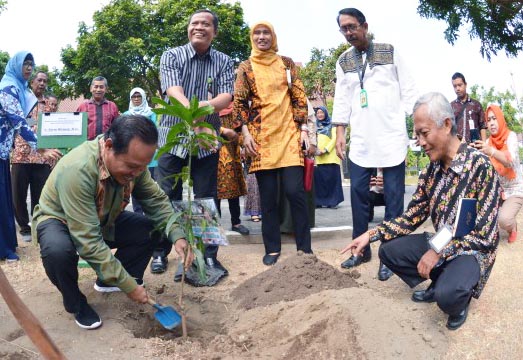 TANAM MANGGA: Tenaga Ahli Mentan, Baran Wirawan menanam pohon mangga garifta [kiri jongkok] didampingi Dr Rajiman [memegang pohon] dan Dr Ananti Yekti serta Irwan Johan Sumarno [berdiri kanan] Foto: Asnuri
Yogyakarta, DIY [B2B] - Kementerian Pertanian RI berharap civitas academica Polbangtan YoMa meningkatkan skala usaha Teaching Factory [TeFa] yang dikerjasamakan dengan mitra usaha dan industri [DuDi] seraya mengapresiasi capaian perguruan tinggi vokasi pertanian di Yogyakarta dan Magelang sebagai bagian dari metode pembelajaran jurusan pertanian dan peternakan di Politeknik Pembangunan Pertanian Yogyakarta - Magelang [Polbangtan] sebagai unit pelaksana teknis [UPT] dari Badan Penyuluhan dan Pengembangan SDM Pertanian [BPPSDMP Kementan].
Hal itu dikemukakan Baran Wirawan, Tenaga Ahli Menteri Pertanian RI bidang Tata Hubungan Kerja Lingkup Kementerian Pertanian RI kepada Direktur Polbangtan YoMa, Dr Rajiman didampingi Wakil Direktur I bidang Akademik, Dr Ananti Yekti dan Kabag Umum, Irwan Johan Sumarno serta sejumlah pejabat, para dosen dan staf di kampus pertanian Yogyakarta, Jumat [5/7].
"TeFa harus menjadi core business di Polbangtan, sehingga kegiatan praktek di TeFa tidak hanya seperti praktikum saja, melainkan sudah berbasis industri yang nantinya akan memiliki dua output yaitu produk barang dan jasa dari SDM yang mumpuni," kata Baran Wirawan.
Dia mengapresiasi capaian Polbangtan YoMa yang sudah mewujudkan TeFa sebagai bagian dari metode pembelajaran untuk jurusan pertanian dan peternakan, dan berupaya meningkatkan skala usaha TeFa yang dikerjasamakan dengan mitra usaha dan industri.
Dr Rajiman mengatakan bahwa Polbangtan YoMa senantiasa mengembangkan TeFa dengan mengembangkan prasarana dan sarana yang dilengkapi dengan sarana pendukung kegiatan usaha.
"Dalam rangka mengembangkan TeFa sebagai bagian dari metode pembelajaran Polbangtan, fasilitas pendidikan berupa infrastruktur terus kami upayakan untuk ditingkatkan khususnya pengembangan TeFa kebun lain seperti Kebun Sempu dan Karangsari di Kabupaten Sleman dan Kebun Banyakan di Kabupaten Bantul," katanya.
Sebelum kegiatan pembinaan, Baran Wirawan didampingi Dr Rajiman dan Dr Ananti Yekti melakukan penanaman pohon mangga garifta kemudian meninjau Kebun Celaban, dan meluangkan waktu berbincang dengan para mahasiswa yang sedang kuliah lapangan di sarana TeFa tersebut, dilanjutkan menguji coba traktor roda dua yang sudah dimodifikasi sebagai Alsintan otonom yang dikendalikan remote control. [IJS]
Yogyakarta [B2B] - Indonesian Agriculture Ministry hopes the Polbangtan YoMa academic community increase business scale of Teaching Factory [TeFa] which is cooperated with business partners and industry, and appreciation the achievements of agricultural vocational colleges in Yogyakarta and Magelang as part of the learning method in agriculture and animal husbandry of Polbangtan YoMa.