LKHPN 2019, Mentan SYL Telah Lapor ke KPK sejak April 2019
Indonesian Officials are Required to Report Assets to Anti-graft Commission
Reporter : Gusmiati Waris
Editor : M. Achsan Atjo
Translator : Dhelia Gani

PUBLISHED: Kamis, 31 Oktober 2019 , 01:12:00 WIB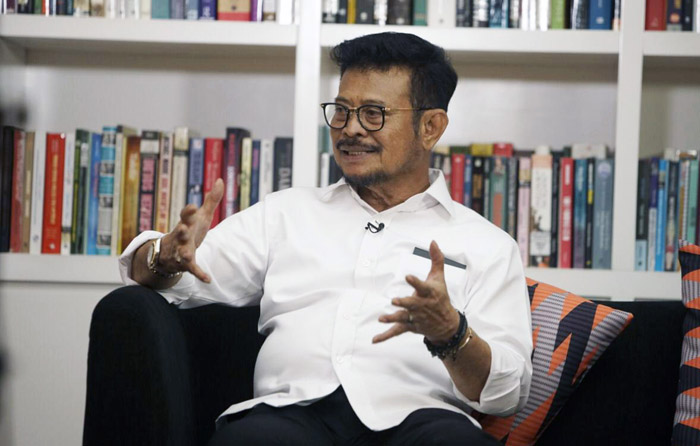 HARTA KEKAYAAN: Mentan Syahrul Yasin Limpo telah melaporkan LHKPN kepada KPK pada 20 Maret 2019, sewaktu mendaftar sebagai caleg legislatif [Caleg] pada Pileg 2019 [Foto: Humas Kementan]
Jakarta [B2B] - Menteri Pertanian RI Syahrul Yasin Limpo [SYL] memastikan telah menyerahkan dokumen Laporan Harta Kekayaan Pejabat Negara [LHKPN] kepada Komisi Pemberantasan Korupsi [KPK] untuk menjawab tudingan Indonesian Corruption Watch [ICW] tentang sejumlah menteri di Kabinet Indonesia Maju yang dilantik Presiden RI Joko Widodo di Istana Kepresidenan Jakarta, Rabu pekan lalu [23/10].
"Mentan Syahrul Yasin Limpo telah melaporkan LHKPN kepada KPK pada 20 Maret 2019, sewaktu beliau mendaftar sebagai calon anggota legislatif pada untuk Pemilihan Legislatif 2019 beberapa waktu lalu," kata Kepala Biro Humas dan Informasi Publik Kementan, Kuntoro Boga Andri di Jakarta, Selasa [29/10] meluruskan pemberitaan beberapa media nasional yang mengutip informasi ICW tentang menteri Jokowi yang belum menyerahkan LHKPN pada KPK.
Kuntoro menambahkan KPK telah menerima laporan tersebut dan diverifikasi 24 April 2019 serta dinyatakan lengkap. "Ada bukti tanda terima LHKPN atas nama beliau, dari KPK", tegas Kuntoro.
Dia memastikan bahwa Mentan SYL selalu tertib administrasi dan melaporkan harta kekayaannya selaku penyelenggara negara. "Jadi tidak benar kalau dikatakan terakhir Bapak SYL melapotkan LHKPN tahun 2015."
Menurutnya, hal itu adalah bentuk kepatuhan dan komitmen Mentan SYL terhadap Peraturan KPK No 7/ 2016 tentang Tata Cara Pendaftaran, Pengumuman dan Pemeriksaan LHKPN, yang menyatakan setiap penyelenggara negara wajib secara periodik dalam satu tahun melaporkan kekayaannya selama menjabat.
Sebagaimana diketahui, bagi menteri yang telah menjadi penyelenggara negara dan pada 2019 telah melaporkan LHKPN periodik, pelaporan LHKPN berikutnya cukup dilakukan dalam rentang waktu Januari–31 Maret 2020 (pelaporan periodik LHKPN untuk perkembangan kekayaan tahun 2019).
"Pasti beliau akan laporkan harta kekayaannya kembali pada 2020. Integritas dan komitmen beliau tidak diragukan. Pengalaman 25 tahun menjadi kepala daerah, dan gubernur terbaik adalah buktinya," kata Kuntoro.
Jakarta [B2B] - Indonesian Agriculture Minister Syahrul Yasin Limpo confirmed that he had submitted the State Officials Assets Report to the Anti-graft Commission [KPK] to respond to the accusations of the Indonesian Corruption Watch about several ministers of Indonesia Maju Cabinet of President Joko Wdodo, according to spokeperson of agriculture ministry.