Tiada Hari Tanpa Kerja, Mentan SYL Kunjungi Tanaman Hias Balithi di Cianjur
Indonesian Minister Visits Ornamental Plant Research Center in Cianjur
Reporter : Gusmiati Waris
Editor : Cahyani Harzi
Translator : Dhelia Gani

PUBLISHED: Senin, 02 Desember 2019 , 01:15:00 WIB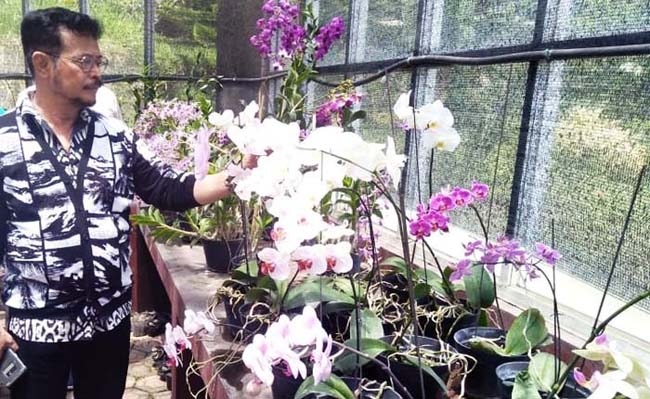 TANAMAN HIAS: Mentan Syahrul Yasin Limpo mengamati tanaman hias hasil penelitian Balithi - Balitbangtan di Cianjur, Jabar [Foto: Biro Humas Kementan]
Cianjur, Jabar [B2B] - Menteri Pertanian RI Syahrul Yasin Limpo [SYL] mengharapkan seluruh jajarannya di Kementerian Pertanian RI menerapkan semangat 'tiada hari tanpa kerja' untuk memastikan pemenuhan kebutuhan pangan bagi seluruh rakyat.
Hal itu dibuktikan Mentan SYL memanfaatkan waktu libur di hari Minggu [1/12] untuk mengunjungi Balai Penelitian Tanaman Hias - Badan Penelitian dan Pengembangan Pertanian [Balithi - Balitbangtan] di Cianjur didampingi sejumlah pejabat eselon satu Kementan di antaranya Kepala Balitbangtan Kementan, Fadjry Djufry dan Dirjen Peternakan dan Kesehatan Hewan [PKH] I Ketut Diarmita.
"Saya juga berharap kepada jajaran Kemetan agar tiada hari tanpa kerja," kata Mentan SYL saat berada di lahan penelitian Balithi seluas 10 hektar dalam kunjungan kerja selama empat jam.
Menurutnya, pembangunan pertanian menuju era industri diperlukan kerja keras dan fokus terhadap permasalahan yang cukup kompleks. Lebih khusus komoditas tanaman hias diperlulan terobosan baru untuk menjaga kualitas dan daya saing produk di pasar global.
"Litbang suatu kebanggan kita yang ditunjang dengan kondisi negara tropis dan bermuara pada sub tropis memudahkan untuk berlreasi dan berkarya lebih baik. Kita harus menjadi legacy, sesuatu yang bermakna untuk orang banyak," kata Mentan SYL.
Dia mengaku kagum pada kehadiran para senior peneliti dan staf yang memiliki tanggung jawab. "Tanaman Hias sangat berpotensi dikembangkan salah satunya untuk agro wisata saat ini."
Agro Wisata yang dikunjungingi merupakan area konservasi berbagai jenia tanaman dan sarana edulasi untuk pengembangan tanaman hias. Terdapat rumah kaca hexagonal anggrek dan berbagai tanaman hias lainnya hasil silangan dan tanaman hasil kerjasama dgn jepang.
"Ciptakan hebridasi yang unggul artinya sesuatu yang lebih dari biasa. Harus ada terobosan-terobosan yang dihasilkan dari balai penelitian ini," kata Mentan SYL.
Fadjry Djufry yang hadir mendampingi Mentan SYL menambahkan Balithi memiliki lahan tiga hektar parsial bangunan menunjang kegiatan 30 peneliti. Peneliti Balithi didampingi 27 teknisi dan 35 tenaga administrasi, serta 14 staf penunjang.
Jakarta [B2B] - Indonesian Agriculture Minister Syahrul Yasin Limpo expects all staff in the Agriculture Ministry to apply the spirit of 'no days without work' to ensure the fulfillment of the food needs of Indonesian people.