Teken MoU, TNI AD Dukung Kementan Capai Ketahanan Pangan
Indonesian Army Support Agriculture Ministry Achieve the Food Security
Editor : M. Achsan Atjo
Translator : Dhelia Gani

PUBLISHED: Rabu, 30 September 2020 , 11:08:00 WIB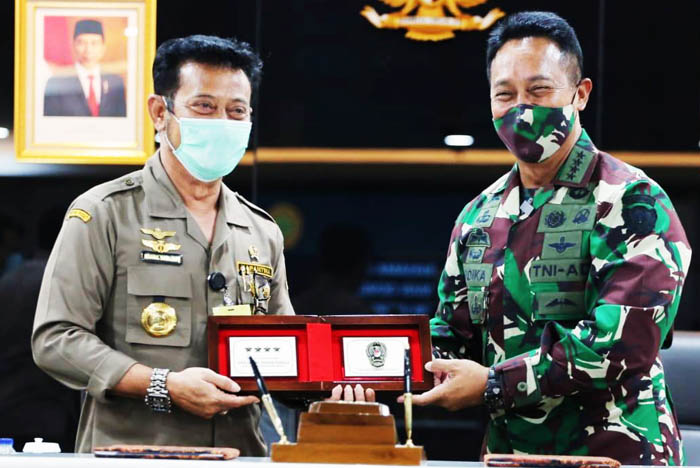 KERJASAMA STRATEGIS: Mentan Syahrul Yasin Limpo [kiri] dan Kasad Jenderal TNI Andika Perkasa [Foto: Kementan]
Jakarta [B2B] - TNI AD menyatakan kesiapan mendukung pendampingan dan pengawalan untuk pencapaian target program pengembangan lumbung pangan [food estate] dan pengembangan ternak sapi, yang dilakukan Kementerian Pertanian RI mencapai target ketahanan pangan.
"TNI AD siap mendampingi seluruh akselerasi dari program Kementan, teknis maupun secara fisik. Kalau kesiapan pangan dalam negeri kita sudah cukup maka ekspor sangat terbuka lebar," kata Menteri Pertanian RI Syajrul Yasin Limpo usai menandatangani memoranda kesepahaman [MoU] dengan Kasad Jenderal TNI Andika Perkasa di Jakarta, Selasa [30/9].
Mentan Syahrul menyatakan bahwa kerjasama Kementan dan TNI AD sebagai bentuk pendampingan dalam pelaksanaan program pembangunan pertanian.
"Kerjasama meliputi peningkatan kapasitas SDM pertanian, pemanfaatan sarana dan prasarana, serta pendampingan penerapan inovasi teknologi pertanian, serta bidang kerja sama lain dalam upaya mencapai swasembada pangan," tandasnya.
"Saya melihat respon dari TNI AD sangat luar biasa, juga angkatan lain dan Polri terus mendorong Kementan. Saya menyampaikan terima kasih kepada jajaran TNI AD yang terus memberikan pendampingan didukung para bupati dan gubernur," kata Mentan Syahrul.
Kepala Staf Angkatan Darat [Kasad] Jenderal TNI Andika Perkasa menegaskan bahwa TNI AD selalu siap mendukung program ketahanan pangan yang dicanangkan Kementan.
Menurutnya, TNI AD dan Kementan sudah bekerjasama pada banyak kegiatan dan ke depan akan terus mendukung Kementan dalam mempersiapkan pangan.
"Ketersediaan pangan merupakan suatu tugas besar negara. Kami merasa ini bagian dari tanggung jawab dan dalam hal ini kami sekali lagi siap bersama Kementan dalam me jaga ketahanan pangan," tegasnya.
Sebagaimana diketahui, ada empat fokus program yang menjadi perhatian Kementan dalam menjaga ketahanan pangan yakni meningkatkan produksi dan produktivitas tanaman pangan. Diversifikasi pangan non beras, perkuatan cadangan pangan daerah, modernisasi dan mekanisasi pertanian.
Jakarta [B2B] - The policies of Indonesian Agriculture Ministry by involving the army to develop new paddy fields showed positive results across the country, is implementation of commitments of the Minister Syahrul Yasin Limpo.