Songsong Polbangtan, STPP Magelang Wisuda Sarjana Jurluhtan dan Jurluhnak
Indonesia Needs More Agricultural Extensionist
Editor : M. Achsan Atjo
Translator : Dhelia Gani

PUBLISHED: Senin, 13 Agustus 2018 , 12:12:00 WIB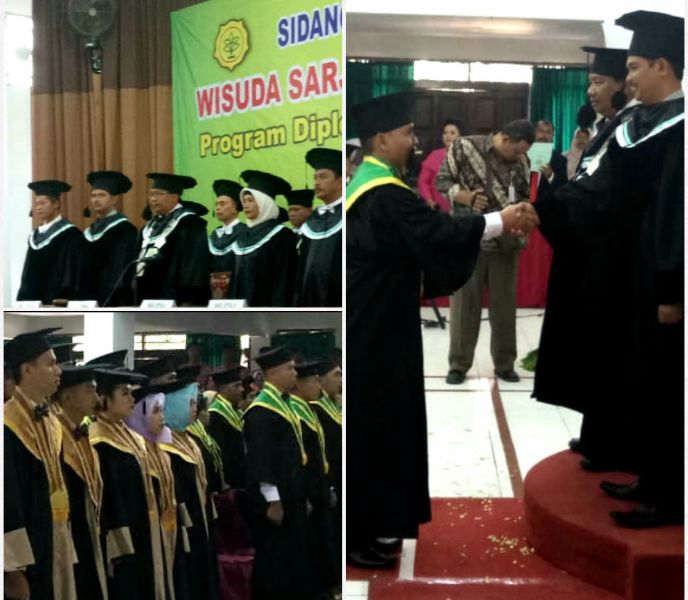 Wisuda dilakukan oleh Dirjen Hortikultura Kementan didampingi Kepala Pusdiktan BPPSDMP Gunawan Yulianto dan Ketua STPP Magelang, Ali Rachman (Foto2: Humas STPP Yogyakarta)
Magelang, Jateng (B2B) - Sekolah Tinggi Penyuluhan Pertanian (STPP) Magelang menggelar wisuda terakhir sarjana sains terapan program Diploma IV hari ini, Senin (13/8) di kampus STPP Magelang jurusan penyuluhan peternakan (Jurluhnak).
Wisuda diikuti oleh 36 lulusan jurusan penyuluhan pertanian (Jurluhtan) dan 58 lulusan Jurluhnak sekaligus menandai wisuda terakhir STPP Magelang, dan siap mengawali pengabdian sebagai Politeknik Pembangunan Pertanian (Polbangtan) mulai tahun akademik 2018/2019.
Wisuda dilakukan oleh Dirjen Hortikultura Kementerian Pertanian RI didampingi Kepala Pusat Pendidikan (Pusdiktan) di Badan Penyuluhan dan Pengembangan SDM Pertanian (BPPSDMP) Gunawan Yulianto dan Kepala STPP Magelang, Ali Rachman.
Wisudawan terbaik dari Jurluhnak Magelang adalah Fabiana Mentari Putri W dengan indeks prestasi kumulatif (IPK) 3,72, Hanis Astria Pamungkas (3,61), dan Isti Mulatifah (3,6). Sementara peraih IP tertinggi dari Jurluhtan Yogyakarta adalah Bagio (3,92), Rohmat Hidayat (3,91), Surya Sinagara (3,84).
Kapusdik Gunawan Yulianto mengingatkan bahwa wisudawan mengemban tugas berat mendampingi dan mendorong petani untuk mencapai kedaulatan pangan sekaligus meningkatkan kesejahteraan petani.
"Para wisudawan juga harus mendukung upaya stop impor pangan, dengan meningkatkan nilai tambah dan daya saing produk pertanian Indonesia di dalam negeri maupun di pasar global," katanya.
Ali Rachman menambahkan untuk menjawab tantangan ke depan, maka STPP Magelang mulai tahun akademik 2018/2019 melakukan transformasi kelembagaan, dengan mengembangkan STPP menjadi Polbangtan.
"Khusus Polbangtan Yogyakarta menyelenggarakan tiga program yakni Diploma IV Penyuluhan Pertanian, Diploma IV Teknologi Benih, Diploma IV Agribisnis Hortikultura," katanya.
Sementara Polbangtan Magelang akan memiliki tiga program studi yaitu, Diploma IV Penyuluhan Peternakan, Diploma IV Teknologi Produksi Ternak, Diploma IV Teknologi Pakan Ternak.
Magelang of Central Java (B2B) - Indonesian´s Magelang Agricultural Extensionist College or the STPP Magelang held the a four-year diploma graduation, here today, Monday (August 13).
The graduation ceremony was attended by 94 graduates while marking the final graduation of the STPP Magelang and is ready to initiate service as an Agricultural Development Polytechnic or the Polbangtan start of the academic year 2018/2019.
Graduation ceremony led by the Director General of Horticulture at the agriculture ministry, Suwandi accompanied by the Director of the Agricultural Education Center, Gunawan Yulianto and Rector of the STPP Magelang, Ali Rachman.
The best graduates of the Magelang livestock extensionist department are Fabiana Mentari Putri W with a cumulative index of 3.72, Hanis Astria Pamungkas (3.61), and Isti Mulatifah (3,6). While of the Yogyakarta´s agricultural extensionist department is Bagio (3.92), Rohmat Hidayat (3.91), Surya Sinagara (3.84).
Mr Yulianto reminded the graduates to carry out the task of assisting farmers to achieve Indonesian food sovereignty, as well as to improve the welfare of farmers.
"The graduates must also support efforts to stop food imports by increasing value added, and competitiveness of agricultural products in the country and the global market," said Suwandi who goes by one name, like many Indonesians,
Mr Rachman said to answer the challenges ahead, the STPP Magelang starting academic year 2018/2019 developing agricultural vocational education.
"The Polbangtan Yogyakarta holds three diploma four programs namely agricultural extension, seed technology, and horticultural agribusiness," he said.
Meanwhile Polbangtan Magelang will hold three four diploma study programs: livestock counseling, livestock production technology, and animal feed technology.