BPTP Kaltim Gandeng Perhiptani Samarinda Tangkal Covid-19
Indonesian Agriculture Anticipate Covid-19 by Weaker Health Systems
Editor : M. Achsan Atjo
Translator : Dhelia Gani

PUBLISHED: Selasa, 12 Mei 2020 , 01:22:00 WIB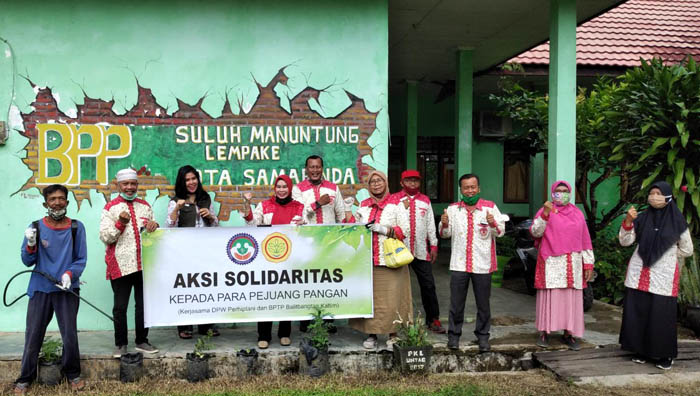 Bantuan tersebut disalurkan kepada empat BPP di Kota Samarinda yakni BPP Lampake, BPP Sungai Kunjang, BPP Palaran dan BPP Makroman sebagai Komando Strategis Pembangunan Pertanian [KostraTani] Foto: Humas BPTP Kaltim
Samarinda, Kaltim [B2B] - Garda terdepan ketahanan pangan nasional adalah penyuluh pertanian. Mereka tetap mendampingi aktifitas petani di lahan pertanian di tengah pandemi Covid-19 di seluruh Indonesia, tak terkecuali di Provinsi Kalimantan Timur.
Kondisi tersebut disikapi oleh Balai Pengkajian Teknologi Pertanian - Balitbangtan di Kalimantan Timur [BPTP Kaltim] menggandeng Perhimpunan Penyuluh Pertanian Indonesia [Perhiptani] untuk memberi bantuan paket jamu instan, disinfektan, hand sanitizer, masker dan sarung tangan kepada para penyuluh pertanian di Kota Samarinda.
"Kota Samarinda sebagai wilayah pertama yang mendapat bantuan, mengingat sebagai wilayah terdekat yang bisa dicapai. Bantuan BPTP Kaltim diserahkan pada empat balai penyuluhan pertanian atau BPP di ibukota Kaltim," kata Kepala BPTP Balitbangtan Kaltim, Muhammad Amin di Samarinda, belum lama ini.
Kolaborasi BPTP dan Perhiptani, kata Amin, merupakan sinergi dengan organisasi profesi yang mewadahi penyuluh pertanian DPW Perhiptani Kaltim dan DPD Perhiptani Samarinda untuk mendukung mencegah dan meningkatkan imunitas tubuh penyuluh pertanian dalam menangkal virus Corona, pemicu Covid-19.
Bantuan tersebut disalurkan kepada empat BPP di Kota Samarinda yakni BPP Lampake, BPP Sungai Kunjang, BPP Palaran dan BPP Makroman sebagai Komando Strategis Pembangunan Pertanian [KostraTani] selaku locust pembangunan pertanian di tingkat kecamatan.
Tugas penyuluh dan petani di lapangan tidaklah mudah, karena itu, Menteri Pertanian RI Syahrul Yasin Limpo [SYL] berpesan untuk meningkatkan imunitas tubuh dan melaksanakan Protokol Kesehatan.
"Petani dan penyuluh dan pemangku kepentingan selama berada di lapangan wajib mengenakan masker, jaga jarak, hindari kerumunan dan sering cuci tangan pakai sabun untuk menangkal Corona," kata Mentan Syahrul. [Etha]
Samarinda of East Borneo [B2B] - Indonesia´s Agriculture Ministry is in intensive care after testing positive for the novel coronavirus, as civil servants in head office and across the country were ordered to close over the health threat. The World Health Organization has said it is particularly concerned about high-risk nations with weaker health systems, which who may lack the facilities to identify cases.