Capai Target LTT, PJ Opsin Jateng Pimpin Monev Opsin Korem 072 Pamungkas
Indonesian Govt Push the Utilization of Agricultural Machinery in Central Java Province
Editor : M. Achsan Atjo
Translator : Dhelia Gani

PUBLISHED: Selasa, 16 Oktober 2018 , 12:51:00 WIB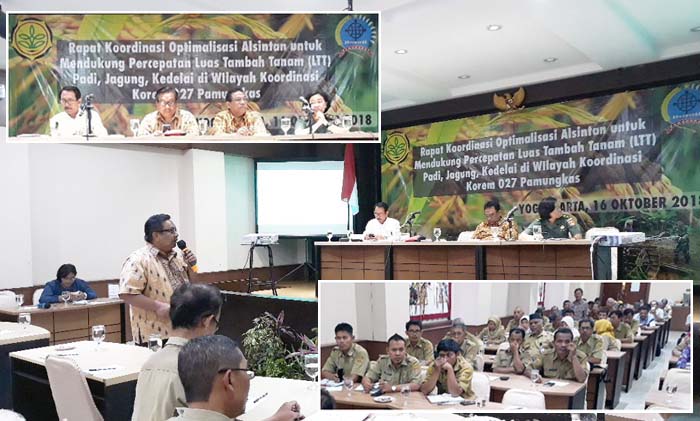 TARGET LTT JATENG: PJ Opsin Jateng Ali Rachman memimpin Rakor Opsin wilayah Korem 072 Pamungkas yang dihadiri para pejabat terkait (Foto2: Humas Polbangtan Yogyakarta - Magelang)
Sleman, DIY (B2B) - Kementerian Pertanian RI melakukan monitoring dan evaluasi alat mesin pertanian (Alsintan) bantuan pemerintah, khususnya roda dua dan empat (TR2 dan TR4) serta pompa air (PA) untuk mendukung percepatan luas tambah tanam (LTT) seluas 22.068 hektar dari target LTT di wilayah koordinasi Korem 072 Pamungkas yang meliputi lima kabupaten: Magelang, Kebumen, Purworejo, Wonosobo, dan Temanggung pada 1 - 15 Oktober 2018.
Kegiatan monitoring dan evaluasi atau Monev dipimpin Penanggung Jawab Jawab Optimalisasi Alsintan (PJ Opsin) Provinsi Jawa Tengah, Ali Rachman di Sleman, Yogyakarta pagi ini (16/10) pada rapat koordinasi (Rakor) untuk memastikan Alsintan dimanfaatkan secara optimal oleh penerima bantuan.
Ali Rachman mengingatkan tentang pencapaian target LTT didukung Alsintan dengan penguatan unit pelayanan jasa Alsintan (UPJA) secara kolektif mulai dari pengolahan tanah, penanaman, dan panen.
Sementara dari sisi kapasitas kerja Alsintan per hari, diketahui untuk TR2 sekitar 0,3 hektar, TR4 2 hektar, combine harvester kecil atau CHK 0,6 hektar, combine harvester sedang (CHS) mencapai 1,2 hektar, dan combine harvester besar (CHB) CHB sekitar 2 hektar.
Tampak hadir Komandan Korem 072/Pamungkas Brigjen TNI Muhammad Zamroni diwakili Pasiter yang ditunjuk, Kepala Bidang Sarana dan Prasarana Pertanian di Dinas Pertanian Pemprov Jawa Tengah, Kabid Sapras dari lima kabupaten, Kasie Alsintan dan petugas data Opsin.
Penggunaan mesin pertanian merupakan salah satu cara untuk meningkatkan produktivitas dan efisiensi usaha tani, meningkatkan mutu dan nilai tambah produksi pertanian dan pemberdayaan petani.
"Pada hakikatnya, penggunaan Alsintan pada lahan pertanian bertujuan meningkatkan daya kerja manusia dalam proses produksi pertanian, dimana setiap tahapan dari proses produksi tersebut dapat memanfaatkan Alsintan," kata Ali Rachman.
Koordinator Opsin Korem 072 Pamungkas, Irwan Johan Sumarno menambahkan mekanisasi pertanian diharapkan dapat meningkatkan efisiensi tenaga manusia, derajat dan taraf hidup petani, kuantitas dan kualitas produksi pangan.
"Hal itu akan memberi peluang pertumbuhan usaha tani dari tipe subsisten menjadi tipe pertanian perusahaan, serta mempercepat transisi bentuk ekonomi Indonesia dari sifat agraris menjadi industri," kata Irwan yang juga menjabat Kabag Administrasi Umum Politeknik Pembangunan Pertanian (Polbangtan) Yogyakarta - Magelang.
Sleman of Yogyakarta (B2B) - Indonesian Agriculture Ministry to monitors and evaluates the utilization of agricultural machinery to farmers to support acceleration of the expansion of 15,450 hectares of food crops in five districts of Central Java province ie Magelang, Kebumen, Purworejo, Wonosobo, and Temanggung on 1 - 15 October 2018.
It was stated by the Person in Charge of Optimizing Agricultural Machinery of Central Java province or the Opsin Jateng, Ali Rachman at the coordination meeting here on Tuesday morning (October 16).
Mr Rachman reminded about achieving the target of extending food crops or LTT supported by agricultural machinery rental business units for processing land, planting, and harvesting activities.
While working capacity per day, it is known for two-wheeled tractors of about 0.3 hectares, four-wheeled tractor 2 hectares, 0.6 hectares for small combine harvester, 1.2 hectares for medium combine harvester, and 2 hectare for big combine harvester.
The use of agricultural machinery is one way to increase the productivity and efficiency of farming, improve the quality and value added of agricultural production and empowerment of farmers.
"Basically the use of agricultural machinery on agricultural land aims to increase human labor power in the process of agricultural production, every phase of the production process can utilize agricultural machinery," Mr Rachman said.
The Coordinator of Opsin Jateng, Irwan Johan Sumarno said said the mechanization of agriculture is expected to improve the efficiency of human labor, the degree and standard of living of farmers, the quantity and quality of food production.
"It gives a growth opportunity for the farmer from the subsistence type to the company agriculture type, and accelerate the transition of Indonesia´s economic form from being agrarian to industrial, "said Mr Sumarno who also served as the Head of General Affairs, of Yogyakarta´s Agricultural Development Polytechnic.