HUT RI ke-74, Drumband Polbangtan YoMa Siap Tampil di Kementan
Drumband Polbangtan YoMa Supports the Celebration of Indonesian Independence in Jakarta
Editor : M. Achsan Atjo
Translator : Dhelia Gani

PUBLISHED: Jum'at, 09 Agustus 2019 , 01:32:00 WIB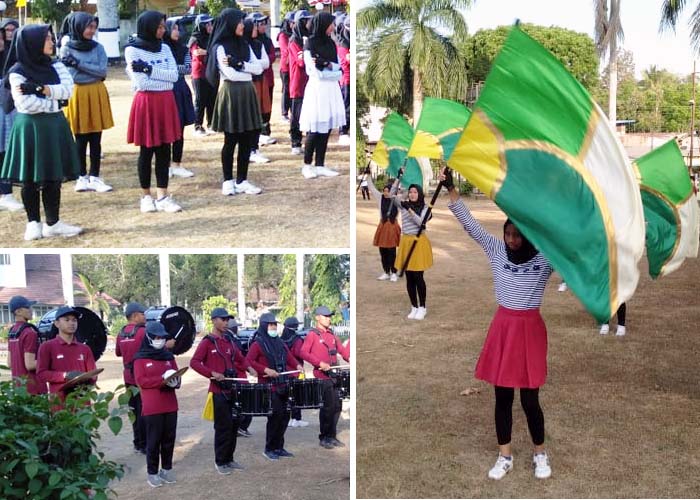 KAMPUNG MAGELANG: Latihan bersama untuk pemahiran dan teknis kolaborasi di lapangan utama kampus jurusan peternakan Magelang. [Foto2: Humas/Asnuri]
Yogyakarta, DIY [B2B] - Masyarakat Magelang, Jateng, khususnya di Kecamatan Tegalrejo menikmati atraksi menarik dari marching band dan drumband Polbangtan YoMa, Gita Swara Guinandra, yang menggelar latihan rutin menjelang tampil memperingati HUT Kemerdekaan RI ke-74 di kantor pusat Kementerian Pertanian RI di kawasan Ragunan, Jakarta Selatan pada 17 Agustus 2019.
Kegiatan latihan drumband Gita Swara Guinandra di kampus jurusan peternakan Magelang diapresiasi oleh Direktur Polbangtan YoMa, Dr Rajiman sebagai tanggung jawab atas kepercayaan dari Kementan, untuk tampil di hadapan Mentan Amran Sulaiman, para pejabat tinggi dan seluruh jajaran Kementan di Jakarta.
"Kepercayaan dari Kementan adalah amanah sekaligus tantangan untuk memberikan penampilan terbaik di hadapan Mentan Amran Sulaiman seluruh jajaran Kementan yang berkantor di Ragunan," katanya di Magelang, Kamis [8/8].
Latihan bersama untuk pemahiran dan teknis kolaborasi dimulai pukul 15:30 WIB di lapangan utama kampus jurusan peternakan Magelang, menghadirkan kekuatan penuh tim drumband Gita Swara Guinandra mengenakan seragam latihan merah maroon, celana hitam sementara ofisial mengenakan dress code putih berpadu serasi dengan kostum aneka warna dari group color guard.
"Pengalaman latihan bersama dapat meningkatkan rasa percaya diri, kreativitas dan kolaboratif bagi pemain dan ofisial," kata Dr Rajiman.
Kabag Umum Polbangtan YoMa, Irwan Johan Sumarno mengatakan latihan bersama pada Kamis [8/8] bahwa marching band dan drumband Gita Swara Guinandra adalah salah satu yang terbaik di Kementan, dan setiap tahun melakukan upgrade kapasitas.
Gita Swara Guinandra didirikan 4 Agustus 2019 beranggotakan 67 orang, terdiri atas 48 pemain dan 19 ofisial, didukung tiga pelatih kelas nasional, tim kesehatan dan empat pendamping kegiatan. Tampil pada kegiatan TNI Manunggal Membangun Desa (TMMD) di kota Yogyakarta, yang mendapat sambutan meriah dari warga Yogyakarta.
"Gita Swara Guinandra siap tampil dengan performa terbaik di Kementan pada 17 Agustus 2019," kata Agus, pelatih marching band. [Asnuri]
Yogyakarta [B2B] - The Magelang people in Central Java province, especially in Tegalrejo sub-district enjoyed the Polbangtan YoMa marching band, Gita Swara Guinandra, which conducts routine exercises ahead to support the 74th anniversary of Indonesian Independence at the head office of Indonesian Agriculture Ministry in Ragunan area of South Jakarta on August 17, 2019.