Transformasi Polbangtan Magelang, Ali Rachman Konsultasi dengan Sekjen Kementan
Indonesian Agriculture Ministry Develops Vocational Education
Reporter : Adipati Edonizar
Editor : Cahyani Harzi
Translator : Dhelia Gani

PUBLISHED: Rabu, 22 Agustus 2018 , 13:48:00 WIB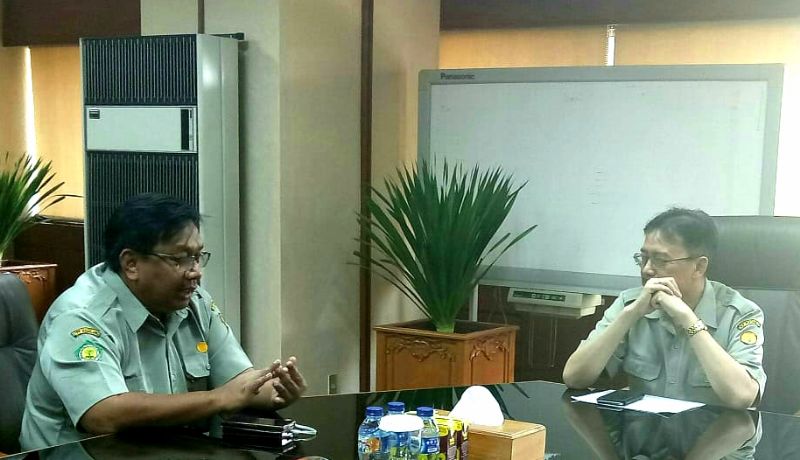 SEMINAR NASIONAL: Ketua STPP Magelang, Ali Rachman bertemu empat mata dengan Sekjen Kementan sampaikan undangan seminar di Yogyakarta dan pengembangan Polbangtan Yogya - Magelang (Foto2: Humas STPP Magelang)
Jakarta (B2B) - Pemerintah Indonesia mendukung transformasi Sekolah Tinggi Penyuluhan Pertanian disingkat STPP menjadi Politeknik Pembangunan Pertanian (Polbangtan), bukan sekadar ganti nama dan ubah kurikulum, melainkan harus mendukung pengembangan kemampuan entrepreneurship mahasiswa sehingga setelah lulus tidak ´menggantung harapan´ menjadi pegawai negeri sipil (PNS).
Harapan tersebut dikemukakan oleh Sekjen Kementerian Pertanian RI Syukur Iwantoro pada Ketua STPP Magelang, Ali Rachman dalam konsultasi di kantor pusat Kementan di kawasan Ragunan, Senin (20/8).
"Sekjen Syukur Iwantoro antusias menanyakan banyak hal tentang transformasi STPP Magelang menjadi Polbangtan. Beliau sangat concern pada pengembangan entrepreurship mahasiswa. Pesan beliau, Polbangtan jangan cuma ganti nama dan ubah kurikulum," kata Ali Rachman kepada pers usai pertemuan di ruang kerja Sekjen Kementan.
Ketua STPP Magelang berada di Jakarta untuk menyampaikan undangan pada Sekjen Kementan untuk menjadi keynote speaker seminar nasional di STPP Magelang pada September.
Sekjen Kementan mengingatkan STPP Magelang seperti halnya unit pelaksana teknis (UPT) lain di lingkup Badan Penyuluhan dan Pengembangan SDM Pertanian (BPPSDMP) Kementan lainnya untuk berupaya keras mendukung pengembangan pendidikan vokasional pertanian.
Ali Rachman melaporkan bahwa STPP Magelang telah menyusun rencana pembelajaran semester (RPS) dan bahan ajar dalam penyiapan transformasi menjadi Polibangtan. Langkah tersebut sesuai amanah UU Pendidikan Tinggi No 12/2012, yang mengisyaratkan kelembagaan pendidikan tinggi di Kementan mengerucut pada perubahan kelembagaan menjadi pendidikan vokasional atau politeknik.
"Sekjen menyambut positif persiapan BPPSDMP khususnya STPP Magelang, dengan memperhatikan sistem penyelenggaraan pendidikan dan kesiapan SDM," katanya.
Jakarta (B2B) - The Indonesian government supports the transformation of the Agricultural Extension College or STPP into an Agricultural Development Polytechnic or Polbangtan, not just changing names and curriculum, but must support the development of students´ entrepreneurial abilities so that after graduation they do not ´hang hope´ into civil servants or the PNS.
It was stated by Secretary General of Agriculture Ministry, Syukur Iwantoro to Rector the STPP Magelang, Ali Rachman here on Monday (August 20).
"Mr Iwantoro enthusiastically asked many questions about the transformation of STPP into to the Polbangtan. He is concerned development of student entrepreneurship. His message is that Polbangtan should not only change the name and curriculum," Mr Rachman told the press after the meeting.
Rector of the STPP Magelang was in Jakarta to deliver an invitation to Mr Iwantoro become the keynote speaker of the national seminar at the campus in September.
Mr Iwantoro reminded the Magelang STPP as well as other technical implementing units in agricultural education in the ministry seeks to support the development of agricultural vocational education.
He said the STPP Magelang for two days, 12 and 13 April, discuss semester learning plan or RPS and teaching materials before transformation into agricultural development polytechnic or Polibangtan.
The transformation is in accordance with the Act of Higher Education Number 12/2012, which suggests higher education in the ministry of agriculture to institutional change into vocational or polytechnic education.