Mahasiswa Polbangtan YoMa Antusias Ikuti Pelatihan Penulisan Karya Ilmiah
Indonesian Students are Enthusiastic Participate of Scientific Writing Training
Editor : M. Achsan Atjo
Translator : Dhelia Gani

PUBLISHED: Minggu, 04 Agustus 2019 , 08:18:00 WIB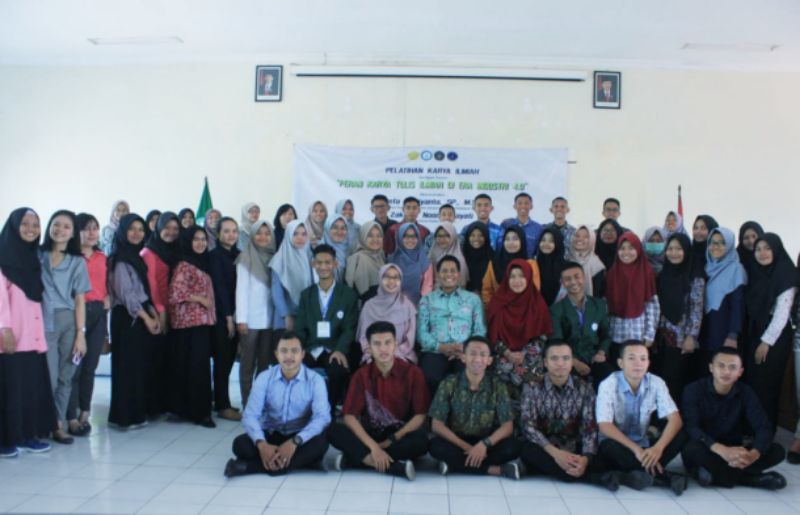 Peserta pelatihan karya tulis ilmiah Polbangtan YoMa [Foto: Humas/Asnuri]
Yogyakarta, DIY [B2B] - Sekitar 70 mahasiswa tingkat satu dan tiga Polbangtan YoMa mengikuti ´pelatihan penulisan karya ilmiah´ yang digagas oleh unit kegiatan mahasiswa [UKM] di ruang seminar kampus jurusan pertanian Yogyakarta, Sabtu [3/8].
Pelatihan fokus pada ´tips and trick penulisan artikel ilmiah´ mengusung tema Peran Karya Tulis Ilmiah di Era Industri 4.0 untuk menemukan gagasan kreatif, inovatif dan mandiri dari mahasiswa vokasi pertanian Yogyakarta dan Magelang.
"Sesi pertama, mahasiswa diberikan pemahaman tentang peran karya ilmiah bagi mahasiswa di era industrialisasi 4.0, dilanjutkan tips and trick menulis karya ilmiah dan tanya jawab antara peserta dan pemateri," kata Refa Firgiyanto, dosen tanaman pangan dan hortikultura jurusan pertanian Politeknik Negeri Jember.
Kabag Umum Polbangtan YoMa, Irwan Johan Sumarno menegaskan dukungan rektorat terhadap kegiatan penulisan karya tulis ilmiah mampu mengembangkan ide kreatif yang bertumpu pada kaidah-kaidah penulisan karya ilmiah agar lebih kreatif, mandiri dan inovatif.
"Karya ilmiah sangat bermanfaat dan erat kaitannya dengan pengembangan cara berfikir kritis mahasiswa dalam mencari problem solving dari permasalahan dalam kehidupan modern," kata Kabag Umum Irwan JS mewakili Direktur Dr Rajiman melalui pernyataan tertulis.
Refa F menambahkan pelatihan sesi kedua melakukan praktikum penyusunan kerangka karya ilmiah untuk dikembangkan menjadi karya tulis ilmiah utuh secara berkelompok dengan tema bebas, yang akan berlanjut pada pelatihan berikutnya untuk membahas lebih detail tentang hasil karya mereka pada pelatihan yang berlangsung Sabtu pagi hingga siang hari.
Selain Refa F dari Politeknik Negeri Jember, UKM Polbangtan YoMa juga menghadirkan pemateri Zakiah Noor Hidayati, mahasiswi administrasi publik 2017 dari Universitas Negeri Yogyakarta [UNY] sebagai pembicara kelas ´kepenulisan laboratorium administrasi publik´ dilanjutkan dialog interaktif.
"Pelatihan yang akan datang sebaiknya mendatangkan pemateri yang lebih memotivasi peserta mengikuti pelatihan, dan pelatihan ini membuat saya lebih mengetahui tentang menulis karya ilmiah, karena saya kurang suka membaca tapi sekarang harus mulai berlatih untuk membaca," kata Siti Nurhidayati, salah satu peserta pelatihan. [Asnuri]
Yogyakarta [B2B] - Around 70 students of Indonesian´s Vocational College of Agriculture in Yogyakarta, Polbangtan YoMa, attended training on writing scientific papers initiated by the student activity unit [UKM] in seminar room of Yogyakarta agricultural major campus, Saturday [August 3].
The training focused of ´tips and tricks on writing scientific articles´ in Industrial Era 4.0 to find creative, innovative and independent ideas from vocational students in Yogyakarta and Magelang.