#Bekerja di Tasikmalaya, 550 Ribu Ekor Ayam jadi Modal Usaha 11 Ribu RTM
Indonesia´s Minister handed over 550 Thousand Chickens in Tasikmalaya
Reporter : Gusmiati Waris
Editor : Cahyani Harzi
Translator : Dhelia Gani

PUBLISHED: Jum'at, 11 Januari 2019 , 23:04:00 WIB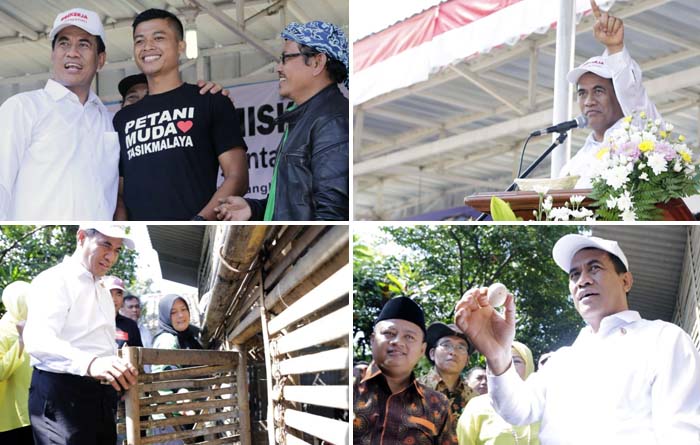 RUMAH TANGGA MISKIN: Bantuan #Bekerja Tasikmalaya diserahkan simbolis oleh Mentan Andi Amran Sulaiman kepada warga miskin di Desa Kiara Kiarajangkung, Kecamatan Sukahening (Foto2: Humas Kementan)
Tasikmalaya, Jawa Barat (B2B) - Lebih setengah juta ekor ayam kampung dibagikan oleh Kementerian Pertanian RI kepada 11 ribu rumah tangga miskin (RTM) di Kabupaten Tasikmalaya, Provinsi Jawa Barat, sebagai bagian dari target 200 ribu RTM di 807 desa pada 22 kabupaten di 10 provinsi, yang dibidik oleh program ´Bedah Kemiskinan Rakyat Sejahtera´ disingkat #Bekerja.
Bantuan #Bekerja untuk Tasikmalaya diserahkan secara simbolis oleh Menteri Pertanian Andi Amran Sulaiman kepada warga miskin di Desa Kiara Kiarajangkung, Kecamatan Sukahening pada Jumat (11/1).
Setiap RTM menerima 50 ekor ayam dilengkapi kandang sederhana, pakan ternak selama enam bulan, pelayanan vaksin dan obat hewan, serta pendampingan intensif oleh penyuluh pertanian.
"Kita semua berharap dengan bantuan ini cita-cita desa mandiri bibit ayam kampung unggul dapat terwujud," kata Mentan Amran Sulaiman di hadapan kepala keluarga dari RTM penerima bantuan, penyuluh pertanian dan santri di Tasikmalaya.
Mentan juga menyerahkan bantuan 96 unit mesin penetas telur di Tasikmalaya, yang diharapkan memicu semangat dan optimisme para peternak mengembangkan ayam kampung unggul berkelanjutan untuk menambah pendapatan RTM. Tampak hadir Kepala Pusat Penyuluhan Pertanian (Pusluhtan) BPPSDMP Kementan, Siti Munifah didampingi Kasubbid Kelembagaan Penyuluhan, Purnomojati As.
Sekitar 48 desa di lima kecamatan di Tasikmalaya: Sukahening, Cikatomas, Salopa, Jatiwaras dan Sodonghilir menjadi target program #Bekerja, yang merupakan program upaya peningkatan pendapatan dan kesejahteraan melalui kegiatan pertanian terintegrasi, untuk mendukung pengentasan kemiskinan dan pemberdayaan masyarakat miskin.
"Program #Bekerja dilaksanakan tiga periode: jangka pendek dilakukan dengan memberikan bantuan berupa tanaman sayuran yang dapat dipanen dalam waktu tiga bulan; bantuan berupa ayam/itik lokal maupun domba/kambing yang sudah dapat berproduksi dalam waktu enam bulan untuk jangka menengah; benih tanaman hortikultura dan bibit tanaman perkebunan seperti kopi, kelapa, cengkeh, pala untuk jangka panjang. (Liene)
Tasikmalaya of West Java (B2B) - More than half a million chickens were distributed by Indonesian Agriculture Ministry to 11.000 poor households or the RTM in Tasikmalaya regency of West Java province as part of social assistance for 200 thousand RTM in 807 villages of 22 districts in 10 provinces targeted by poverty alleviation programs or the #Bekerja.
#Bekerja assistance for Tasikmalaya was symbolically handed over by Agriculture Minister Andi Amran Sulaiman to the RTM in Kiara Kiarajangkung village of Sukahening subdistrict on Friday (January 11).
Each RTM receives 50 chickens equipped with simple cages, six months of animal feed, vaccine services and veterinary medicines, and intensive assistance by agricultural extensionist.
"We hope that government assistance can support poverty alleviation in Tasikmalaya," Minister Sulaiman said.
Minister Sulaiman also handed over 96 egg incubators to 48 farmers´ economic institutions to developing the rural economy and welfare of recipients of government assistance.to develop the rural economy and the welfare of recipients of government assistance.
About 48 villages in five sub-districts in Tasikmalaya: Sukahening, Cikatomas, Salopa, Jatiwaras and Sodonghilir were targeted by the #Bekerja program, which is a program to increase income and welfare through the integrated agricultural activities.
"The #Bekerja program is implemented in three periods: short-term program by providing vegetable crops for a three-month harvest period; chicken, duck, sheep or goat for the medium term; horticultural plant seeds and plantation seeds such as coffee, coconut, cloves, nutmeg for the long term.