Regenerasi Petani, PJ Opsin Kebumen Dukung Pelatihan Penyuluh Prembun
Regeneration of Indonesian farmers through the agricultural mechanization
Reporter : Kevin Cesario
Editor : Cahyani Harzi
Translator : Dhelia Gani

PUBLISHED: Minggu, 25 November 2018 , 14:14:00 WIB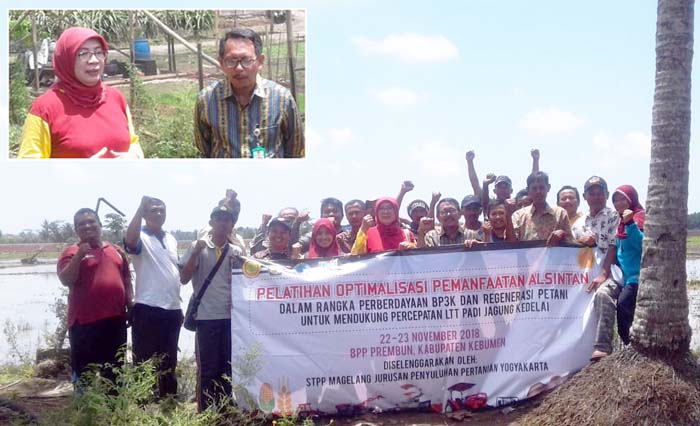 PERCEPATAN LTT KEBUMEN: Koordinator Tim Alsintan Polbangtan YoMa, Irwan Johan Sumarno (depan ke-5 kiri) berbincang dengan Kadistan Pemkab Kebumen, Puji Rahayu (inset) Foto2: Humas Polbangtan Yoma/IJS
Kebumen, Jateng (B2B) - Para penyuluh pertanian di Kabupaten Kebumen, khususnya Kecamatan Prembun mengikuti pelatihan optimalisasi pemanfaatan alat mesin pertanian (Alsintan) selama dua hari, 22 - 23 November 2018. Pelatihan dibuka oleh Koordinator Tim Alsintan Polbangtan Yogya - Magelang, Irwan Johan Sumarno yang mengingatkan tentang peran penting Alsintan meningkatkan efisiensi usahatani hingga 40%, percepatan luas tambah tanam (LTT) Pajale dan regenerasi petani.
Pelatihan Opsin bertujuan mendorong para penyuluh di bawah koordinasi Balai Penyuluhan Pertanian - BPP Prembun, untuk memastikan Alsintan dimanfaatkan oleh penerima bantuan di Kecamatan Prembun, di bawah koordinasi Penanggung Jawab PJ Opsin Alsintan Provinsi Jawa Tengah. Hadir Kepala Dinas Pertanian Pemkab Kebumen, Puji Rahayu.
"Pemerintah sudah mengeluarkan anggaran sangat besar untuk mendukung petani melalui bantuan Alsintan sehingga harus dioptimalkan. Tidak boleh ada Alsintan yang menganggur, harus dimanfaatkan secara optimal," kata Irwan JS yang juga menjabat Kabag Administrasi Umum Polbangtan YoMa kepada pers di Kebumen, belum lama ini.
Dia menambahkan, Alsintan merupakan komponen utama sistem produksi yang sangat vital meningkatkan produktivitas untuk menekan biaya produksi, meningkatkan kualitas produksi, dan menyejahterakan para petani. Namun banyak petani tidak memahami secara detail perawatan Alsintan yang harus dipelihara agar dapat digunakan untuk jangka panjang sebagaimana halnya barang modal.
"Modernisasi pertanian melalui pengembangan mekanisasi pertanian dari pra panen, panen, pasca panen, pengolahan hasil sudah menjadi tuntutan dalam pembangunan pertanian, dan meningkatkan kesejahteraan petani," katanya.
Kepada para penyuluh Prembun, Irwan JS mengingatkan tentang kapasitas kerja Alsintan per hari, diketahui untuk TR2 sekitar 0,3 hektar, TR4 2 hektar, combine harvester kecil atau CHK 0,6 hektar, combine harvester sedang (CHS) mencapai 1,2 hektar, dan combine harvester besar (CHB) CHB sekitar 2 hektar.
"Pemanfaatan Alsintan sebagai bagian penting dari program mekanisasi pertanian diharapkan dapat meningkatkan efisiensi tenaga manusia, derajat dan taraf hidup petani, kuantitas dan kualitas produksi pangan," katanya. (IJS)
Kebumen of Central Java (B2B) - Agricultural extensionist in Kebumen district, especially Prembun subdistrict participated in agricultural machinery training for two days, 22 - 23 November 2018. The training was opened by the Coordinator of the Agricultural Machinery Team, Irwan Johan Sumarno which is reminiscent of the role of agricultural machines increasing farming efficiency.
Training in agricultural machinery aims to encourage agricultural extensionist in Prembun subdistrict, to ensure agricultural machinery is maximally utilized by local farmers under coordination person in charge in Central Java Province.
"The government has spent a lot of budget to support farmers through agricultural mechanization so that it must be optimized," Mr Sumarno said.
He said agriculture mechanization for Indonesia has become a vital component to reduce production costs, improve the quality of production, and welfare of the farmers. However, many farmers do not comprehend treatment, which must be maintained for long-term use as well as capital goods.
"The modernization of agriculture through the development of agricultural mechanization of pre-harvest, harvest, post-harvest and processing of agricultural production into demands in agricultural development, and improve the welfare of farmers," he said.
Mr Sumarno elaborated about agricultural machinery working capacity per day, it is known for two-wheeled tractors of about 0.3 hectares, four-wheeled tractor 2 hectares, 0.6 hectares for small combine harvester, 1.2 hectares for medium combine harvester, and 2 hectare for big combine harvester.
"Agricultural machinery as an important part of agricultural mechanization is expected to increase human labor efficiency, farmer welfare, quantity and quality of food production," he said.