Unhas Makassar, SYL Motivasi Mahasiswa Pertanian Dukung Kedaulatan Pangan
Indonesian Minister Invites Agricultural Students Back to Farming
Editor : M. Achsan Atjo
Translator : Dhelia Gani

PUBLISHED: Kamis, 28 November 2019 , 14:27:00 WIB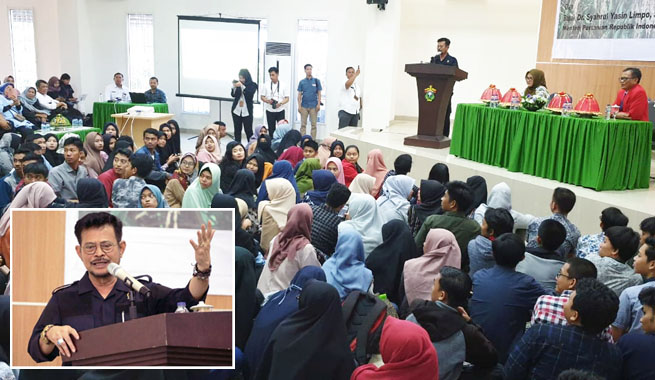 KULIAH UMUM: Mentan Syahrul Yasin Limpo [SYL] gelar kuliah umum di Faperta Unhas Makassar [Foto: Biro Humas Kementan]
Makassar, Sulsel [B2B] - Sejumlah mahasiswa dan dosen dari Fakultas Pertanian [Faperta] Universitas Hasanuddin Makassar [Unhas] diajak oleh Menteri Pertanian RI Syahrul Yasin Limpo [SYL] untuk berpartisipasi aktif pada program pembangunan pertanian nasional untuk mendukung pencapaian kedaulatan pangan yang dicanangkan oleh Presiden RI Joko Widodo.
Mentan SYL memotivasi mahasiswa untuk kembali ke sektor pertanian, khususnya mendukung peningkatan produksi dan pentingnya pengentasan kemiskinan di daerah rentan rawan pangan.
"Dicanangkan dalam waktu enam tahun ke depan, daerah rentan rawan pangan yang pada 2018 menyentuh angka 18 persen akan berusaha diturunkan menjadi 10 persen pada 2024," kata Mentan SYL pada kuliah umum di Aula Faperta Unhas, Selasa siang [26/11].
Mentan SYL pada kuliah umum bertajuk ´Pertanian Harus Maju, Mandiri dan Modern dengan Kebersamaan´ menguraikan tentang rencana-rencana strategis dan program kerja jangka pendek dan utama dari Kementerian Pertanian RI, terutama langkah yang dilakukan oleh kementerian untuk mendukung perekonomian nasional dalam konteks global.
Rektor Unhas, Prof Dr Dwia Aries Tina Pulubuhu, MA menyambut baik kuliah umum Mentan SYL yang bersedia hadir untuk memotivasi mahasiswa Faperta mendukung sektor pertanian, yang diharapkan dapat memberi dorongan kepada civitas academica Unhas agar senantiasa antusias mendukung pertanian nasional.
"Pak menteri kalau punya tugas untuk kami, silahkan disampaikan, karena kami menyatakan siap dalam mendukung program-program kerja dalam proses pembangunan pertanian Indonesia," kata Prof Dwia Aries Tina Pulubuhu seraya mengucapkan selamat bertugas pada SYL.
Sementara Dekan Fakultas Pertanian Unhas, Prof Dr Ir Baharuddin menyatakan bangga atas kunjungan Mentan SYL, mantan Gubernur Sulsel dua periode [2008 - 2018].
"Fakultas Pertanian Unhas memiliki kurang lebih 2.300 mahasiswa, ditambah dengan dosen-dosen kami yang sudah mumpuni dalam bidangnya, yang tanggap cepat dan siap menjadi ujung tombak pembangunan pertanian," kata Prof Baharuddin.
Makassar of South Sulawesi [B2B] - Indonesian Agriculture Minister Syahrul Yasin Limpo invited student of Agriculture Faculty of Makassar´s Hasanuddin University back to farming to support Indonesia to achieve food sovereignty.