Bupati Kukar Panen, BPTP Katim Dampingi Petani Tanam Jarwo 2:1
Indonesian`s Kutai Kartanegara Increase Rice Production
Editor : M. Achsan Atjo
Translator : Dhelia Gani

PUBLISHED: Senin, 12 Agustus 2019 , 14:30:00 WIB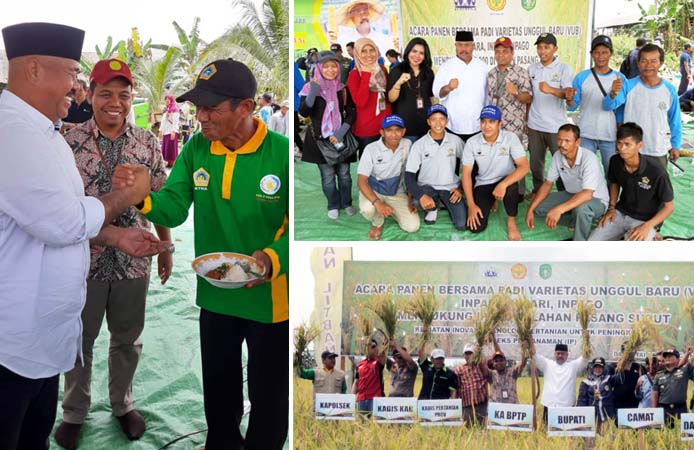 PANEN RAYA: Bupati Edi Darmansyah [kemeja putih] memberi selamat pada petani Anggana didampingi Kepala BPTP Balitbangtan Kaltim, Muhammad Amin [tengah, topi merah] usai panen [Foto2: Humas BPTP Kaltim/Margaretha]
Kutai Kartanegara, Kaltim [B2B] - Bupati Kutai Kartanegara [Kukar] Edi Darmansyah mengapresiasi dukungan dan peran serta Muhammad Amin selaku Kepala Balai Pengkajian Teknologi Pertanian Kalimantan Timur [BPTP Balitbangtan Kaltim] mendukung pengembangan indeks pertanaman [IP 300] memanfaatkan varietas unggul baru [VUB] Inpara: Inpari dan Inpago melalui sistem tanam Jarwo 2:1 dan berhasil meningkatkan panen padi hingga 6,2 ton gabah kering panen [GKP] per hektar di Kecamatan Anggana, Kukar, Kaltim.
"Pemerintah kabupaten mengapresiasi dukungan BPTP Kaltim pada kelompok tani dan gabungan kelompok tani di Kukar, khususnya di Kecamatan Anggana sehingga mampu mencapai IP300 memanfaatkan VUB Inpara, Inpari dan Inpago," kata Bupati Edi Darmansyah usai panen raya di Desa Kutai Lama, Kecamatan Anggana pada Sabtu [10/8], yang turut dihadiri oleh Kepala BPTP Kaltim, Mohammad Amin.
Bupati Kukar mengingatkan Poktan dan Gapoktan untuk terus berinovasi dan mengembangkan potensi hasil tanam VUB dari BPTP Kaltim agar berdampak terhadap peningkatan ekonomi daerah dan kesejahteraan petani.
Edi Darmansyah menegaskan sektor pertanian merupakan salah satu program prioritas pembangunan di Kukar, sehingga dukungan lembaga riset dan pengembangan seperti BPTP Kaltim maupun dunia usaha untuk mendukung penguatan sektor pertanian yang berdaya saing.
"Peningkatan pengelolaan pertanian ini dalam upaya percepatan transformasi struktur ekonomi daerah yang masuk pada misi keemapt program Gerbang Raja sebagai penguatan ekonomi daerah," kata Bupati Kukar kepada pers usai meresmikan pintu air di Desa Kutai Lama, Kecamatan Anggana di sela panen raya.
Tampak hadir Kadistan Tanaman Pangan Kukar, Sumarlan; Dekan Fakultas Pertanian - Universitas Mulawarman [Unmul] Prof Dr Ir Rusdiansyah; Ketua KTNA Kaltim dan Camat Anggana, Noorhairi.
Muhammad Amin mengatakan panen raya dilakukan di hamparan persawahan yang dikelola Poktan Padat Karya 1 dan Padat Karya 2 serta Sumber Makmur merupakan upaya pendampingan dan pengawalan BPTP Kaltim dalam mengembangkan VUB Inpara: Inpari dan Inpago.
"Panen Inpari 8 yang merupakan label putih untuk mendukung petani Anggana tidak lagi kesulitan dalam mencari benih, sehingga target IP 300 dapat dilaksanakan," kata M Amin.
Selain VUB Inpari, keberhasilan peningkatan hasil panen padi lantaran memanfaatkan sistem tanam Jarwo 2:1 dan terbukti berhasil meningkatkan hasil sebesar 6,2 ton gabah kering panen [GKP].
"Setelah panen padi, lahan jangan dibiarkan terbengkalai tetapi harus langsung digarap, misalnya dengan menanam jagung hasil inovasi Badan Litbang Pertanian Kementan seperti benih jagung Nasa 29," kata Bupati Edi Darmansyah. [Eta]
Kutai Kartanegara of East Borneo [B2B] - The Regent of East Borneo´s Kutai Kartanegara Edi Darmansyah appreciated support and participation of Muhammad Amin as Director of the East Kalimantan Agricultural Technology Study Center [BPTP Kaltim] Muhammad Amin support development of cropping indexes [IP 300] utilizing the new superior varieties of Inpari Inpari and Inpago through the Jarwo 2: 1 planting system and succeeded in increasing the rice harvest to 6.2 tons of dried unhusked rice per hectare in Anggana subdistrict.