11 CPNS Polbangtan YoMa, Direktur Rajiman Terima Audiensi Calon Dosen
11 Lecturers Joined the Yogyakarta - Magelang Agricultural Polytechnic
Editor : M. Achsan Atjo
Translator : Dhelia Gani

PUBLISHED: Jum'at, 15 Februari 2019 , 15:11:00 WIB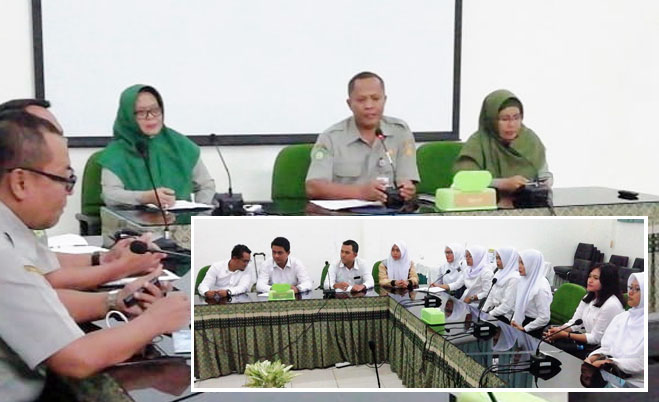 REKRUTMEN 2018: Direktur Polbangtan YoMa Dr Rajiman SP MP (ke-2 kanan) menerima 11 CPNS didampingi Wadir II, Yudiyani Rina; Kabag Administrasi, Irwan JS; dan Kabag BAAKA Endra Prasetiya (Foto2: Humas)
Yogyakarta, DIY (B2B) - Badan Penyuluhan dan Pengembangan SDM Pertanian - Kementerian Pertanian RI (BPPSDMP) mendapat formasi khusus 77 calon pegawai negeri sipil (CPNS), 11 di antaranya ditempatkan di Politeknik Pembangunan Pertanian Yogyakarta - Magelang (Polbangtan YoMa), yakni sembilan calon dosen, dan dua pranata laboratorium pendidikan (PLP).
Direktur Polbangtan YoMa, Dr Rajiman SP MP mengingatkan kepada 11 CPNS untuk senantiasa bersyukur kepada Tuhan YME, karena diberikan kesempatan luar biasa untuk dapat bersaing dengan 28.420 pelamar dan yang diterima Kementan adalah 795 CPNS.
"Keberhasilan ini jangan menjadikan Anda semua menjadi sombong, namun memanfaatkan peluang ini sebagai momentum membuka lembaran baru untuk menjadi generasi pertanian terbaik," kata Dr Rajiman saat menerima audiensi ke-11 CPNS di kampus Jl Kusumanegaran 2 Yogyakarta, Kamis (14/2).
Direktur Polbangtan YoMa pun mengutip arahan Mentan Amran Sulaiman, Senin lalu (11/2) bahwa setelah melalui seleksi ketat, 795 CPNS bergabung dalam keluarga besar Kementan, yang disebar pada 11 unit eselon satu.
"Dari 28.420 orang pelamar, hanya 795 orang yang diterima, ini artinya kalian orang-orang pilihan," kata Rajiman mengutip arahan Mentan Amran Sulaiman.
Tampak hadir pada serah terima CPNS untuk Polbangtan Yoma antara lain Wakil Direktur II, Yudiyani Rina; Kabag Administrasi, Irwan Johan Sumarno; Kabag Adminiatrasi Akademik Kemahasiswaan dan Alumni (BAAKA) Endra Prasetiya; dan Analis Kepegawaian BPPSDMP Kementan, Sri Atien, yang mendampingi ke-11 CPNS untuk serah terima di Polbangtan YoMa.
Rajiman mengingatkan bahwa kehadiran mereka, 11 CPNS baru, untuk mendukung pengembangan SDM dan kelembagaan petani dengan tujuan mewujudkan SDM pertanian yang mandiri, kreatif, dan inovatif.
Endra P menambahkan bahwa ke-11 CPNS telah menjalani orientasi selama dua hari di di Pusat Pelatihan Manajemen dan Kepemimpinan Pertanian Ciawi Bogor (PPMKP Ciawi), setelah diterima oleh Mentan Amran Sulaiman di Jakarta, Senin (11/2) dilanjutkan orientasi teknis selama dua hari di masing-masing eselon satu atau unit pelaksana teknis (UPT).
Yogyakarta (B2B) - The Directorate General of Extension and Agricultural HR Development or the BPPSDMP at the Indonesian Agriculture Ministry or the BPPSDMP have got 77 prospective civil servants or CPNS of 2018 recruitment, 11 of them were placed for the Yogyakarta - Magelang´s Agricultural Development Polytechnic or the Polbangtan YoMa, namely nine prospective lecturers, and two functional education laboratories.
Director of Polbangtan YoMa, Dr Rajiman SP MP reminded 11 CPNS to always thank God Almighty, because he got an extraordinary opportunity to compete with 28,420 applicants and only 795 CPNS were accepted to work in the ministry.
"This success should not make you arrogant, but use this opportunity becomes momentum as the best generation of agriculture," said Dr Rajiman while received an audience of 11 CPNS here on Thursday (February 14).
He quoted direction of Agriculture Minister Andi Amran Sulaiman, Monday (February 11) that after a rigorous selection, 795 CPNS can work in the ministry, which is distributed to 11 first echelon units.
"Of the 28,420 applicants, only 795 were accepted, meaning you were the chosen people," Rajiman cited the direction of Minister Sulaiman.
Rajiman reminded that 11 new CPNS in Polbangtan YoMa to support development of HR and farmer institutions with the aim of realizing independent, creative and innovative agricultural human resources.
Endra Prasetiya said that the 11 CPNSs had undergone two days of orientation in Ciawi´s Agricultural Management and Leadership Training Center or the PPMKP Ciawi after met with Minister Sulaiman in Jakarta on Monday (February 11) continued technical orientation for two days in each of the first echelon or technical implementation units across the country.