Didukung Basarnas, Wadir I Polbangtan YoMa Lepas Diklatsar Mapala Gempar
Indonesia`s Polbangtan YoMa Students Participate Basic Search and Rescue Training
Editor : M. Achsan Atjo
Translator : Dhelia Gani

PUBLISHED: Selasa, 03 September 2019 , 15:43:00 WIB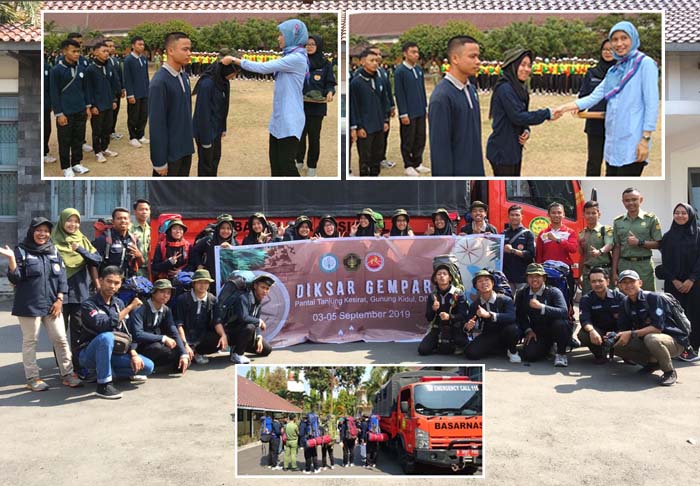 UPACARA PELEPASAN: Wadir I Dr Ananti Yekti secara simbolis mengenakan topi kegiatan Diklatsar Mapala Gempar 2019 [inset atas], foto bersama sebelum bertolak ke Gunung Kidul dengan Basarnas DIY [Foto2: Humas/Asnuri]
Yogyakarta, DIY [B2B] - Sejumlah mahasiswa semester dua Polbangtan YoMa Yogyakarta, yang tergabung dalam Mahasiswa Pencinta Alam [Mapala] Polbangtan YoMa, Mapala Gempar, dilepas oleh Wakil Direktur I Dr Ananti Yekti, Selasa [3/9] untuk mengikuti ´pendidikan latihan dasar´ [Diklatsar] bersama Badan SAR Nasional Yogyakarta [Basarnas DIY] selama tiga hari, 3 - 5 September 2019, di Pantai Tanjung Kesirat, Kabupaten Gunung Kidul.
Wadir Dr Ananti Yekti mengingatkan bahwa kegiatan Diklatsar Mapala Gempar diikuti oleh 16 mahasiswa tingkat satu anggota unit kegiatan mahasiswa [UKM] Polbangtan YoMa bertujuan mendorong mahasiswa peduli dan tanggap terhadap lingkungan alam dan sekitarnya sekaligus membentuk jiwa kepemimpinan yang bertanggung jawab dan meningkatkan kreativitas mahasiswa mengikuti kegiatan ekstrakurikuler di dalam dan diluar kampus.
"Civitas academica Polbangtan YoMa sangat mengapresiasi dan mendukung kegiatan Diklatsar Mapala Gempar, dan senantiasa mengingatkan agar para peserta untuk selalu menjaga kesehatan selama mengikuti kegiatan pelatihan," kata Dr Ananti Yekti mengutip arahan Direktur Dr Rajiman.
Dia mengapresiasi dukungan Basarnas DIY menggelar Diklatsar bagi anggota Mapala Gempar untuk meningkatkan kedisiplinan, kreatifitas, keimanan dan ketakwaan mahasiswa untuk mengembangkan potensi diri setiap anggota Mapala. Menjadikan mahasiswa sebagai penggerak dalam usaha pelestarian dalam dan lingkungannya.
"Tujuan penting lain adalah memberikan bekal atau teknik dasar hidup di alam bebas dan teknik pencinta alam, serta menjalin rasa persaudaraan antara mahasiswa Polbangtan YoMa dan antara Mapala lainnya," kata Dr Ananti Yekti.
Panitia Diklatsar, Dody Gunawan mengatakan bahwa kegiatan pelatihan di Pantai Tanjung Kesirat, Gunung Kidul bertujuan mendorong anggota Mapala Gempar dapat mengembangkan prestasi, kreatifitas, minat dan bakat melalui kegiatan pelatihan di luar kampus, sekaligus mendorong mahasiswa peduli dan tanggap terhadap alam sekitarnya. [Asnuri]
Yogyakarta [B2B] - A number of semester two students of Indonesia´s Polbangtan Yoma in Yogyakarta as member of the mountaineers, Mapala Gempar participate basic training education organized by the Indonesian Search and Rescue Agency [Basarnas] for three days, 3 - 5 September 2019 in Tanjung Kesirat Beach of Gunung Kidul district in Yogyakarta province. Mapala Gempar member going to Gunung Kidul was released by Deputy Director I Dr. Ananti Yekti here today [September 3].