Bimtek Siwab, BPTP Kaltim Dorong Peternak Olah Pakan Sawit dan Jagung
Technical Guidance of Alternative Animal Feed in Indonesia`s East Borneo
Editor : M. Achsan Atjo
Translator : Dhelia Gani

PUBLISHED: Kamis, 22 Agustus 2019 , 15:44:00 WIB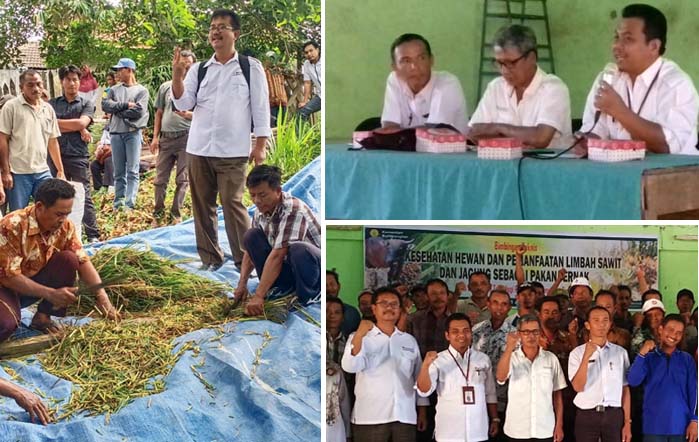 PAKAN TERNAK ALTERNATIF: Peternak Loa Kulu berlatih memanfaatkan pakan alternatif, Kepala BPTP Kaltim, Muhammad Amin [pegang mikrofon, inset kanan] dan bersama peserta Bimtek [Foto2: Humas BPTP Kaltim]
Kutai Kartanegara, Kaltim [B2B] - Peternak sapi di Kabupaten Kutai Kartanegara, Provinsi Kalimantan Timur didorong memanfaatkan pelepah sawit, limbah jagung, jerami padi, rumput unggul dan rumput lapang sebagai alternatif pakan ternak melalui kegiatan bimbingan teknis [Bimtek] tentang pengolahan pakan dan meningkatkan keterampilan peternak untuk memanfaatkan sumber daya pertanian di kabupaten tersebut.
"Tidak hanya pengolahan pakan ternak, peternak juga diharapkan memiliki pemahaman yang lebih mendalam terhadap masalah kesehatan dan reproduksi ternak, sehingga dapat meningkatkan kualitas dan kuantitas peternakan sapi," kata Muhammad Amin, Kepala Balai Pengkajian dan Penerapan Teknologi Pertanian Kalimantan Timur [BPTP Balitbangtan] saat membuka Bimtek di Desa Margahayu, Kecamatan Loa Kulu, Kutai Kartanegara [Kukar] pada Rabu [21/8].
Menurutnya, Bimtek bertajuk ´Kesehatan Hewan dan Pengolahan Limbah Sawit dan Jagung sebagai Pakan Ternak´ bertujuan mendorong peternak sapi Kukar mendukung Program Upaya Khusus Sapi Indukan Wajib Bunting [Upsus Siwab] dari Kementerian Pertanian RI, dengan memanfaatkan sumber pakan alternatif di kawasan Jonggon untuk ternak sapi.
Sumber pakan alternatif yang dimaksud adalah pelepah sawit, limbah jagung, jerami padi, rumput unggul dan rumput lapang, "diharapkan melalui Bimtek,para peternak memiliki pengetahuan tentang pengolahan pakan serta ketrampilan dalam memanfaatkan segala sumber daya yang ada di sekitarnya," kata M Amin.
Tampak hadir pejabat dari dinas pertanian dan peternakan Kukar, badan penyuluhan pertanian dan peternakan Kecamatan Loa Kulu, kepala desa Margahayu, penyuluh, anggota kelompok tani/ternak, serta peneliti dan penyuluh BPTP Kaltim.
Materi lain yang dibahas Bimtek juga terkait masalah di kelompok ternak di kawasan Margahayu, Kecamatan Loakulu antara lain kematian pedet mati di sistem ekstensif, petani/peternak belum mengetahui cara pengolahan pakan sawit dan jagung.
"Dibahas pula potensi lokal seperti pelepah sawit, jerami, dedak, rumput raja, bungkil sementara pihak perusahaan tidak mau mengeluarkan bungkil, karena sudah ada kontrak dengan pihak luar," kata M Amin.
Sementara sistem pemeliharaan dengan pola ekstensif eks tambang digembalakan di lahan perusahaan MHU sebanyak seribuan ekor dengan pola intensif, meskipun peternak mengkhawatirkan pemeliharaan di lahan pinjaman MHU akan tergusur dengan adanya alih fungsi lahan. [Eta]
Kutai Kartanegara of East Borneo [B2B] - Cattle farmers in Kutai Kartanegara district of East Borneo province are encouraged to use oil palm fronds, corn waste, rice straw, superior grass and field grass as alternatives for animal feed, through the technical guidance of feed processing activities and improving the skills of farmers using agricultural resources in the district.