Mentan dan Menristek Sepakat Bangun Pusat Sains dan Engineering Pertanian
Indonesian Govt will Develop an Agricultural Science and Engineering Center
Reporter : Gusmiati Waris
Editor : Cahyani Harzi
Translator : Dhelia Gani

PUBLISHED: Kamis, 01 Maret 2018 , 15:45:00 WIB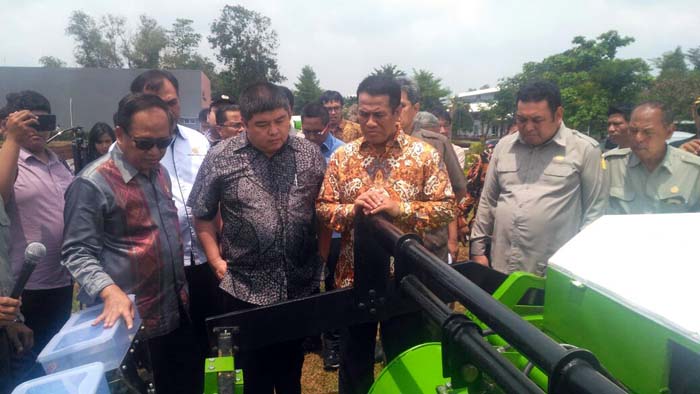 Menristek Dikti Mohammad Nasir (kiri) menyimak penjelasan Mentan Andi Amran Sulaiman (batik kuning) didampingi Kepala BB Mektan Andi Nur Alam (ke-2 kanan) Foto: Humas Kementan
Serpong, Banten (B2B) - Pemerintah RI akan mengembangkan politeknik pembangunan pertanian yang berorientasi sebagai pusat penyedia dan pengembangan sains dan engineering pertanian, yang segera direalisasikan oleh Kementerian Pertanian dan Kementerian Riset Teknologi dan Pendidikan Tinggi di Balai Besar Mekanisasi Pertanian - BB Mektan di Serpong, Banten.

Komitmen tersebut dikemukakan oleh Menteri Pertanian Andi Amran Sulaiman dan Menteri Riset Teknologi dan Pendidikan Tinggi, Mohammad Nasir pada kunjungan ke BB Mektan Serpong, Kamis (1/3).

"Indonesia negara agraris, dan kami berkewajiban mengubah paradigma petani dari tradisional ke modern, kuncinya dengan teknologi pertanian modern," kata Mentan Amran Sulaiman.

Mentan menambahkan, saat ini di kawasan Sains dan Engineering Pertanian Serpong sudah dibangun fasilitas penunjang seperti penataan lahan dan jalan usaha tani, penataan sistem irigasi mikro dan embung untuk mendukung usaha tani modern.

Selain itu, di Serpong juga telah dikembangkan aneka prototipe Alsintan modern untuk komoditas padi, jagung, bawang merah, cabai, tebu dan kakao.

"Penerapan teknologi pertanian modern dalam usaha tani merupakan salah satu bentuk transformasi pertanian modern. Cirinya, produktivitas tinggi, efisien menggunakan sumberdaya dan teknologi, mampu menghasilkan output berkualitas, bernilai tambah dan daya saing tinggi," kata Mentan.

Kinerja Petani
Amran Sulaiman mengharapkan pertanian modern akan membuat pekerjaan petani akan lebih mudah dan efisien dengan hasil panen yang menguntungkan, untuk meningkatkan kesejahteraan keluarga petani di seluruh Indonesia.

Mentan pun memperlihatkan kepada Menristek Dikti tentang efisiensi dan produktivitas unit Alsintan seperti mesin otomatisasi perbenihan dan persemaian mampu menyiapkan benih sesuai dalam tray secara otomatis hingga 720 tray per jam, atau 75.600 benih umbi mini per jam atau setara dengan 604.800 benih umbi mini per hari, apabila bekerja selama delapan jam per hari.

Kepala BB Mektan Andi Nur Alamsyah mengatakan meskipun mekanisasi hortikultura yang diterapkan tergolong berteknologi tinggi, namun pengoperasiannya sederhana dan mudah diterapkan petani sehingga sangat layak secara ekonomi.

"Pengembangan Alsintan di BB Mektan merupakan integrasi dari hasil riset dan inovasi BB Mektan didukung hampir 50 persen konten lokal atau buatan dalam negeri," kata Andi Nur Alamsyah.

Mentan pun mengingatkan BB Mektan untuk terus berupaya meningkatkan tingkat kandungan dalam negeri (TKDN) sehingga dapat menekan impor teknologi pertanian.
Serpong of Banten (B2B) - The Indonesian government will develop the polytechnic agricultural development as the center of Indonesian agricultural science and engineering development, which be realized by the agriculture ministry and the ministry of technology research and higher education in Serpong´s Center for Agricultural Mechanization or BB Mektan.

It was stated by Agriculture Minister Andi Amran Sulaiman and Minister of technology Research and Higher Education, Mohammad Nasir here on Thursday (February 1).

"Indonesia is an agrarian country, and we are obliged to change the paradigm of farmers from traditional to modern, the key to success is modern agricultural technology," Minister Sulaiman said.

Mr Sulaiman said currently at the Serpong Agriculture Science and Engineering Center has developed supporting facilities such as land management and farm roads and micro irrigation and reservoir arrangement to support modern farming.

In Serpong has also developed various prototypes of modern agricultural machinery for rice, corn, onion, chili, sugarcane and cocoa commodities.

"The application of modern agricultural technology in farming is a modern agricultural transformation. Its characteristics are high productivity, efficient resources and technology, quality output, value added and competitive," Minister Sulaiman said.

Farmers Performance
Mr Sulaiman expects modern farming to make farmers´ work easier and more efficient with profitable crops, to improve the welfare of farming families across the country.

Minister Sulaiman showed his colleague, Minister Nasir about the efficiency and productivity of modern agricultural technologies such as seed and seedbed automation machinery to prepare the seeds in a tray automatically up to 720 trays per hour, or 75,600 seeds per hour mini tubers or the equivalent of 604,800 mini bulb seeds per day, if it works for eight hours per day.

Director of Mektan BB Andi Nur Alam said horticulture mechanization applied relatively high-tech, but the operation is simple and easy to use by farmers so that it is economically feasible.

"Agricultural machinery development at BB Mektan is an integration of research and innovation, nearly 50 percent local or home-made content,"

Mr. Sulaiman also reminded the BB Mektan to increase domestic content so it can suppress the import of agricultural technology.