Introspeksi dan Muasabah, Dr Rajiman Ingatkan Komitmen Civitas Academica Polbangtan YoMa
Commitment and Performance as Indicators Successful of Indonesia`s Civil Servants
Editor : M. Achsan Atjo
Translator : Dhelia Gani

PUBLISHED: Rabu, 12 Juni 2019 , 15:52:00 WIB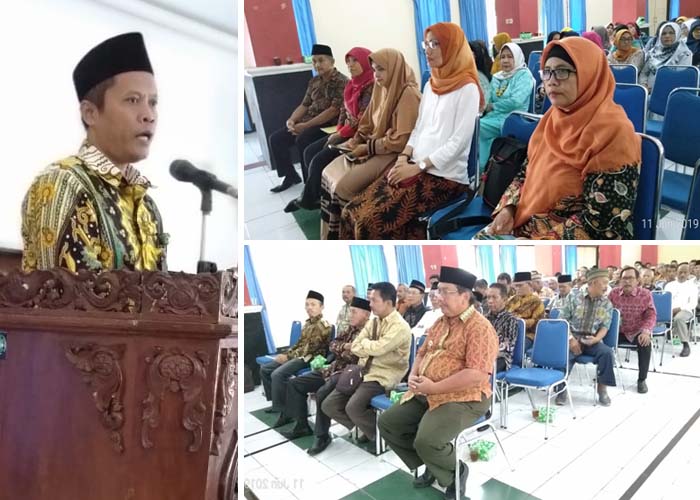 MUASABAH DIRI: Direktur Polbangtan YoMa, Dr Rajiman [kiri] memberi arahan yang dihadiri Wadir I Dr Ananti Yekti [gamis putih, kanan atas], Lektor Kepala Ali Rahman dan Kabag Umum Irwan JS [kanan bawah] Foto2: Asnuri
Yogyakarta, DIY [B2B] - Pegawai Negeri Sipil (PNS) di Kementerian Pertanian RI dituntut untuk meliliki kemampuan melaksanakan tugas secara profesional dan bertanggung jawab serta bersih dari korupsi, kolusi dan nepotisme [KKN]. Upaya mewujudkan hal itu hanya dapat dilakukan dengan mengerahkan seluruh potensi dan kemampuan diri didukung komitmen dan kinerja disertai upaya introspeksi pada civitas academica Polbangtan YoMa.
"Capai target yang ditetapkan pimpinan disertai keberanian, keyakinan, dan motivasi, sehingga potensi dan kemampuan dapat dioptimalkan untuk mencapai impian dan cita-citanya melalui kreativitas, inovasi, dan inspirasi dalam pelaksanaan tugasnya, khususnya mewujudkan visi dan misi dari BPPSDMP Kementan," kata Direktur Polbangtan YoMa, Dr Rajiman pada kegiatan ´Pembinaan Pegawai pasca Lebaran 2019´ di Yogyakarta, Rabu pagi [12/6].
Dia mengingatkan bahwa seluruh jajaran Polbangtan YoMa harus menjaga sikap dan perilakunya baik dalam pelaksanaan tugas maupun dalam kehidupan sehari-hari.
"Tunjukkan komitmen dan kinerja sebagai abdi negara dan abdi masyarakat dalam sikap, tindakan dan perilaku diatur oleh seperangkat ketentuan peraturan perundang-undangan yang diikat oleh sumpah, peraturan disiplin dan kode etik," kata Dr Rajiman.
Dalam pelaksanaan tugasnya, kata Dr Rajiman, PNS Kementan berpedoman pada Peraturan Menteri Pertanian Nomor 65/Permentan/OT.140/11/2012 tentang Pedoman Nilai-Nilai dan Makna Bekerja Bagi Pegawai Kementerian Pertanian. Nilai-nilai bekerja terdiri dari komitmen, keteladanan, profesionalisme, integritas dan disiplin (KKPID), sedangkan makna bekerja adalah mengabdi untuk kemandirian pangan dan kesejahteraan petani.
Menurutnya, undang-undang dan peraturan yang dibuat adalah ´aturan dunia´ maka yang paling penting adalah introspeksi diri yang diikat oleh keyakinan kita sebagai umat beragama untuk selalu melakukan ´muasabah´ dengan memberi sanksi kepada diri kita sendiri ketika melakukan aktifitas yang keliru sebagai umat yang beriman kepada Tuhan Yang Maha Esa, sesuai agama yang kita anut.
"Jadilah sosok abdi negara dan abdi masyarakat yang mampu mengritik diri sendiri, mengakui kekurangan dan kesalahan sebagai wujud nyata untuk memperbaiki diri melalui upaya muasabah atau introspeksi. Mari bertanya pada diri sendiri, kita hendak kemana, dimana pun kita berada. Siap atau tidak kita pasti akan pulang kepada-Nya," kata Dr Rajiman. [IJS]
Yogyakarta [B2B] - Civil Servants at the Indonesian Agriculture Ministry required to have ability to carry out tasks professionally and responsibly and free of corruption, collusion and nepotism [KKN]. Efforts to realize can only be done by mobilize ability of ourselves supported by commitment and performance wwith introspection efforts at the Polbangtan YoMa academic community.