Syahrul Yasin Limpo Kunjungi Kementan Usai Dilantik, "Don´t Stop Komandan"
First Day of Indonesian Agriculture Minister in His Office
Editor : M. Achsan Atjo
Translator : Dhelia Gani

PUBLISHED: Rabu, 23 Oktober 2019 , 16:03:00 WIB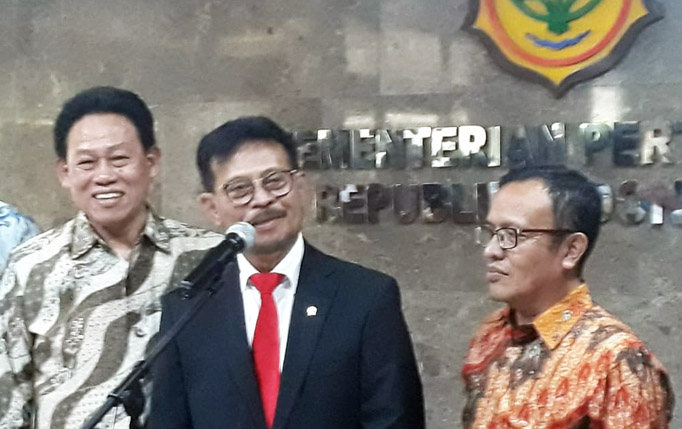 HARI PERTAMA: Mentan periode 2019 - 2024, Syahrul Yasin Limpo akrab disapa SYL [tengah] menjawab pers didampingi Sekjen Kementan, Momon Rusmono [kiri] dan Irjentan Justan R Siahaan [Foto: B2B/Mac]
Jakarta [B2B] - Syahrul Yasin Limpo [SYL] setelah dilantik sebagai Menteri Pertanian RI oleh Presiden Joko Widodo di Istana Kepresidenan pada Rabu pagi [23/10] langsung berkunjung ke ´kantor baru´ di kawasan Ragunan, Jakarta Selatan pukul 13:30 Wib disambut Sekjen Kementan Momon Rusmono, sementara Andi Amran Sulaiman tidak hadir.
Sejumlah pejabat eselon satu Kementan hadir menyambut kunjungan Syahrul Yasin Limpo yang akrab disapa SYL antara lain Dirjen Peternakan dan Kesehatan Hewan [PKH] I Ketut Diarmita; Dirjen Prasarana dan Sarana Pertanian [PSP] Sarwo Edhy; Kepala BPPSDMP Prof Dedi Nursyamsi; Kepala Badan Ketahanan Pangan [BKP] Agung Hendriadi dan Inspektur Jenderal Kementan [Irjentan] Justan R Siahaan; dan Staf Ahli Mentan [SAM] bidang Infrastruktur, Pending Dadih Permana dan sejumlah pejabat eselon dua.
Sebelum perkenalan dilanjutkan makan siang di ruang kerja Mentan, SYL mengawali kegiatan hari kerja pertama dengan shalat Dzuhur. Namun serah terima jabatan [Sertijab] terpaksa diurungkan lantaran Andi Amran Sulaiman selaku menteri pertanian periode 2014 - 2019 tidak hadir di Kementan, sementara kementerian lain melakukan Sertijab seperti dilakukan Teten Masduki, Menteri Koperasi dan UKM 2019 -2024 menggantikan AAGN Puspayoga.
Begitu pula dengan Menteri Pertahanan Prabowo Subianto dengan Ryamizard Ryacudu; Menteri Kelautan dan Perikanan [KKP] Edhy Prabowo dengan Susi Pudjiastuti. Bahkan Wiranto yang masih menjalani perawatan medis pasca insiden penusukan di Pandeglang, hadir untuk Sertijab dengan penggantinya, Mahfud MD selaku Menko Polhukam.
Tampaknya SYL tak menggubris hal itu, dan tetap enjoy berkunjung di hari pertama bekerja sebagai Mentan periode 2019 - 2024 di kawasan Ragunan, Jaksel, sesuai tagline yang disematkan padanya oleh warga Sulsel, "Don´t Stop Komandan" yang populer sebagai tagline kampanye saat SYL mencalonkan diri sebagai gubernur pada Pilkada Sulsel peiode 2008 - 2013.
Jakarta [B2B] - Syahrul Yasin Limpo, former Governor of South Sulawesi for two periods [2008 - 2018] visited his office after innaugurated as the Indonesian Agriculture Minister by President Joko Widodo at the Jakarta Presidential Palace, Wednesday morning [October 23] to replace Andi Amran Sulaiman.