Puasa Tak Halangi Antusias Mahasiswa APTA Yogya Praktikum di Polbangtan YoMa
Training of Agricultural Machinery is Interested for Indonesia Students
Editor : M. Achsan Atjo
Translator : Dhelia Gani

PUBLISHED: Senin, 13 Mei 2019 , 16:37:00 WIB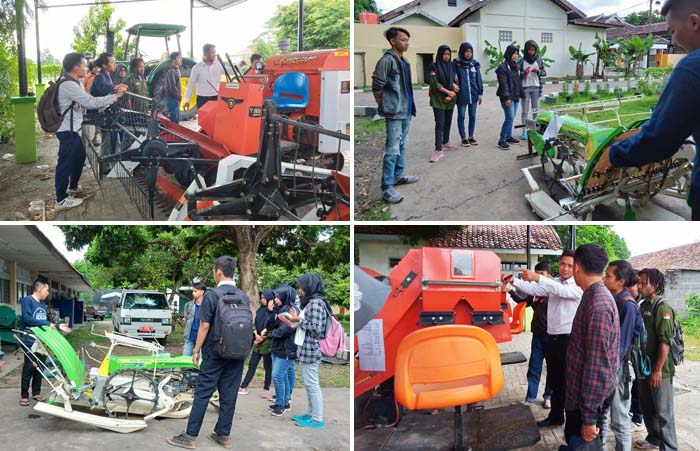 BULAN RAMADAN: Instruktur Polbangtan YoMa dan mahasiswa APTA Yogya tetap antusias mengikuti pelatihan Alsintan, mengenal alat tanam dan mesin panen padi [Foto2: Humas Polbangtan YoMa/Asnuri]
Yogyakarta, DIY [B2B] - Empat unit alat tanam padi [rice transplanter] dan mesin panen [combine harvester] menjadi perhatian utama 25 mahasiswa Akademi Pertanian Yogyakarta [APTA] pada pelatihan alat mesin pertanian [Alsintan] di kampus Polbangtan YoMa, fokus pada pengenalan komponen kemudian mengoperasikan Alsintan sebagai implementasi dari materi di ruang kuliah. Mereka akui terkesan pada combine harvester meski tergolong rumit tapi menyenangkan ketika dioperasikan, sehingga panas terik tak menghalangi antusias mengikuti pelatihan meski sebagian besar dari mereka menjalani ibadah puasa.
Dua instruktur Alsintan Polbangtan YoMa mendampingi Dosen Alsintan APTA Yogya, Ir Mashudi memimpin pelatihan dimulai pada pengenalan komponen rice transplanter dilanjutkan praktik mengoperasikan dan merawat rice transplanter Indo Jarwo, untuk menanam padi tipe tanam Jajar Legowo.
"Kami senang dapat mengikuti pelatihan Alsintan di Polbangtan YoMa, yang memang sangat kami butuhkan. Mahasiswa APTA Yogya dapat terjun langsung dan melakukan praktik Alsintan sesuai dengan materi yang kami sampaikan di kelas," kata Ir Mashudi di sela pelatihan pada Jumat pekan lalu [10/5].
Selanjutnya, pelatihan tentang mesin panen dan yang diperkenalkan adalah Crown Hornet CCH-7130 atau tipe sedang, dan mengenali komponen utama dari combine harvester mulai dari roll drum, conveyor, perontok dan pengemas gabah.
Kepala Laboratorium Alsintan Polbangtan YoMa, Kodrad Winarno STP M Agricom mengatakan bahwa kegiatan APTA Yogya merupakan salah satu bentuk pelayanan masyarakat untuk sosialisasi dan memasyarakatkan Alsintan, sesuai arahan Mentan Amran Sulaiman agar pihak-pihak terkait di Kementan mendukung pelatihan Alsintan kepada masyarakat.
"Salah satunya adalah kegiatan seperti ini, dengan APTA Yogyakarta. Dengan adanya pelatihan seperti ini diharapkan Alsintan semakin dikenal masyarakat dan menarik minat generasi muda untuk menggeluti dunia pertanian," kata Kodrad Winarno.
Instruktur Alsintan, Ridwan dan Titin mengaku antusias mendukung pelatihan tersebut lantaran dapat meningkatkan pengetahuan dan keterampilan mereka sebagai instruktur sekaligus mahasiswa Polbangtan YoMa.
"Mahasiswa APTA antusias menggunakan combine harvester, meskipun komponen dan pengoperasiannya tergolong kompleks ternyata menyenangkan ketika digunakan, seperti membawa mobil di sawah," kata Titin. [Asnuri]
Yogyakarta [B2B] - Indonesian Agriculture Ministry developing integrate learning process with production and entrepreneurship for Agricultural Development Polytechnic or the Polbangtan through teaching factory or the TeFa such as Polbangtan YoMa in Yogyakarta province.
The basic principle of TeFa is the integration of work experience into the school curriculum as a combination of production-based learning and competence.
"Equipment and teachers are designed for the process of making products or services," said Kodrat Winarno as the Head of Tefa.
The production-based learning encourages students to engage in the production process, building competencies based on production needs, by knowing the capacity and type of products.
"In TeFa, the Polbangtan perform production activities or provide services as part of the learning and teaching process. The campus should have workshop or other business unit for learning activities," Winarno said.